Whale Watching Season Starts in Hawaiʻi After First Sighting on Maui
The first humpback of the season was seen off the coast of Maui, marking the start of this year's arrival of koholā.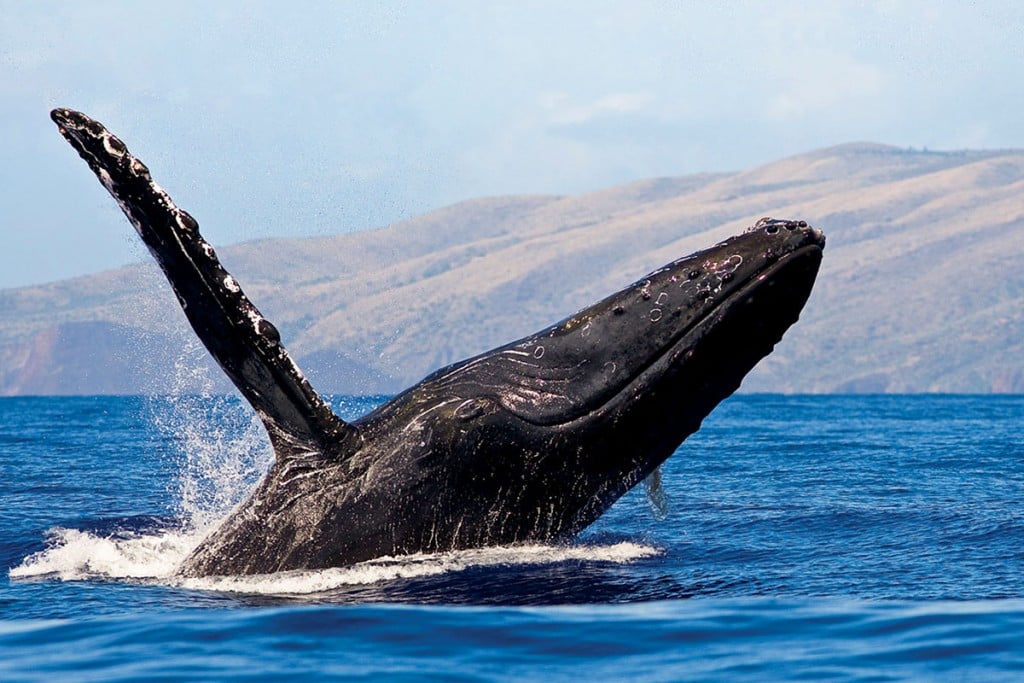 It's that magical time of the year again when the North Pacific Humpback whales return once more to the shallow waters of the Hawaiian Islands to mate, raise their young and wow whale watchers.
These beloved gentle giants, known in ʻōlelo Hawaiʻi (Hawaiian language) as koholā, have migrated to Hawaiʻi in the winter months through early spring—November through May—for centuries. Nearly half the population of North Pacific humpback whales will leave the cold waters of Alaska for a six-week journey to Hawaiʻi, where they can enjoy warmer—and safer—waters to mate and give birth in, with newborns spending the first few months of their lives frolicking in Hawaiian waters.
And the first whale of the 2021 season was spotted by an observant flight instructor, Nick Moran, who was training students off the coast of Kaihalulu Beach in Hāna on Maui before seeing the animal on Oct. 1. While the spotting was considered to be quite early, with most initial whale sightings happening in the early days of November, it was confirmed by Allen Tom, superintendent for the Hawaiian Islands Humpback Whale National Marine Sanctuary, that although the whale's arrival is early, it's not too early and that it shouldn't be considered a bad thing.
If you want to get your own glimpse—or up-close and personal experience—with a koholā, there are a few ways to see a whale for yourself.
Typically, you're best bet will be on a whale-watching boat tour, with many departing from Lahaina on Maui—where whales spend most of their time in Hawaiʻi. (You can see whales on every island.) If you're lucky, you can get very close to a North Pacific humpback whale and possibly even see a breach or two, which is a truly magnificent experience.
If you can't swing a boat tour, don't fret! Instead, find a solid pair of binoculars and a nice vantage point of Maui's east coast—there are a few pullovers with exceptional views located along Honoapiʻilani Highway. With the majority of migrating whales finding refuge in the waters off of the east side of Maui, a little patience and a keen eye will have you seeing sprays, splashes and possible whale tails in no time. On Oʻahu, you can spot these majestic creatures from Makapuʻu Lighthouse Trail and Diamond Head. On Kauaʻi, you can often see them from Poʻipū Beach on the island's south shore, Kīlauea Lighthouse, the Kapaʻa Overlook and off the Nāpali Coast.
If you've found yourself enamored with the koholā, then check out the Pacific Whale Foundation! Not only do they off eco-conscious whale watching tours—as well as snorkel trips, sunset dinners and cocktail cruises—but they also aim to educate visitors and locals about how we can help to preserve and care for whales and other sea life.