Wham! Bam! Love that Spam! Waikiki Spam Jam 2010 happens this Saturday.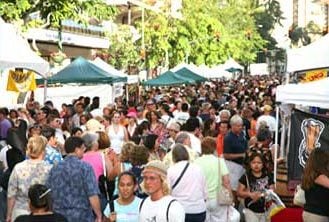 Hawaii's love for Spam is legend.
We love it in Spam musubi. We have it for breakfast, like most folks would bacon and eggs. Top Hawaii chefs love experimenting with it. You'll find at least a half dozen varieties of it on our supermarket shelves. Spam is even on the menu at every Hawaii McDonald's restaurant.
Our collective love for the pink canned meat from Hormel Foods is so large, in fact, that it is celebrated annually with a huge Waikiki block-party in its honor. And if you're on Oahu this weekend and love Spam, you're in luck.
The 8th annual Waikiki Spam Jam street festival kicks off this Saturday, April 24. How big is it? More than 20,000 Hawaii visitors and residents attend Spam Jam each year—a number that grows annually. The event is so big that it actually shuts down a good portion of Waikiki's main drag, Kalakaua Avenue.
The block-party celebration—which runs from 4 to 10 p.m.—encompasses two stages of live Hawaiian music, a variety of Hawaiian craft booths and, of course, merchandise booths selling Spam-themed items such as the Spam T-shirts and slippers. People even dress up in life-size Spam can costumes!
A dozen Oahu restaurants will be there, as well, angling to show off the culinary possibilities of Spam beyond the popular musubi version we all know. Those eateries include:


• Atlantis Seafood & Steak
• Cheeseburger Beachwalk
• Okonomiyaki Chibo
• Coconut Willy's
• Doraku Sushi
• Duke's Canoe Club/Hula Grill Waikiki
• Gordon Biersch
• Jimmy Buffet's at the Beachcomber
• Rumfire
• Seafood Village
• The Shack Waikiki
• Tropical Iceland
Spam Jam will feature two stages of free Hawaiian music and entertainment. Here's the schedule:
Outrigger Waikiki Hotel Stage
(Located in the front of the Outrigger Waikiki Hotel)
4:30 p.m. Halau Ka Hale I O Kahala (hula performances)
5:30 p.m. Cyril Pahinui
6:30 p.m. Polynesian Performance from Germaine's Luau
7:30 p.m. Weldon Kekauoha
8:45 p.m. Maunalua
First Hawaiian Bank Stage
(Located in the front of C BLDG of Royal Hawaiian Center)
4:15 p.m. Hana Hou, the Air Force Band of the Pacific—Hawaii
5:30 p.m. Emke
6:45 p.m. Elephant
8 p.m. Separate Ways
The best part of all of this love for canned meat? Admission to Spam Jam is free.
Not a Spam fan? The fest is also your chance to give some of the stuff away—of course, for a good cause. Volunteers will be on hand to collect cans of Spam for the Hawaii Food Bank.
Planning to drive to Spam Jam? Click here for parking information.
For more information and Spam recipes, visit www.spamjamhawaii.com.