What do Hawaii's high surf warnings and advisories mean?
Be sure to take extra caution if you want to see this powerful force in action.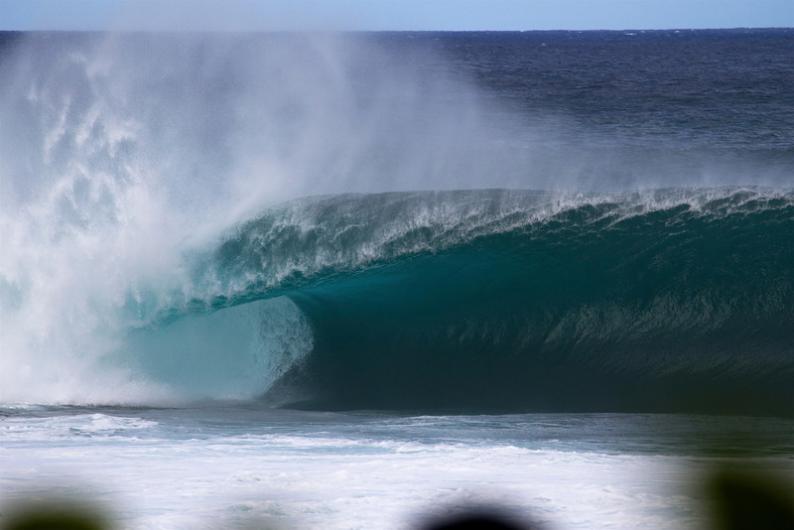 If you're in the Islands during the winter and early spring months and notice a high surf advisory on TV or signs admonishing you to keep out of the water, it's nothing out of the ordinary for a Hawaii winter. Our location in the middle of the Pacific means that Hawaii's seasonality is impacted by, and manifests in, ocean patterns.
Every year, winter storms sweep across the northern Pacific sending predictable swells toward Hawaii's coasts. Generally speaking, the state's northern and western coasts get all riled up by winter storms, while the southern and eastern coasts are calm. This pattern flips in the summer when tropical storms more frequently impact the southern and eastern coasts (though summer waves are almost never as large).
This seasonal predictability is the reason why several big wave surfing competitions such as the Vans Triple Crown of Surfing and the "Eddie" call Oahu's North Shore home every winter.
But the gnarly surf that delights serious surfers offshore can be frustrating and dangerous for the average beachgoer. Why? In short, because when waves get too high and break on the shore, they can be really dangerous.
Numerous rescues and beach closings each year underscore the need to take extra caution if you want to see this powerful force in action.
In order to alert the public of dangerous conditions, the National Weather Service issues warnings that follow a system not dissimilar to severe weather alerts.
• High surf advisories are issued any time that waves breaking on the beach pose "a threat to life and property within the surf zone." They often accompany wave heights greater than 10 feet.
• High surf warnings take advisories one step further—they are issued when wave action results in "especially heightened threat to life and property within the surf zone." Warnings are generally issued when shore-breaking waves are 15 feet or higher.
• Less severe, but still important alerts include small craft advisories and marine weather statements—though these statements can pertain more to offshore waves than shore-breaking ones. You can find detailed explanations for each of the marine warnings issued by the National Weather Service here.
Conditions that call for surf warnings and advisories are especially dangerous because they can produce powerful rip currents. These rushing forces of water are strong enough to pull someone just walking on the beach in the surf zone into and under the water. (Yikes!)
Rip currents are particularly prevalent when shore-breaking swells are big because as wave heights increase, the force behind waves crashing and pulling back out into the ocean increases exponentially: The force of a wave can be determined by taking the wave height and squaring it. That means a three-foot wave crashing along the beach packs nine times the punch of a one-foot wave, and a five-foot wave is actually 25 times stronger than a one-footer.
Waves that break on the beach with heights greater than five feet are probably too dangerous for casual bathers and swimmers, even though this is still well below the threshold for issuing a high surf advisory.
For your own safety it's important to take all warnings and closures seriously. While watching the big waves crash on the shore can be a powerful experience, when there are high surf warnings or advisories, it's best to stay out of and well away from the water unless you are very familiar with the local conditions.
Before heading to a Hawaii beach intending to splash and soak this winter, be sure to check the surf reports and advisories and state beach closures. Just like winter storms, extreme and unsafe conditions can come and pass, but usually won't last for more than a week.
For detailed and regularly updated marine forecasts, click here.