What exclusive dishes to order from Moku Kitchen
It's a new concept from Chef Peter Merriman, one of the 12 Hawaii Regional Cuisine founding chefs.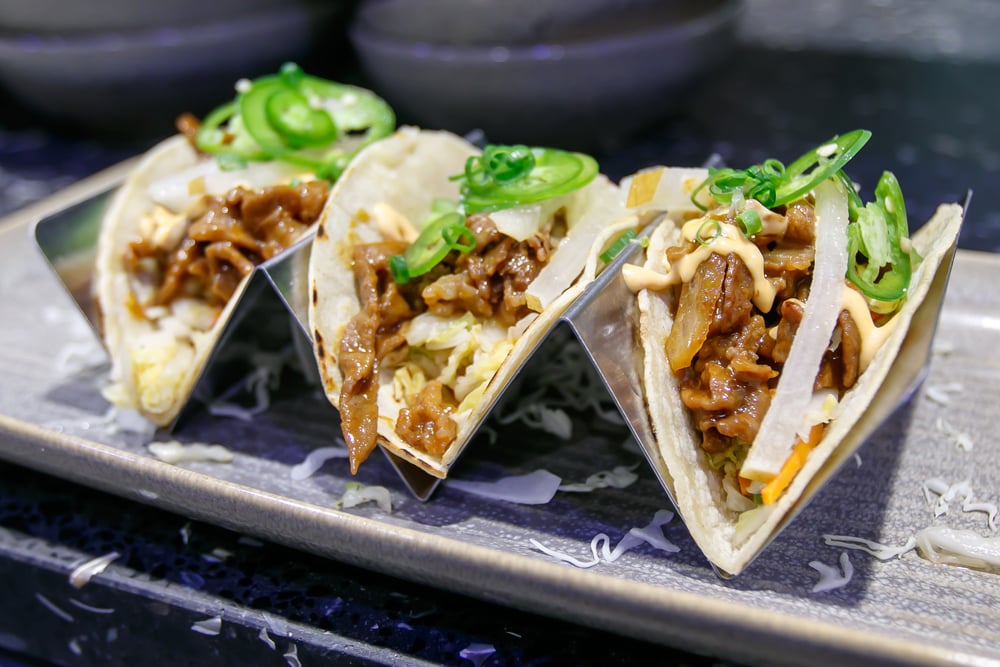 "Is it local?"
It's one of those questions Hawaii food writers have to ask. Not just because sourcing local is a great thing to do, but it's a strong, good detail for an article.
But asking Chef Peter Merriman whether his new restaurant Moku Kitchen uses local ingredients feels like a moot question. He's already known for his staunch stance on using island produce and meats—after all, he's one of the 12 Hawaii Regional Cuisine founding chefs.
Merriman's answer, by the way: "Fresh food always tastes better."
During its construction, the bright green lettering of Moku Kitchen stood out among all the cute bubble tea shops, cafes and juice bars that's sprung up at Salt at Our Kakaako, an up-and-coming complex that's promising to become the epicenter of an urban Honolulu neighborhood. And, Moku Kitchen, which opened in October, is already fitting in nicely with Kakaako's hip vibe. Walk in, and the first thing you see is local artist Kamea Hadar's signature graffiti-style art. The vibrant green outside is complimented with inviting brown and coral colors. Ceilings are comfortably high with a geometric design and there's a bar with 36 craft beers on tap. It's a large restaurant too, with indoor and outdoor seating for nearly 300 people.
The last time I tried Merriman's food, it was an anniversary dinner at Monkeypod Kitchen. Merriman says about 65 percent of the food is from Monkeypod, so we set out to try Moku exclusive dishes.
We start with the watercress and blue salad ($12), served with local watercress that's not at all bitter, and instead, sweetly complimented with candied mac nuts, crumbled Point Reyes blue cheese and pretty Kula strawberries, which, per my husband, "just melt in your mouth."
The pork pot stickers ($16) with a spicy habanero and pineapple marmalade, and the hapa poke ($15) with fresh ahi, kukui nut, sesame, jalapeno pepper and shoyu are small plates that are perfect for starting and sharing. It's clear that executive chef Todd Constantino isn't afraid to play with spices—both plates have bold and vibrant profiles.
For the main entrees, we try the fresh fish 'n' chips ($21) with tempura-fried mahimahi that was caught that day, served with hand-cut fries and a tangy malt vinegar aioli. There's also thick, 7-ounce classic burgers, or thinner, 5-ounce diner-style smashed burgers. It depends on your preference; we ordered the mushroom and provolone burger ($12) in diner-style, and probably would have preferred the thicker version. The bulgogi taco ($14) gets comfortable with jalapenos again, with housemade kimchi, tender Korean-style pork and chili aioli.
My personal favorite though, is the vegetable roasted plate ($15), an assortment of perfectly charred, chili roasted corn, butternut squash, onions, Brussels sprouts, cauliflower, hearts of palm and mushrooms. Constantino will use whatever's fresh and in season, and throw them on the rotisserie that's rotating in the kitchen. The roasting naturally brings out each vegetable's sweet and earthy flavor, and everything rests on a homemade mint cream sauce that's sharp and sweet.
We finish with Merriman's signature haupia cream pie and chocolate mac nut pie ($8). I'd tried his pies at Monkeypod Kitchen too, and couldn't go home without eating them again. They're exactly what I remember: fillings that aren't overly sweet, complimented by beautiful, homemade crusts—so good that we end up alternating bites of each pie. I'd come back again, just for dessert.
---
The local farms (and the locally sourced ingredients) at Moku Kitchen
Sumida Farms (watercress)
Small Kine Farms (Cremini mushrooms)
Kawamata Farms (Kamuela tomato)
Waipoli Hydroponics (butter lettuce, baby lettuce and baby Romaine)
Hirako Farms (cabbages)
Kualoa Ranch (oysters and shrimp)
---