What It's Like at These 6 Popular O'ahu Hikes and Gardens Right Now
Here's how these trails and parks are different now with new rules in place.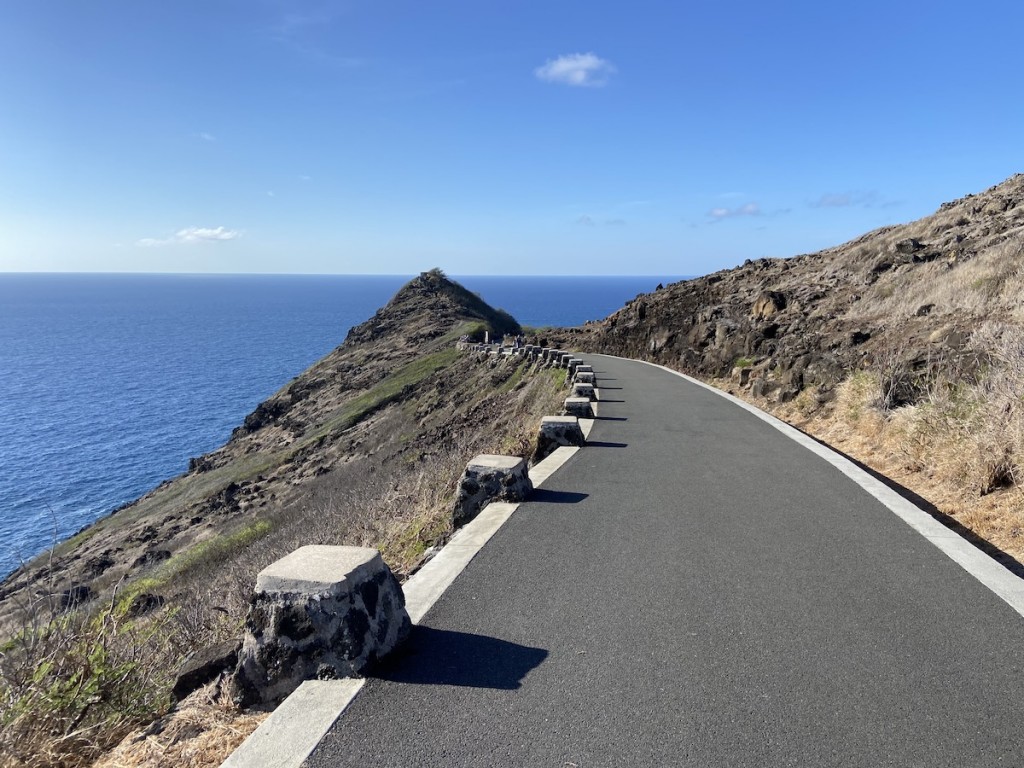 Makapuʻu Lighthouse Trail
What's new: The parking lot was closed during the week for a while but is now open daily until 6:45 p.m. No more than 10 people are allowed per group unless from the same household.
Pros: The path is wide everywhere except the lookout at the top, making it easy to avoid others even on busy days.
Cons: The summer heat is killer, with absolutely no shade to be found. Wearing a mask isn't required when exercising but if you choose to, it can be particularly unpleasant on this trail if you go in the middle of the day—I huff and puff at the best of times, and these high temps aren't helping.
Off Kalaniana'ole Highway between the Hawai'i Kai Golf Course and Makapu'u Beach Park, dlnr.hawaii.gov
ʻAiea Loop Trail
What's new: No more than 10 people are allowed per group unless from the same household. Access the trail through the Keaīwa Heiau State Recreation Area, which is open daily until 6:45 p.m., though certain picnic tables are blocked off to allow for social distancing.
Pros: Since it's a loop, you won't run into too many people coming toward you, unless they decide not to complete the entire trail, which takes two to three hours. It's fairly flat, so it's not too uncomfortable to wear a mask.
Cons: At 9 a.m. on a cloudy Saturday, we only saw one open parking spot—and took it immediately, even though we still had to walk uphill for a few minutes to get to the trailhead. You may get stuck circling the one-way drive for some time.
99-1849 'Aiea Heights Drive, 'Aiea, dlnr.hawaii.gov
Kulilʻouʻou Ridge Trail
What's new: No more than 10 people are allowed per group on state hiking trails unless they are part of the same family or household. There are also some new boot brushes since the last time I hiked this trail, and combating diseases like Rapid 'Ōhi'a Death is important, too.
Pros: It's a great workout with plenty of variety, shade, challenges and adorable dogs (I know you were trying your best, Butters). The payoff at the end makes it all worth it.
Cons: Street parking is always a challenge because of this trail's popularity. At 9 a.m. on a Saturday morning, I had to park about a 15-minute walk from the trailhead. It also doesn't help that vehicles regularly take up multiple spots and cones block off others.
I had never seen so many people hike this trail before. I don't know if it's because everyone's going stir-crazy staying inside all the time or just because the weather was perfect that day, but we were constantly stepping over to the side to let people pass us in both directions. The path isn't very wide on the first two-thirds of the trail (mostly switchbacks), but you'll have some breathing room once you make it to the covered rest stop. The last half-mile or so consists of narrow sets of stairs, so we actually had to wait quite a while before our turn to go up. If you're concerned about social distancing, this isn't the best choice, especially since very few people wore masks.
Kalaʻau Place, hawaiitrails.hawaii.gov
Lanipō Trail
What's new: This public access point isn't a state trail, but you should still keep social distancing guidelines in mind for your safety and those around you.
Pros: We hardly saw anyone when we went around 4 p.m. on a Saturday. It had also just poured buckets, so that may have deterred some people, but the ground was barely wet and not at all slippery. We only hiked to the first bench, but that was enough just to get some fresh air. The path goes up and down, so you get a workout going both directions. We stayed at the bench for about 15 minutes without a single person passing us.
Cons: The path is pretty narrow, so it may be difficult to let others pass in certain areas.
Maunalani Circle, Kaimukī
Harold L. Lyon Arboretum
What's new: Masks are required at all times in the garden, though we removed ours to eat during a small picnic (we made sure to call in advance to confirm this was allowed, and the friendly staff even pointed out the best areas to sprawl out when we arrived). Lyon Arboretum is currently only open on weekdays, and you must RSVP in advance for either the 9 to 11 a.m. slot or 1 to 3 p.m. slot. There's space for 30 cars in the parking lot, with up to four people covered per RSVP. The bathrooms and gift shop remain closed.
Pros: It's a massive garden with more than 7 miles of trails to explore. Though there are set admission times, you have a half-hour window to arrive (8:45 to 9:15 a.m. for the morning slot and 12:45 to 1:15 for the afternoon slot) before the gate is locked. It's also free.
Cons: Two hours go by so fast. The first time I went, my friends and I planned to explore the garden after our picnic, but time got away from us and before we'd even had dessert, we had to start packing up. The following week, we spent most of our time trying to figure out how to get back on the main path to take us to 'Aihualama Falls at the end of the trail. We made it to the (barely trickling) waterfall with just 20 minutes to spare before needing to leave—and then we got lost again, thanks to a sign pointing us in the wrong direction. We may have yelled for help. Make sure you give yourself plenty of time to get back to the parking lot.
3860 Mānoa Road, manoa.hawaii.edu/lyon
SEE ALSO: Get Lost at Lyon Arboretum in Mānoa
Koko Crater Botanical Garden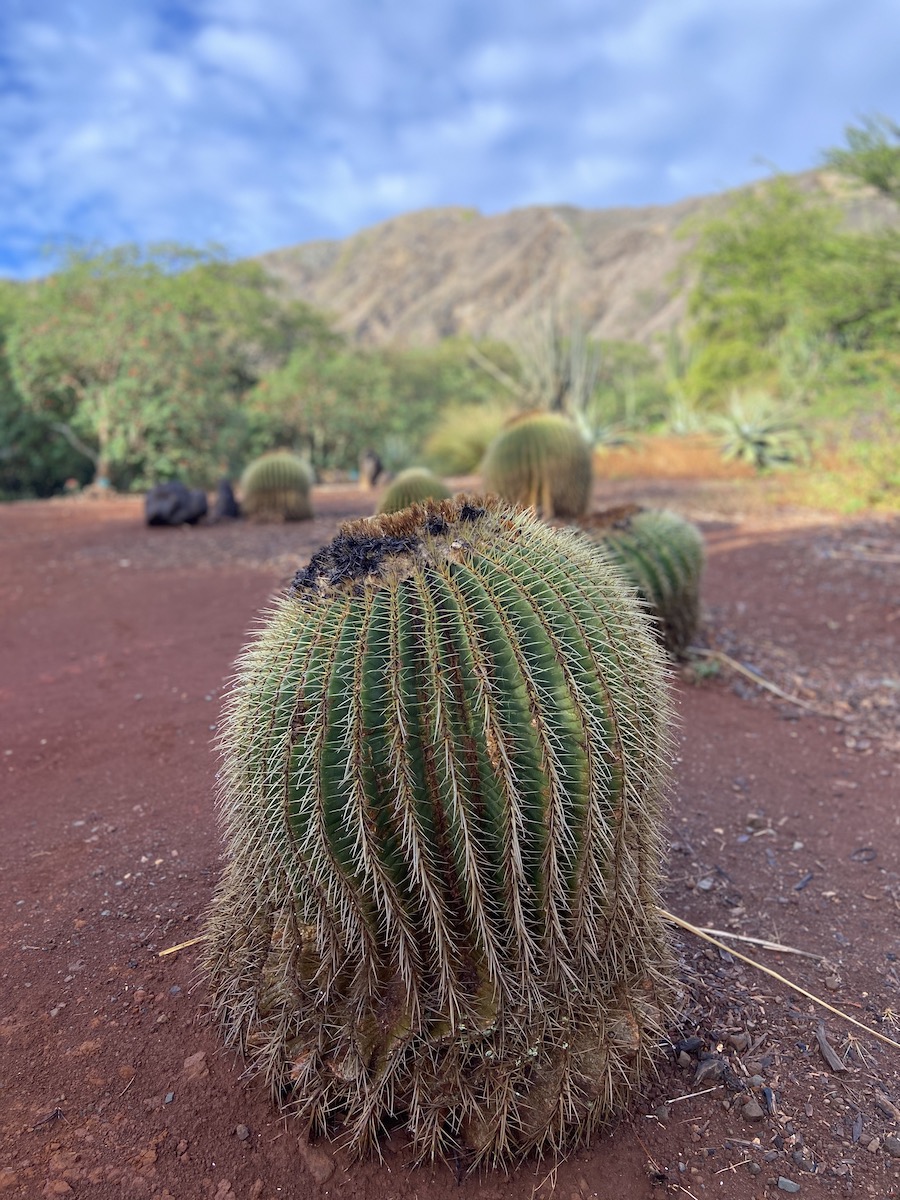 What's new: The city's botanical gardens were some of the first places to reopen in early May for passive exercise, meaning you could walk or jog through but weren't allowed to use the picnic tables or benches. However, those are now open again.
Pros: The garden features a 2-mile loop with a few forks in the road so you can choose to avoid the busier areas. Most of the time, crowds aren't a problem in the quiet xeriscape.
Cons: I walked to Koko Crater the day after it opened (for some extra exercise before my exercise), and it's a good thing I did: The parking lot was full. As the first post-lockdown outing for many of us on the trail that day, it was nice to get out but too crowded for my liking. After trudging past the plumeria grove and bougainvilleas behind slow-moving groups, I veered left to complete the loop trail backward. This way, I encountered others head-on and we were able to pass each other much more quickly than that awkward dance where you try to squeeze around someone from behind, only to be stuck behind another slow group. But now that months have passed, this trail is back to its charming self, perfect for a late-afternoon stroll.
7491 Kokonani St., honolulu.gov
For more information about Oʻahu's COVID-19 restrictions, click here.