What It's Like Taking a Kaua'i Humane Society Shelter Dog on a Day Trip
Shelter Dogs on Field Trips is a popular program that pairs up visitors with eligible canines for outdoor adventures.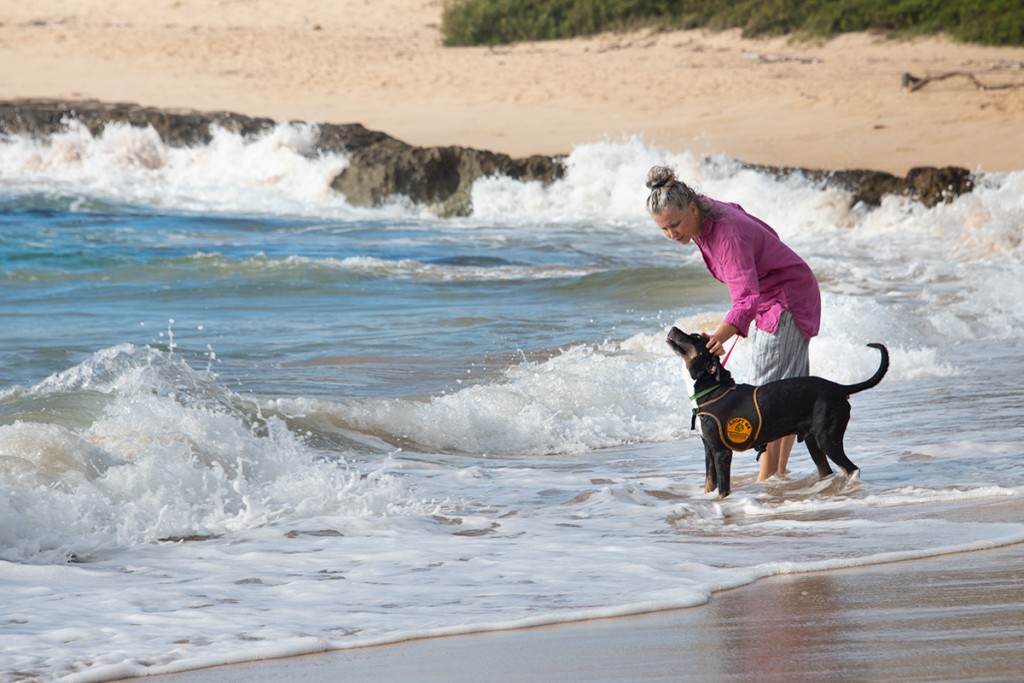 We meet in the bustling kennel hallway of the Kaua'i Humane Society.
My broad-shouldered blind date steps from his kennel to sit at his handler's feet, grinning up at her with a smitten smile and buttery brown eyes.
"This is Beesly. Visitors tell me he loves the water," Savannah says.
On cue, Beesly rears up and places two giant paws on Savannah's chest.
I momentarily question my age and ability to handle this 65-pound love bug. (Ahem, my age is the inverse of his weight.) On this day, no small breeds are eligible for the program.
Beesly is one of the players in Kaua'i Humane Society's Shelter Dogs on Field Trips, a program that became an overnight success when news of it aired on Kaua'i's visitor channel, KVIC-TV, in 2012. Originally intended for Kaua'i resident volunteers, it took the vision of then-executive director Shannon Blizzard to expand the program to include vacationers.
It's a win-win: Visitors satisfy their dog fix while chaperoning eligible canines before a court of potential life partners, and often fall in love themselves. All candidates are microchipped and spayed or neutered, and crating a four-legged souvenir home is possible—and encouraged.
Beesly's copper markings hint at Rottweiler, and his eyes remind me of my gentle hound, Lady Bird. This instills confidence that I'm up to the task—that, and the fact I created the program while working as a volunteer coordinator for the shelter.
Since its inception, there have been more than 4,500 field trips. This year the shelter began tracking adoptions and donations. As of this July, 152 shelter dogs have been adopted and over $10,000 has been raised through the program. The Kaua'i Humane Society asks a minimum $25 donation to walk a shelter dog. Monies raised not only help care for the 90 dogs and 150 cats at the shelter, but also help sustain the program and its industrious team of 35 shelter staff. The open-admission shelter, established in 1952, takes in well over 3,000 animals annually.
Checking out a dog for the day is easy. Dogs are available to leave after 11 a.m. Check-in is at the front desk, where you will be sent into the kennels to choose an eligible pup, identified by a purple card. Then you return to the front desk with the dog's name and a staff member will bring your playdate. A backpack full of supplies is provided, along with a few rules and a list of recommended places. Like any responsible parent, the shelter imposes a curfew: Returns must be by 3 p.m. on weekends and 5 p.m. on weekdays. There is a binder at the front desk where you can share insight on your experience.
When I started the program in 2011, it was specifically for volunteers who'd gone through orientation and an animal handling class. The program was a direct response to hearing people say they would never visit an animal shelter because it was too sad. If I couldn't convince more people to visit the shelter, I'd deliver the shelter to the people. Shelter dogs out in the community act as their own ambassadors.
The program was expanded in 2012 to invite visitor participation. Kaua'i Humane Society can claim first of its kind in Hawai'i. Maui and Hawai'i Island eventually followed suit. That said, this was my first time as a volunteer for the same program I had developed eight years before.
Beesly and I make eye contact through the rearview mirror. I can just imagine what he is thinking: Who is this woman and where is she taking me? Why do I smell unfamiliar dogs back here? In fact, why am I back here? Shouldn't my date sit beside me? Maybe I should join her up front.
Beesly advances through the space between seats, licking my ear and trying to gain even more ground.
"Whoa, big fellah," I say. "A bit soon, isn't it?"
I merge into traffic on Kaumuali'i Highway, wishing I had recruited a chaperone. For the 15-minute drive south, my date leans into the right arm I've flung across the space between seats. A lap dog at heart, he doesn't fancy the limited space of a Mazda. But we make the short drive without incident.
Māhā'ulepū is a rugged stretch of beach at the end of a rutted Po'ipū road. Wind-whipped ironwood trees cling to the sand in leggy clumps, bordering lava and coral reef interrupted by inlets of sandy beach.
Not shy of a shorebreak, Beesly wades chest deep into the waves. Our flirtation ceases as soon as the salt air fills his lungs. He only has eyes for the horizon and I spend an hour discouraging him from swimming out to sea. With the exercise portion of the date satisfied, I decide to head to Kōloa Town where I might successfully introduce Beesly to potential life partners.
Back at the car, my plans change when we meet three hikers fresh off Māhā'ulepū Heritage Trail. Could they be candidates? Beesly's demeanor says otherwise. He stops panting. His tail drops from full sail to half-mast. He ducks behind my legs.
The boisterous Casanova appears to be a bit shy. Instead, we head to a quieter setting, Kukui'ula Boat Harbor, a mellow alternative to the hustle of Kōloa Town. There's a wide lawn, small beach and county picnic area allowing for more controlled interactions. Beesly's confidence is restored. I make a few introductions where he behaves like a true gentleman.
Our return to the shelter is relaxed; for most of the drive, Beesly's chin rests on the passenger seat shoulder as he gazes out the windshield. Closer to home, he begins to pant with excitement.  I realize blind dates can be stressful for both parties, but being 100% present for how your dog is faring and being willing to change plans is the key to a good experience.
When I expanded the program in 2012, I never imagined the reception it would receive. I remember the first day an enthusiastic visitor arrived to walk a shelter dog, there were no procedures or official vests, no backpacks equipped for a day away from home, no staff trained on how to record or even orchestrate such a venture. All we had was our desire to increase adoptions. Today, staff at the shelter run the program like a fine-tuned machine. This thought, and the happy presence of a salty, tuckered out gentle giant, fill me with gratitude.
We walk up the sidewalk where a dozen visitors fill the breezeway either waiting for or returning dogs. Beesly works the crowd. The shelter is home (for now) and he is clearly overjoyed being back. He greets each person like the gracious host of a cocktail party, going so far as to climb into the lap of one seated customer, as if to say, "Oh, the day I've had! Let me tell you all about it!"
Kaua'i Humane Society
3-825 Kaumuali'i Highway, Līhu'e, Kaua'i, 96766, (808) 632-0610, kauaihumane.org
Since moving to Kaua'i in 2001, Pam Woolway has enticed, encouraged, nurtured, counseled and compelled dozens of Kaua'i Humane Society adoptions. She is chef, chauffeur and personal trainer for her own pack of six.
Other Shelters Offering Field Trips
All shelters supply treats, water and cleaning supplies. All dogs are spayed/neutered and microchipped.
Hawai'i Island Field Trips For Shelter Dogs
No reservations necessary. Three locations open Monday through Saturday: Kailua-Kona, Kea'au and Waimea. Hours vary and all are closed Sunday.
Kona: Pickup 9 a.m. to noon, return by 4 p.m., 74-5225 Queen Ka'ahumanu Highway, Kailua-Kona, (808) 329-1175
Kea'au: Pickup 9 a.m. to 1 p.m., return by 3:30 p.m., 16-873 Kea'au-Pāhoa Road, Kea'au, (808) 966-5458
Waimea: Pickup 8 a.m. to noon, return by 3 p.m., 67-1611 Māmalahoa Highway, Kamuela, (808) 885-4558, hihs.org
Maui Humane Society Beach Buddies Visitor Program
There is a waitlist and reservations are required; it's recommended you book three to five months in advance. Suggested donation, $20. Pickup 11 a.m., return by 4 p.m. Wednesdays and Fridays only; 1530 Mehameha Loop, Pu'unēnē, (808) 877-3680, ext. 224, mauihumanesociety.org