What Kailua-Kona is Like Right Now
The seaside visitor hot spot on Hawaiʻi Island is as picturesque as ever but has temporarily lost its signature beat.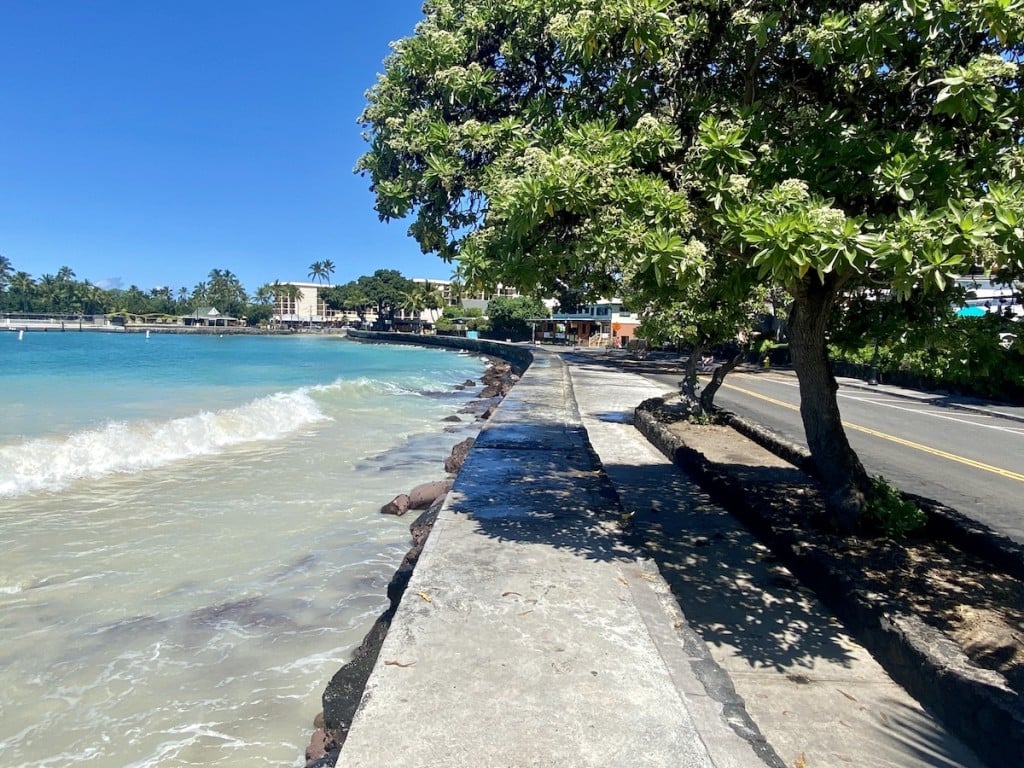 This is the fourth blog in a series about how Hawai'i neighborhoods have changed since the spread of COVID-19. Read what O'ahu's Waikīkī, Kailua and Hale'iwa look like now. 
Cruising down Ali'i Drive in the heart of Kailua-Kona feels strange and oddly quiet. I'd use the word "eerie" if it weren't for the beaming sunshine and vibrant teal water. It has become my family's ritual to high tail it here from the airport to celebrate the start of our weekend getaways from Honolulu.
Now, amidst the COVID-19 pandemic, the party atmosphere is gone: No revelers leaning over restaurant lānai and sipping mai tai cocktails, no tacky T-shirts spilling out of souvenir shops onto crowded sidewalks and no bikini-clad players on the sand volleyball court. Yes, some restaurants are open, there are a few cars on the road, and I spotted a handful of tents at the Kona Village Farmers Market, but don't expect the usual hustle and bustle this quaint town is known for.
What's Changed
With a mandatory 14-day quarantine for visitors in place, hotels are shuttered and marque events such as the Ironman World Championship and the Hawaiian International Billfish Tournament are canceled. (The Ironman has been rescheduled to Oct. 9 2021.) In fact, the number of arrivals to Hawai'i Island was down by 98% in July compared to the same month last year.
Scanning the coastline, it is unsettling to see iconic hotels closed-up and deserted, including Courtyard by Marriott King Kamehameha's Kona Beach Hotel and Royal Kona Resort. One of the few hotels operating on the island, Uncle Billy's Kona Bay Hotel is welcoming kama'āina (Hawai'i residents) with a special promotion, "If you have the right temperature, we have the right price!"
There are several restaurants accessible to locals and visitors who have completed their 14-day quarantine. Favorite destinations such as Kona Brewing Co., The Fish Hopper and Scandinavian Shave Ice (known as Scandi's by regulars) are open for dine-in and take-out with social distancing measures and mask requirements. Kona Brewing Co. also has a growler-to-go shack set up in its parking lot for easy beer pick-up—including a growler sanitizing station—and are encouraging greeting others with "shakas, not shakes."
Only about half of the numerous ABC Stores in town are still open selling snacks, convenience items and gifts. As I walked through the empty Kona Inn Shopping Village, most retailers have closed-up shop temporarily, but a couple of art galleries still welcome customers by appointment only.
A few businesses are taking this time to close for renovations including oceanfront restaurants, Huggo's and On The Rocks. I also encountered construction crews and road work on Ali'i Drive, which typically would have created a major traffic jam.
Historic Hulihe'e Palace has modified its museum tour hours to Saturdays by reservation only. And Kailua Pier, home to watersports, parasailing, fishing and diving outfitters, is gated-off and vacant. Actually, I only spotted one boat in the entire bay.
Our Recommendations
For open-air dining with a view, head upstairs to Foster's Kitchen and ask for a table along the railing overlooking Ali'i Drive and Ōneo Bay. Known for using fresh, local ingredients in its "scratch kitchen," our favorite dishes are the tender baby-back pork ribs and slow-cooked gumbo.
If you are looking for something lighter, drive down the road to Da Poke Shack, and grab a pound of the always-fresh poke, such as the Shack Special with ʻahi (tuna), sweet miso, honey and roasted seaweed. The shop is small, so wait outside to maintain social distancing. Nearby La'aloa Bay Beach Park (aka White Sands Beach Park) makes for a great picnic and swimming stop. (Beaches and parks are currently open on Hawai'i Island, unlike O'ahu).
Where to Park
Normally packed paid parking lots stand empty. Free parking is available at Coconut Grove Marketplace behind Foster's Kitchen. You may even be able to snag a convenient street spot.