What To Do on a Rainy Day in Hawaii
Don't despair: There are ways to enjoy the Islands, even on cloudy days.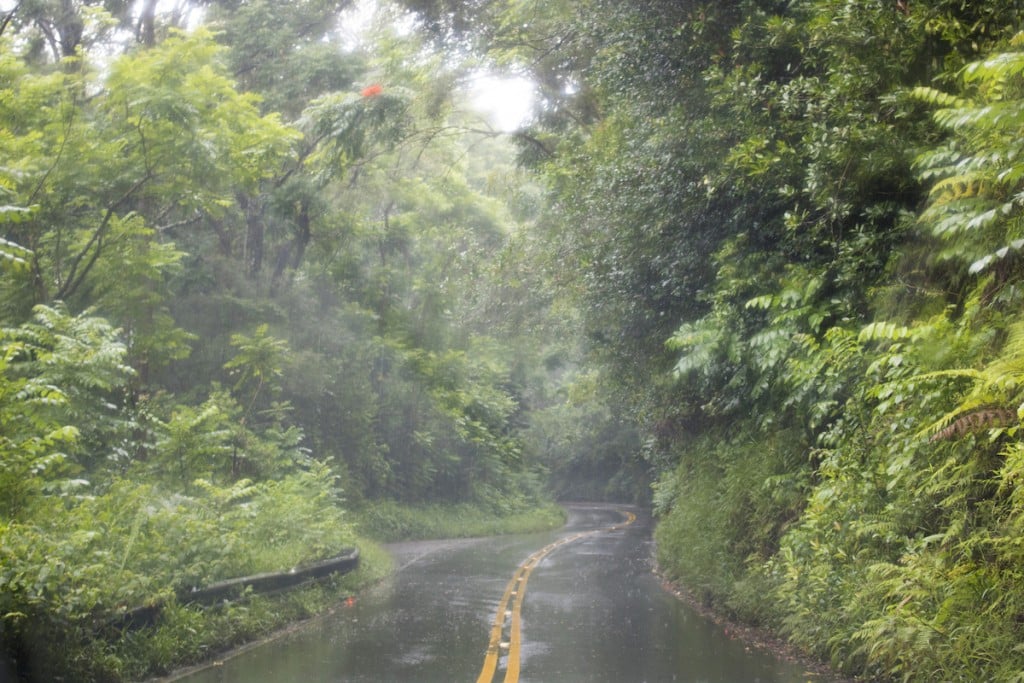 It's a nightmare that haunts every traveler: You've spent countless hours perfecting your ideal vacation itinerary, only to be welcomed by a downpour. Hawaii has its fair share of rainy days, especially this time of the year, but don't let the cloudy skies get you down. Here are several ways you can make the most out of your vacation to the Islands without getting drenched.
Feast on a big bowl of saimin
Saimin is a noodle soup dish unique to Hawaii. It consists of wheat egg noodles suspended in a Japanese dashi broth made of dried kelp and bonito flakes, often topped with green onions, fish cake, egg, Spam and char siu (sweet roasted pork). Locals know that saimin tastes better on rainy days, and on Oahu, it's common to see long lines at Palace Saimin in Kalihi, Shige's Saimin Stand in Wahiawa and at Shiro's Saimin Haven's various locations around the Island. You can check out the classic Hamura Saimin Stand if you're visiting Kauai, or Sam Sato's in Wailuku, Maui, known for its fried saimin dish known as "dry noodles." And Nori's Saimin and Snacks, serving up saimin in Hilo, Hawaii, for over 35 years, is ready to satisfy your next saimin fix.
SEE ALSO: How Hawaii-Style Saimin is Making a Comeback
Visit a museum
A trip to a museum will transport you around the world. The Bishop Museum on Oahu has educated locals and visitors alike for more than 130 years with live tours and demonstrations, and the first planetarium in Polynesia. The Honolulu Museum of Art is another Oahu favorite, showcasing multicultural art pieces and films. Hawaii Island also boasts a number of museums, such as the Imiloa Astronomy Center at the University of Hawaii at Hilo, the Mokupapapa Discovery Center in downtown Hilo and the H.N. Greenwell Store Museum in Kona. There's also the Bailey House Museum in Wailuku, Maui, which houses Hawaiian artifacts, and the Kauai Museum, where visitors can learn about the people of Kauai and Niihau.
Break out of an escape room
View this post on Instagram
Don't stay cooped up in your hotel room; get locked in an escape room with friends for an unforgettable adventure. Escape rooms have grown in popularity in recent years, and can be found all around the Islands, ranging in themes, size and difficulty. Breakout Waikiki and Chambers Escape Games are popular destinations on Oahu, known for their immersive experiences. Options on the other islands include Maui Escape Rooms, located in Whalers Village Mall, Kauai Escape Room in Lihue, and Escape Hilo on Hawaii Island.
Make it a spa day
If you ever needed a reason to get a relaxing massage, a rainy day in Hawaii is it. Every luxe resort in the Islands boasts an equally posh spa. On Oahu, escape the crowds of Waikiki by booking a treatment at the Kahala Spa at The Kahala Hotel & Resort, where you can indulge in a super-relaxing hemp recovery massage—the only one of its kind on Oahu—or treat yourself to an experience at Laniwai Spa at Aulani, a Disney Resort & Spa, where you can pick from traditional lomilomi, Thai or shiatsu massages. On Hawaii Island, the spa at the Four Seasons Resort Hualalai boasts a Polynesian Niu (coconut) Scrub, where you're pampered with a blend of organic coconut and pineapple products. Or book a Kona coffee scrub at the spa at the Fairmont Orchid. On Maui, the Grand Wailea offers a four-hands massage, where two therapists work on you at once. At the Awili Spa & Salon at the Andaz Maui, try the Grounding massage, which uses heated stones to renew tired muscles. At the Anara Spa at the Grand Hyatt Kauai, get a traditional lomilomi massage that soothes tension and eases your body and mind. You'll be so blissed out, you won't even care that it's raining.
If all else fails…
A day spent snacking and relaxing in your hotel room never hurt anyone. Recharge with a Spam musubi from the nearest convenience store, grab your pillows and blankets, and queue up a show inspired by the Islands—"Hawaii Five-0," "50 First Dates" and "Lilo and Stitch" are great places to start. Rainy days never last too long in Hawaii; you'll be back out hiking and swimming in no time!