What to know and where to go for this year's summer bon dance festival season in Hawaii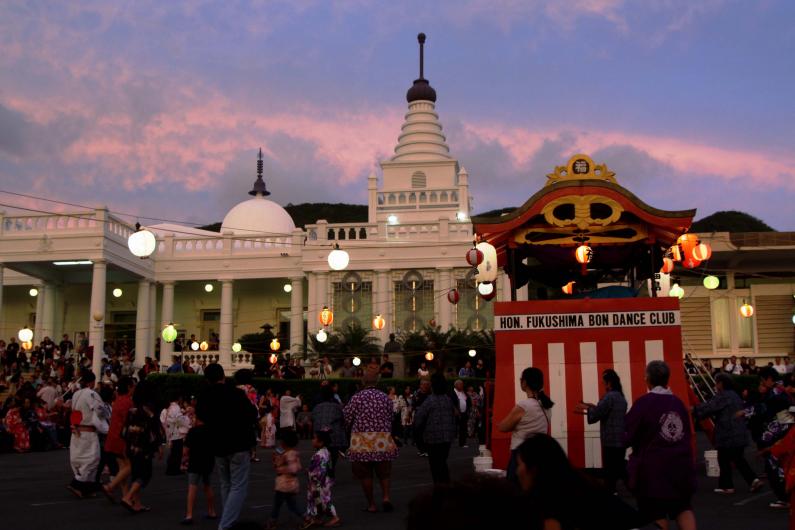 Obon, a Japanese Buddhist season honoring ancestors' memories and sacrifices, fills Hawaii event calendars annually between June and August. According to Japanese tradition, that's when spirits return to visit family and friends.
In Hawaii, the season has become as much a celebration of cultural heritage as it is a ceremony of spiritual remembrance. During bon dance season, area hongwanjis (Jodo Shinshu sect Buddhist temples)—filled with colorful hanging lights believed to light the way for ancestral spirits—are open to the public following service on weekend evenings. They host festive circular group dances known as bon-odori set to rhythmic taiko drums, where kimono-clad participants trace circular movements around tower-like yagura platforms. On the periphery bazaars—filled with cultural craft booths and delicious Japanese food such as udon noodles, manju (a popular Japanese dessert) and grilled teriyaki beef or chicken skewers—often serve as fundraisers for the temple.
Participation in bon dance is open to people of all cultures and religious backgrounds. To join in head to one of the outermost rings and mimic the moves of the dance leaders in the innermost circle.
If you're in the Islands this summer you should definitely participate in at least one. Looking for an event this weekend? Two hongwanji on Hawaii Island, one on Kauai and one on Maui are hosting events this Sat., June 13. On Hawaii Island, the Kona Hongwanji in the eastern town of Kealakekua will host dances at the Keauhou Shopping Center at 6 p.m., on the west coast, the Honomu Henjyoji Mission will host dances at the temple in Honomu at 7 p.m. following 5 p.m. services. On Kauai, the Kapaa Judo Mission will host bon dance both Sat. and Sun. evenings (June 13 & 14) beginning at 7:30 p.m. And, on Maui, the Puunene Nichiren Mission in Kahului will host bon dance at 8 p.m. You'll have to wait til next weekend for Oahu-based bon dance events.
A comprehensive list of obon festival events for all Islands is published annually on the website of bi-weekly Japanese American journal The Hawaii Herald. See this year's complete list here.