What to Know Before Hiking Kauai's Kuilau Trail
To truly experience how the Garden Isle got its nickname, you must venture into Kauai's lush, rain-dampened interior.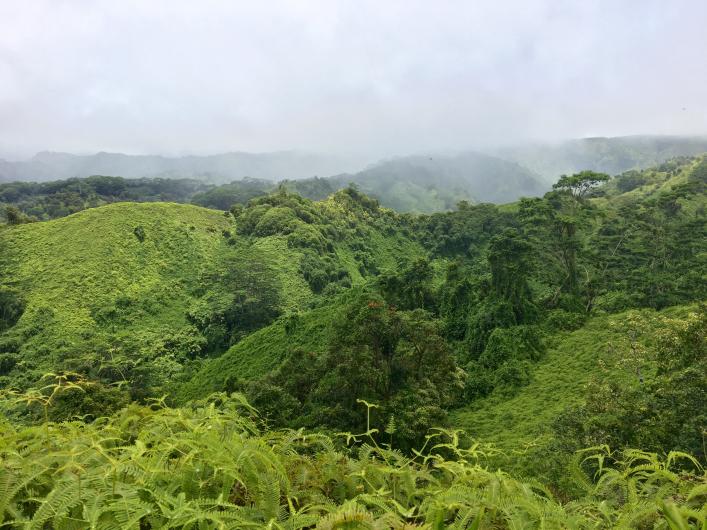 To truly experience how the Garden Isle got its nickname, you must venture into Kauai's lush, rain-dampened interior. One appealing way of doing this is to hike the Kuilau Trail, which is welcoming and non-treacherous. Offering sweeping, shock green vistas of Mount Waialeale—widely considered one of the wettest spots on earth—and the majestic Makahela Mountains, the Kuilau Trail displays Kauai's verdant beauty on a footpath that's fairly easy to conquer.
First things first: Prepare to get wet.
It doesn't always rain along the Kuilau Trail, but it often does, usually in spurts and especially in winter. While the weather can be known to quite literally cloud the views, on more days than not this hike has good visibility that's worth a little mud and drizzle.
The hike is flat at first, but the footpath soon unfolds into a gentle incline.
The trail measures 4.5 miles round-trip, but don't let the distance stop you. Near the one-mile marker there is a wide, grassy field with a picnicking area that overlooks a gorgeously canopied valley. This lunch spot can serve as the midpoint of an abbreviated hike, making for a much more manageable journey. For those who wish to continue, you'll be rewarded with closer Waialeale views. Along the way you'll encounter a native ohia forest and elegant ferns, dripping with dew.
The Kuilau Trail belongs to the Na Ala Hele trails and access program.
It's a state-curated assortment of recreational passages maintained for the enhancement of local culture and environmental conservation. The full trail winds through the Lihue-Koloa Forest Reserve, ending at the Moalepe Trail, which is well marked. When you reach the sign for the Moalepe, it's time to turn around.
This adventure into the mist takes about 2.5 hours to complete.
The trek is of easy to moderate difficulty, which can be eased by use of a walking stick and sturdy shoes. Watch your step for what looks like mud, but isn't; Kuilau is also a popular equestrian route.
---
Conveniently located off Highway 580 in Wailua, the trailhead abuts Keahua Forestry Arboretum. The marker is located on the right-hand side of the highway, about 100 yards before the arboretum's primary parking area, just before the road bridge leading across the river. From the car lot, walk a short distance to the trailhead. Walking sticks left behind by hikers can often be found here, but don't bank on it.
Additionally, there is a small amount of parking space available immediately in front of the hike's start point. If you're lucky enough to arrive when one of these coveted spots is vacant, snag it.