What you should know about the traditional Hawaiian art of tattoo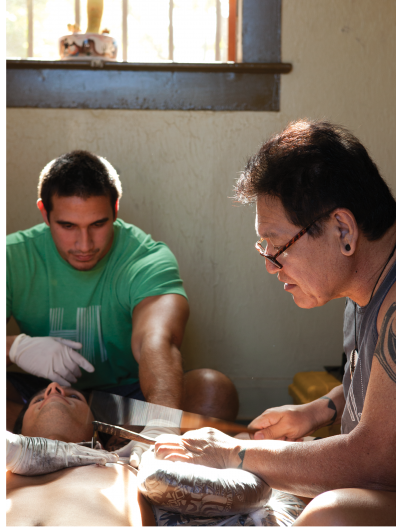 Did you know in ancient Hawaii the tattooist was the only one who determined the design and not the client? That's just one difference between Hawaiian and Western forms of tattooing.
You can learn about this and more at the 2015 Pacific Ink and Art Expo's three-day event starting Friday, Aug. 7 at Honolulu's Neal S. Blaisdell Exhibition Hall, which will feature more than 200 tattooists from around the world. (You can even get inked right there if you want.)
Among this year's expo headliners is Hawaii-based tattooist Keone Nunes, who practices the Hawaiian method of kakau, or hand-tapping. His tools are similar to ones used thousands of years ago—tools made from dense wood and animal tusk. And like the name suggests, the designs are hand-tapped onto the skin.
At 57-years-old, Nunes will tell you he didn't become interested in kakau until he was in his 30s. But it helped that he was knowledgeable of Hawaiian culture—knowledge passed down to him over the years from kupuna, or elders.
That knowledge included kakau, and when he learned the knowledge he possessed was not common, he felt a responsibility to carry it on.
"I kind of equate [kakau] to being an author of a book," says Nunes. "In order to write about a subject matter, you have to have a whole library of knowledge. [Kupuna] were giving that library from which I was able to extract the education necessary in order to perpetuate this work."
So he began looking into kakau in 1990 during a time when no one else in Hawaii was really practicing it. Then, in 1996, he went to Samoa where the tapping technique was also used. He learned how to make the tools and the kakau technique that was used throughout the Pacific. He was an apprentice until 1999, the year his mentor passed away.
Today, Nunes has a selection of apprentices of his own. And those who want a traditional uhi, or tattoo, can expect Nunes to be just as selective of his clients.
He begins with an interview with each of his clients. "To me, it's really important for people to have the right idea of why they want to get the work done or what motivates them to have it done in this fashion," Nunes says.
"If they're Hawaiian, I would like them to have their genealogy ready. There were certain families that had specific designs … There were some clan designs that were not just regulated to blood relationships but to relationships in chiefdoms and things of that nature," Nunes says.
Once he decides he will take on a client, there is cultural protocol he follows. Before the kakau takes place, Nunes will get up early and head to the beach to "wake the tools up" with prayer, so the tools can perform the necessary work. He also says prayers during kakau and afterwards, to put the tools to rest.
"Prayers are generally for the well-being of the person getting the work done," Nunes says. "It's almost like a rebirth in Hawaiian tattooing. When a person is being born, that whole process is dangerous for the individual and the mom. And so, those chants and prayers is to give that person strength in order to go through that process and come out stronger."
Although no machine is used in kakau, Nunes says it's a much quicker process than using machine usually in half the time. He even says he did a leg tattoo from hip to ankle in 45 minutes.
Nunes will be one of many at the expo, and visitors can watch him perform kakau.
"I'm not one to really like the public spotlight," Nunes says. "But it allows people to get educated on this tradition that is very ancient and for me to honor the people that taught me. And also for my students, my apprentices, to be able to see the possibilities for them in the future too."