Where the Wild Hideaways are in Hawaii
Find shelter in these off-the-beaten-path quarters that are resort-ready in their own ways.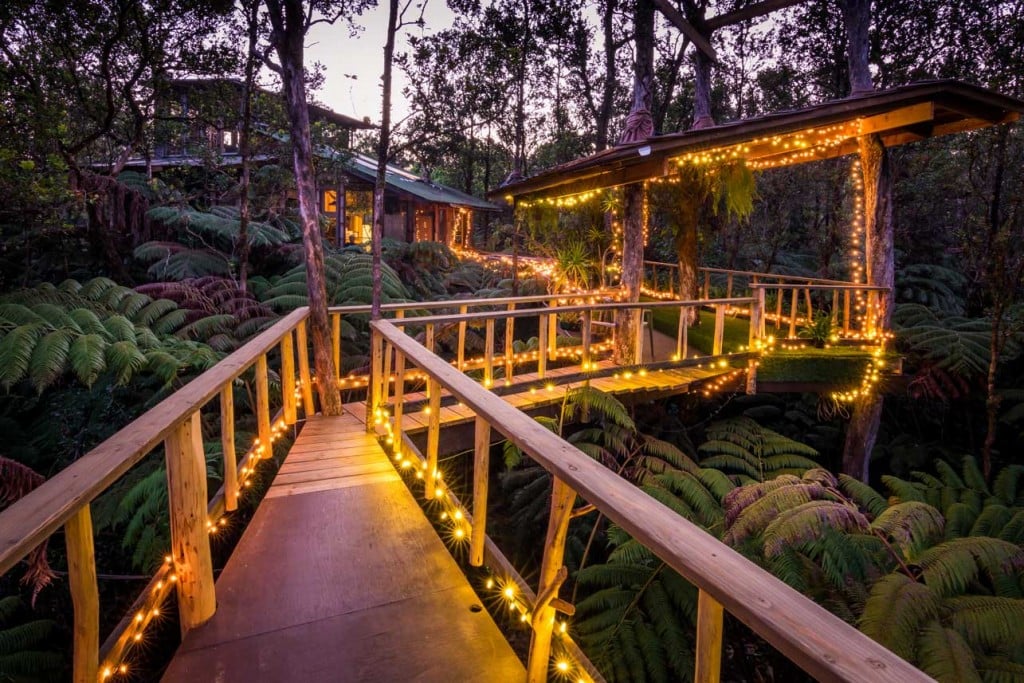 A treehouse in a native rain forest. A relaxing commune of yurts. A bungalow on the beach. A mobile camper that allows you to retreat from mountain to sea at your leisure. When getting away to an oceanside resort on your favorite Hawaiian Island just isn't enough, find shelter in these off-the-beaten-path quarters that are resort-ready in their own ways.
Are you a curious traveler who wants to strike a chord with the outdoors, but without sacrificing the comforts and modern conveniences of a fabulous home? Call it glamping, slow travel, "anything-but-Waikiki"—whatever the buzzword or phrase you prefer, these unique lodging situations across Hawaii appear to have nailed low-key luxury.
Local Motion
For travelers who want to go that extra mile (literally), canvas Oahu in a vintage Volkswagen with Hana Hou Campers. This avocado-colored van is ripe with more than just a splashy green paint job—its remodeled interior sleeps four guests (hope one of them can drive a stick shift!) and includes two burner stoves, a cooler and a shower. The mobility maximizes one's exploration of the island's sprawling highways and backcountry side streets. In Hawaiian, hana hou means "to repeat," and, after overnighting in this nostalgic ride, you just might want to extend your stay or do it all over again real soon. Kailua, Oahu,  instagram.com/hanahoucampers.
Bayside Bliss
Wake up to the sound of the ocean washing up to your doorstep on one of Kauai's longest white-sand beaches. At Kumu Camp, 10 private "tentalows"—a tent and bungalow hybrid that is a framed structure covered with canvas—showcase the island's rural allure on 5-acres of Anahola Bay. The ambiance of the camp can't be beat. Designated as a nonprofit, it organically blends into the region's Hawaiian Homestead community with various open-air pavilions that are frequented by local families, canoe clubs, neighborhood yogis and all-day beachgoers. Anahola, Kauai, anaholabeachretreat.org.
In the Mood to Yurt
In Kapaau, at the remote northern tip of the Big Island, Spa Eco Retreat, a village that includes seven yurts, can be found nestled in a grove of ironwood and palm trees along the Kohala Coast. The charming units—spacious enough to be outfitted with single or king-size beds, functioning bathrooms, toilets and a sink—are humble experiments in sustainable lodging, but it's the common areas around the retreat's 50 acres that keep guests coming back to reset. Massage bungalows, a sauna and an infinity pool are easily accessible from the village and provide a pampered sense of lavishness to this refuge. Kapaau, Hawaii Island, hawaiiislandretreat.com.
Branching Out
Just 5 miles outside Hawaii Volcanoes National Park, this fortress in the forest awaits: Hawaii Volcano Treehouse, a duo of eco-minded, multilevel vacation rentals integrated 20 feet up into native ohia and giant hapuu fern trees. The sculptural architecture of this adventurous nest sprawls through the lush outdoor canopy of foliage with a sensitivity to its surroundings—solar-powered and made with recycled materials. Its storybook setting in nature has one objective: to unlock every guest's childlike whimsy (there are a proud lack of televisions on property for exactly this reason). Besides the California King-size beds, amenities include a warm shower, flush toilets, a kitchen with a fridge and an open-faced fireplace. Volcano, Hawaii Island, volcanotreehouse.net.