Where to celebrate National Pizza Day, Hawaii-style
Everyone loves pizza. Here are some of the best Oahu spots to grab a pie.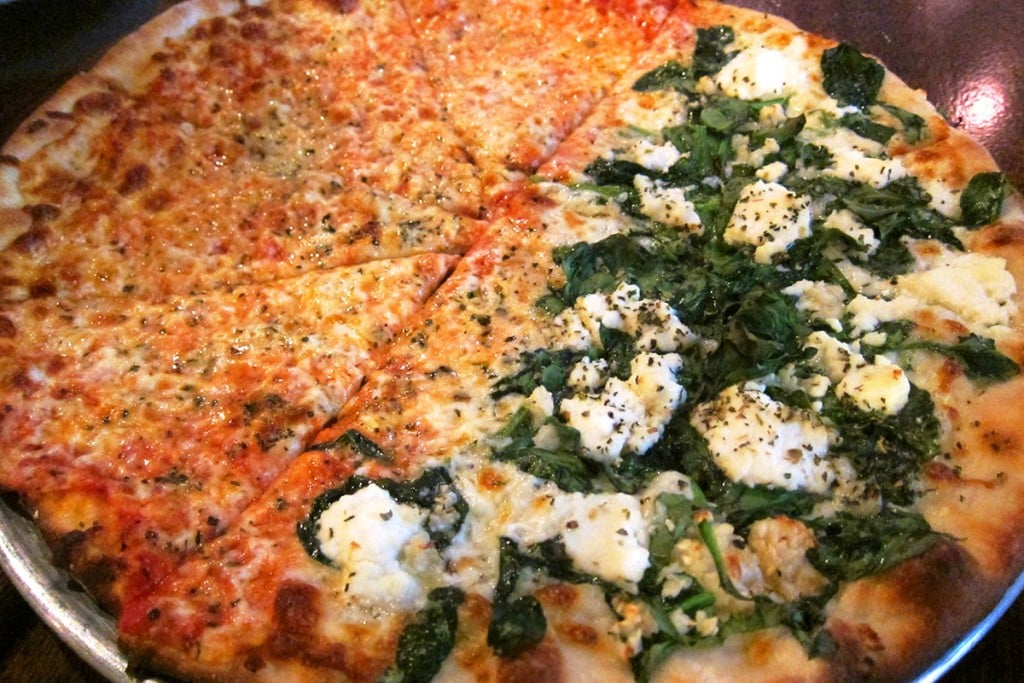 Everyone loves pizza. So much so, that it is an observed, albeit not official, holiday. The humble pizza pie is great in all its forms, from thin crust or Chicago deep dish to the classic cheese slice or the deliciously greasy pepperoni. Put aside your newly discovered love of poke and pork laulau (just for a moment) and celebrate National Pizza Day today with a slice from these five local pizzerias across Oahu.
JJ Dolan's
JJ Dolan's is the cheesy, hand-tossed dough brainchild of J.J. Niebuhr and Danny Dolan. Opened in 2008, it is one of the best pizzerias on the island. And for good reason. The menu signatures, such as the spinach and garlic pie and the meat lover's "Giacomo" (pronounced "jack-o-mo"), is consistently good, made with sausage, salami, pepperoni and olives. If you're feeling adventurous, get one of JJ Dolan's daily specials, crafted with ingredients such as teriyaki meatballs and Maui sweet onions, or potatoes, bacon and asparagus. You won't regret it. jjdolans.com
Bar 35
Bar 35 is the place to go this National Pizza Day. Each Tuesday, the bar has its wine and pizza night. Order one of the Chinatown lounge's Roman style thin-crust pizzas, paired with your choice of a bottle of wine for $25. The crispy oblong pizzas are fresh made, served on a wood paddle and topped with ingredients such as Chinese sausage, sweet chili sauce and cilantro (the "Sweet Bangkok"), or Brie, ham, pesto and fresh basil (the "French Kiss"). bar35hawaii.com
Big Kahuna's Pizza
This small pizza parlor, located in the Airport Trade Center, is a longtime local favorite. Big Kahuna's pizzas come in two sizes: 7" personal pan and 12" medium pan. Now you can have a whole piece to yourself. Can't decide which pizza to get? Order the "Sumo Special." It has everything on it: pepperoni, ham, Italian and Portuguese sausage, bacon, kalua pork, onions, mushrooms, tomatoes and black olives. Be sure to save room for the cheesy garlic balls. Chewy and buttery, they're the perfect companions to your pie. bigkahunaspizzahawaii.com
The Alley Restaurant at Aiea Bowl
Locals know and love the Alley Restaurant, tucked inside Aiea Bowl, for its comfort-inducing oxtail soup and the zesty lemon crunch cake—a lot of people come to the Leeward Oahu bowling alley just to eat—but the restaurant also cranks out flavorful pizzas. The Alley's pizzas are crafted with handmade sourdough crust. One of its most popular pies is the "Perfect 300," made with pepperoni, sausage, Canadian bacon, onions, bell peppers, mushrooms and extra cheese. aieabowl.com/restaurant
Prima
If you like creatively crafted pizzas fired in a traditional brick oven, then you will appreciate the pizzas at Prima in Kailua. The Windward Oahu restaurant prides itself on utilizing local ingredients to make its thin crust pizzas, each made perfectly chewy and crunchy in the kiawe wood fired brick oven. The menu is halved into its featured pizzas, and items that are "not pizza." We recommend the Kona Street. It's a cheesy, gooey masterpiece of tomato, onion, parsley, truffle oil and pancetta topped with a soft poached egg. primahawaii.com
Pizza Corner
This westside eatery is a foodie destination for locals and visitors alike because of two words: Poke pizza. Located in Ko Olina, this original fusion creation is smothered in Hawaiian style ahi (tuna) poke and lomi lomi tomato salsa, furikake (Japanese sesame seasoning) and green onions. What's not to fall in love with? The menu also includes more traditional pizzas, plus pasta, subs, ribs and the addictive house garlic knots. pizzacornerhi.com