Where to Celebrate Thanksgiving 2019 in Hawaii
Turkey Day is coming, and restaurants such as M.A.C. 24/7, Lineage and Duke's Kauai are holding their own holiday feasts.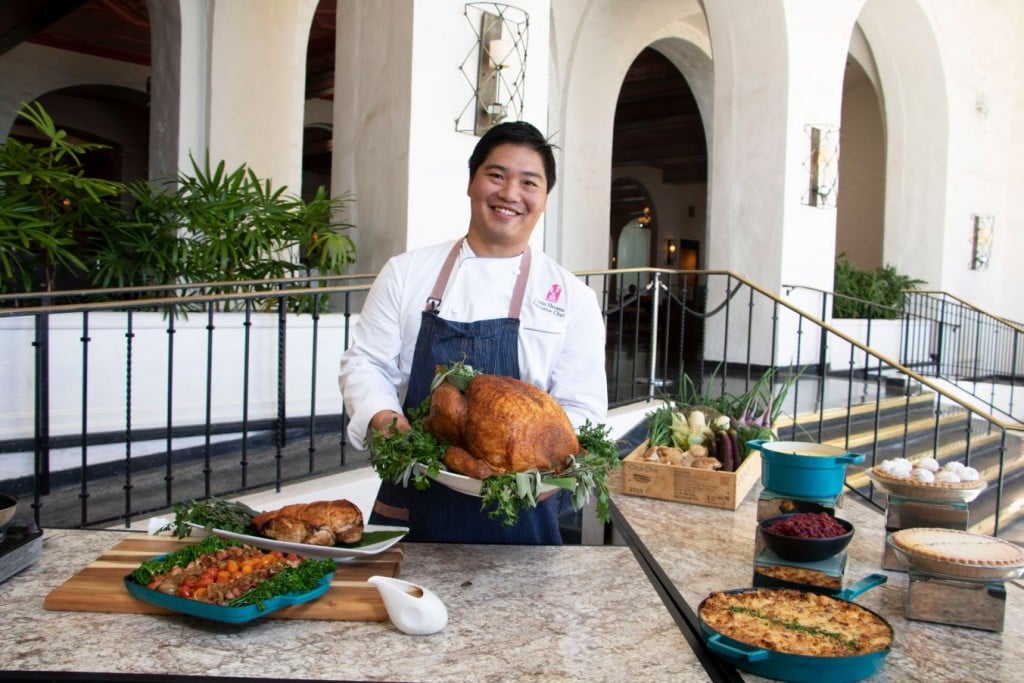 Thanksgiving Day is upon us and some of Hawaii's top restaurants are looking to share the aloha spirit in the best way possible, through food. So if you're not up to cooking an entire holiday feast, or just want a place to take the family this Thanksgiving, give these restaurants on Maui, Kauai, Hawaii Island and Oahu a look.
OAHU
Azure Restaurant
Chef de cuisine Shingo Katsura has carefully crafted a delectable four-course meal at Azure Restaurant, located at The Royal Hawaiian. A fall salad, filled with celery root panna cotta, hearts of palm, turnips, beets and pomegranate is followed by poached lobster, roasted turkey breast and finally, a kabocha pumpkin confit. Of course, enjoying a Thanksgiving dinner at home has its own appeal, which is why executive chef Colin Hazama has put together a to-go Thanksgiving dinner, which includes a kiawe smoked turkey and enough sides to feed 15 people. The four-course dinner is $150 per person, the Royal Feast "To-Go" is $325. 2259 Kalakaua Ave., Honolulu, (808) 921-4600.
Turtle Bay Resort
If you're looking for a midday Thanksgiving brunch, Turtle Bay Resort offers one at an affordable price. The resort's Thanksgiving Day feast includes an extensive buffet of salads, appetizers, hot selections, carving stations and desserts. Brunch also features made-to-order omelets, waffles and country biscuits with sausage gravy. Turtle Bay Resort also offers a turkey to go, which includes a 14-pound roasted turkey with sage dressing, green beans, whipped potatoes, roasted turkey gravy, cranberry sauce, baked rolls, pumpkin pie and apple pie. Brunch is $80 for adults, $40 for children ages 4 to 11; the turkey-to-go feast is $225. 57-091 Kamehameha Highway, Kahuku, (808) 293-6000.
Hilton Hawaiian Village
If there's one thing Hilton Hawaiian Village isn't lacking in, it's ways for you to enjoy your Thanksgiving Day. Tropics Bar & Grill will feature Thanksgiving lunch and dinner specials, such as slow-roasted tom turkey and kabocha pumpkin bisque. The Rainbow Lanai offers a Thanksgiving dinner buffet complete with carving stations of tom turkey and bourbon maple glazed ham, main dishes like buttermilk mashed potatoes and traditional stuffing, as well as an assortment of pies including custard, pumpkin and even a tropical crème brûlée. Bali Steak & Seafood, which is also located in the Hilton Hawaiian Village, will serve up Thanksgiving specials like butternut squash soup, roasted chile spiced figs, kiawe smoked turkey, pumpkin panna cotta and an oven roasted kabocha pumpkin salad from 5 to 9 p.m., with all items sold à la carte. Lastly, the Waikiki Starlight Hawaiian Luau, hosted by the Hilton Hawaiian Village Waikiki Beach Resort, will feature a special Thanksgiving dinner along with talented hula dancers, fire knife dancers and other performers. Prices and locations vary; for more information, visit Hilton Hawaiian Village's website or call (808) 949-4321.
Atlantis Adventures
What's better than a Thanksgiving buffet? A Thanksgiving buffet and a cruise. Set sail with Atlantis Adventures for a two-hour voyage in the waters around Oahu, all the while chowing down on a wide selection of turkey day menu items, such as roasted turkey and gravy, garlic mashed potatoes and the catch of the day. $112 for adults, $56 for kids ages 7-12. 177 Aloha Tower Drive, Honolulu; additional information can be found here.
M.A.C. 24/7
Eat your heart out at the Thanksgiving brunch buffet laid out at this popular comfort diner. Options include candied Okinawan sweet potatoes, roasted turkey with traditional giblet gravy, paniolo roasted pork loin and autumn pumpkin pie tartlets. Pancake lovers won't be disappointed either, as the restaurant's signature pancake station, with 10 toppings, will also be open. $54 for adults, $27 for keiki ages 5-12, free for kids 4 and under. 2500 Kuhio Ave., Waikiki; the full menu can be found here.
MAUI
Lineage
Chef Sheldon Simeon has given us his upscale take on traditional local grinds with his restaurant, Lineage, and is now tackling Thanksgiving with his Thanksgiving-ish family style menu. If you're dining on a budget, the base-tier menu will get you delectable dishes like turkey tail adobo, Portuguese bread stuffing and guava glazed ham; the more expensive second tier includes all of that plus prime rib and seafood bouillabaisse. Tier 1 menu is $79 per person, tier 2 menu is $120 per person, kids (12 and under) menu is $30. 3750 Wailea Alanui Drive, Wailea, (808) 879-8800.
Spago Maui
Wolfgang Puck's Spago Maui, based at the Four Seasons Resort Maui at Wailea, is reopening just in time for the holidays. And to celebrate, Spago will serve a special Thanksgiving turkey entree at $48 a head. The plate will consist of a slow roasted turkey, Yukon gold potato puree, cranberry compote, stuffing, marshmallow yams and sauteed seasonal vegetables. If you're kamaaina (a longtime resident), bring your state ID or driver's license and get half off. $48 per person, $24 for kamaaina. 3900 Wailea Alanui Drive, Wailea, (808) 874-8000.
KAUAI
Koloa Landing Resort at Poipu
Known for its culinary program with renowned James Beard Award-winning chef Sam Choy, Koloa Landing Resort at Poipu isn't pulling any punches with its high-end brunch buffet. Stuff yourself with roasted turkey with homemade gravy, smoked bacon mac and cheese, crab claws and even Choy's famous ahi and tako (octopus) poke. $65 per adult, $29 per child under 10. 2641 Poipu Road, Koloa, (808) 240-6600.
Duke's Kauai
Find a filling Thanksgiving meal at the beachfront venue, Duke's Kauai. For $28 per person, enjoy the restaurant's extensive selection of entrees, from roasted turkey and garlic mashed potatoes slathered in a housemade cranberry sauce to roasted root veggies and kalua pork with green apple stuffing. And save room for dessert—a pumpkin crunch hula pie, which is expected to go quickly. $28 per person, $14 for kids 12 and under. 2335 Kalakaua Ave., Suite 116, Waikiki, (808) 246-9599.
HAWAII ISLAND
Merriman's Waimea
If you're looking for a real Thanksgiving bounty, Merriman's Waimea is offering a four-course prix fixe meal that will delight your taste buds. Following a Hamakua mushroom bisque amuse bouche, diners choose their second and main courses from such menu items as ahi poke with jalapeno and crushed avocado, Keahou lobster crab cakes and vegetable Wellington. Dessert is pumpkin pie, chocolate bread pudding and a lilikoi mousse. $79 per person, $32 for children 12 and under. 65-1227 Opelo Road Kamuela B, Waimea, (808) 885-6822.
Mauna Kea Beach Hotel
Whether you're looking for delicious dishes from the land or the sea, the Mauna Kea Beach Hotel has it all. This Thanksgiving feast has everything from beet poke with ogo, sunflower seeds and sweet onion to citrus brined turkey leg and pan seared snapper with pickled fennel and tomato basil vinaigrette. $90 for adults, $46 for children ages 5 to 12. 62-100 Mauna Kea Beach Drive, Waimea, (808) 882-7222.