Where to find Hawaii gifts and souvenirs that are really from Hawaii
If you'd like to make sure what you bring home from the Islands is actually Island-made, here's where you can get authentic Hawaii-made products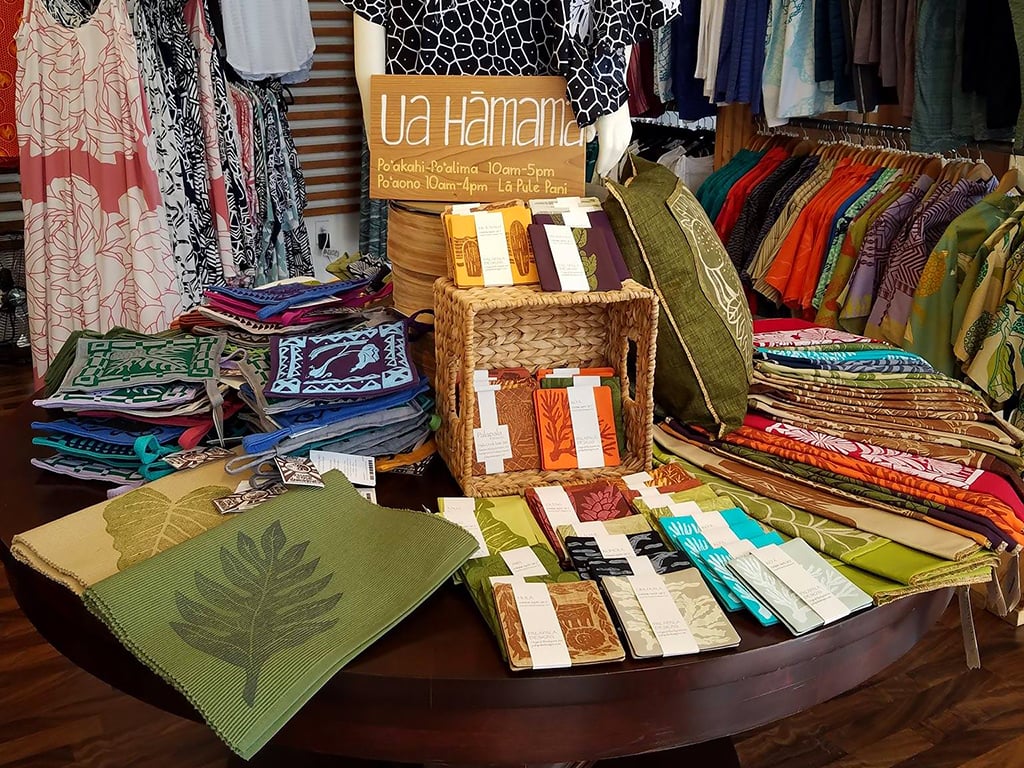 Updated: December 7, 2017
Although most of the items you find in Waikiki or other tourist centers in Hawaii say "Hawaii" on them somewhere, most are not actually made in Hawaii. The grass skirts you see came from the Philippines. Statues of King Kamehameha? Made in China.
If you'd like to make sure what you bring home from the Islands is actually Island-made, we've put together a list of stores that specialize in selling authentic Hawaii-made products.
If you're shopping on Oahu, you might want to look into stores like Native Books/Na Mea Hawaii in Ward Centre. Stores like Na Mea carry authentic and culturally accurate wares, including handcrafted items, gift baskets, books, clothing CDs and DVDS and even food products.
Here, we present a sampling of retailers statewide specializing in selling authentic Hawaii-made products. They're arranged by island, for your convenience, with web links when available. Many of the retailers also sell their products online, so you can get Hawaii-made products even when you can't be here.
Happy shopping!
Retailers That Carry Authentic Hawaii-Made Products: A List
Oahu
East Honolulu Clothing Company
41-1537 Kalanianaole Highway, Waimanalo
(808) 259-7677
Clothing and gifts with country flair.
Tutuvi
48-140 Kamehameha Hwy
Kaneohe
(808) 239-2222
Located inside Waiahole Poi Factory, aloha wear from designer Colleen Kimura.
Manuhealii
930 Punahou St., Honolulu
(808) 942-9868
Designer Danene Lunn's island style family wear.
Nakeu Awai
1613 Houghtailing St., Honolulu
(808) 841-1221
Designer Nakeu Awai's clothing
Philip Rickard Honolulu
Ala Moana Center, 1450 Ala Moana Blvd., Honolulu, third floor
(808) 946-6720
Longtime crafter of made-in-Hawaii Hawaiian heirloom jewelry.
Na Mea Hawaii
1200 Ala Moana Blvd Suite 270, Honolulu
(808) 596-8885
Original art and fine art reproductions, Hawaiian books, crafts and cultural items.
Jams World Hawaii
Locations on Oahu at Ward Centre, (1200 Ala Moana Blvd., Ste. 405), Koolina (92-1047 Olani St., Ste. 1-104)
and on Big Island at Keauhou Shopping Center (78-6831 Alii Dr., Ste. 150) and The Shops at Mauna Lani,
68-1330 Mauna Lani Drive, Ste. 304)
Contemporary casual Island wear.
Iolani
1234 Kona St, Fl. 2, Honolulu
(808) 593-4520
Made in Hawaii clothing, gifts, home decor, food and accessories.
Simply Wood
932 Kapahulu Ave., Honolulu
(808) 626-5300
Hawaii-made Koa and milo wood items, jewelry and art.
Polynesian Treasures
66-250 Kamehameha Hwy., Ste 150, Haleiwa
(808) 637-1288
Handcrafted jewelry and accessories from local vendors.
Sugarcane Hawaii
1137 11th Ave., Ste 101, Honolulu
(808) 739-2263
Hawaii-made gifts and accessories like throw pillows, jewelry and cosmetics.
Maui and Molokai
Maui:
Alii Kula Lavender Farm and Store
1100 Waipoli Road, Kula
(808) 878-3004
This is a working lavender farm filled with goodies, most made right on the farm. Lavender products for the bath, home and kitchen.
Kopa Haiku
283 Lalo St. #E, Kahului
(808) 575-5435
A working soap factory, it's a great place to visit and it smells wonderful.
Maui Hands
Locations in Lahaina (612 Front St. and inside the Hyatt Regency Hotel), Makawao (1169 Makawao Ave.) and Paia (84 Hana Hwy.)
(808) 667-9898
Maui Hands represents over 300 Hawaii artists and artisans.
Native Intelligence
45 N. Market St., Wailuku
(808) 249-2421
The best Hawaiian cultural products available on Maui.
Nectar Creations
120 Hana Hwy., Paia
(808) 579-8567
Bamboo wear, yoga clothes and local art and accessories.
Ui Gallery
395 Dairy Rd., Kahului
(808) 893-2149
Artwork by Rachel Ray, plus locally-made greeting cards, jewelry, koa wood bowls and more.
Molokai
Molokai Art from the Heart
40 Ala Malama St., Kaunakakai
(808) 553-8018
The diverse art and craft works of over 136 Molokai-based artists and crafters.
Kalele Bookstore & Divine Expression
64 Ala Malama Ave., Kaunakakai
(808) 553-5112
Books, plus locally-made jewelry, pottery, clothes and accessories.

Kauai
Banana Patch Studio

2490 Keneke St., Kilauea
(808) 828-6522
Ceramics and art.
Island Soap and Candleworks

2474 Keneke St., Kilauea
(808) 828-1955
Two locations
Soap and candles.
Kauai Products Store
Kukui Grove Shopping Center
Kaumualii Highway, Lihue
(808) 246-6753
An outlet for 200+ Kauai-made products.
Nani Moon Meadery
4-939D Kuhio Highway, Kapaa

(808) 823-0486
Local honey wines and eclectic small batches of special gifts.
Train Depot Store
 at Kilohana Plantation
3-2087 Kaumualii Highway, Lihue
(808) 245-7245

Plantation inspired, locally made preserved foods, sauces and goodies.
Big Island
Dan De Luz Woods
17-4003 Ahuahu Pl., Mountain View
(808) 968-6607
Dan De Luz's grandson carries on the family business of turning koa, milo, mango, kamani, sandalwood, hau and other Island woods into beautiful bowls and wood products.
Hana Hou
164 Kamehameha Ave., Hilo
(808) 935-4555
One of a kind handcrafted items made by master weavers and artisans from Hawaii.
Kimura Lauhala Shop
77-996 Mamalahoa Hwy, Kona
(808) 324-0053
Everything lauhala, from rolled-up mats and wide-brimmed hats to tote bags, coasters and coin purses.
Sig Zane
122 Kamehameha Ave, Hilo
(808) 935-7707
The most esteemed clothier for local people in Hawaii.
Under the Koa Tree
69-250 Waikoloa Beach Drive, Waikoloa Resort
(808) 886-7444
Locally made koa items, jewelry, boxes, keepsakes, canoes, paddles and more.
Olivia Claire Boutique
69-201 Waikoloa Beach Dr., Waikoloa
(808) 657-4307
Hawaii-made jewelry, bath and body, accessories, clothing and artwork.
Makau Nui
79-7404 Mamalahoa Hwy., Ste 2, Kealakekua
(808) 747-5558
Carved bone and wood pendants, custom carvings and t-shirts by the store's proprietors.