Where to find Hawaiian food cooking classes on Oahu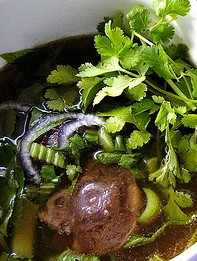 HAWAII Magazine reader Christine Page wrote us with a question about one of our favorite subjects.
Are there any one-day cooking classes on Oahu that specialize in teaching Hawaiian cuisine?
You ask. We answer.
Hawaiian cuisine is a broad concept. To some, Hawaiian food is the cuisine you find at a traditional luau—lomi salmon, kalua pig, poi, laulau, etc. For others, it is a contemporary fusion of flavors from the Islands' multicultural population.
You can find culinary classes specializing in the flavors of Hawaii at Kapiolani Community College in Honolulu. Some of Hawaii's best known chefs have trained at the college's Culinary Arts Department; Alan Wong, Sam Choy and Wayne Hirabayashi—of the Kahala Resort's Hoku's restaurant—among them.
KCC's Continuing Education program offers several non-credit cooking classes. Classes run 3 to 4 hours a day and cost roughly $50 to $60 per class. Topics range from barbeque to classic French cuisine. Instructors are culinary program alumni and other chefs, and a culinary team is available for assistance at any time.
But for a hands-on course on the Hawaii foods that residents enjoy at home, check out KCC's Cooking Local classes. The series offers instruction on preparing Island favorites such as kalbi shortribs and shoyu chicken—familiar dishes that are delicious, yet require some skill to prepare.
"People know what they like. And they like comfort food," says Frank Gonzales, head of KCC's culinary education department.
Cooking Local chef-instructor Grant Sato heads these comfort food courses. His next class—"Braised Favorites," on Aug. 1—will teach the dry heat/moist cooking process used in preparing Hawaii favorites like Okinawan shoyu pork, oxtail stew and chicken adobo.
The best part of class? You take home the leftovers.
For another uniquely Hawaiian food experience, we recommend Chef Sato's "Living Off the Land Culinary Tour" on Aug. 8. Students will visit Aloun Farms in West Oahu to pick their own fruits and vegetables. The day ends with Chef Sato doing a cooking demonstration and tasting.
Click here for a complete listing of KCC's summer class schedule. A class schedule for the fall semester should be posted on KCC's Web site soon. Fall classes begin in August.
For more information click here, or call the KCC registrar at 734-9211.
Interested in preparing Hawaiian-style cuisine that's a bit more "health conscious," at home? Check out A DASH of Aloha: Healthy Hawaii Cuisine and Lifestyle, compiled and written by instructors at Kapiolani Community College's Culinary Arts Department. It's published by HAWAII Magazine sister company Watermark Publishing. Click here for our write-up about the book.