Where to Stay?
We'll show you some of Hawai'i's best properties so you know you're getting the most of your visit.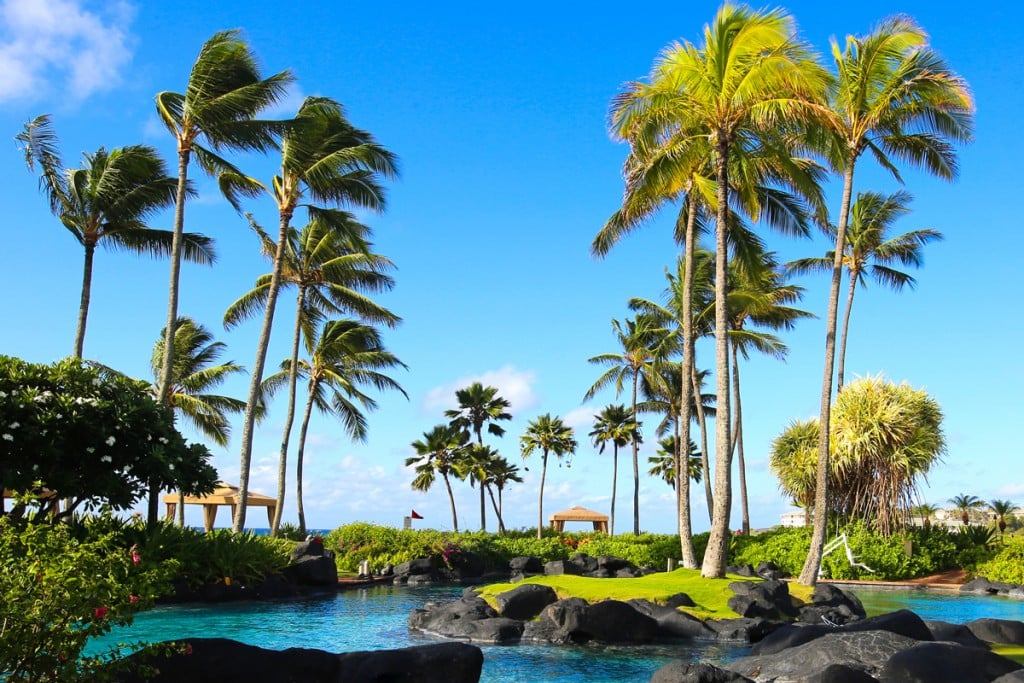 Hawai'i is a vacationer's paradise. Beautiful rooms and top-notch service are the cherry on top of Hawai'i's breathtaking views, perfect weather and idyllic beaches. Planning the perfect Hawaiian vacation should be exciting, not stressful. On the pages ahead, we'll show you some of Hawai'i's best properties so you know you're getting the most of your visit. "Where To Stay" will make researching and planning your next Hawaiian vacation a breeze.
Mana Kai Maui
The heavenly Mana Kai Maui — repeatedly chosen by Hawai'i Magazine Readers as the "Best of Maui," will put you right where you want to be. Sink your toes into the white, soft sand on mile-long Keawakapu Beach (check it out! http://www.manakaimaui.com/webcam/), plunge into the heated oceanfront pool, and bask in the forever views from your private patio.
The unbeatable benefit of the Mana Kai is that you receive hotel amenities you'd expect from a luxury hotel, but  with all the convenience of a condo vacation. You can choose from beautiful, recently renovated units:  hotel style rooms, to 1- or 2-bedroom oceanview condominiums.
There is a meeting center, computer center, new workout facility, and more. And, by booking directly with the Mana Kai in-house management, you get FREE daily maid service, FREE pool towel service, FREE parking, FREE WiFi, no resort fees, no check-out cleaning fees, and even restaurant discounts at the award-winning on-site restaurant.
"The location of this resort is not surpassed by any other resort. Walkout from resort to beach is awesome. . . Couldn't choose better."
 — 10-year-in-a-row visitor
Take advantage of current specials at manakaimaui.com and book your heavenly stay today.
800-525-2025 
res@manakaimaui.com
Hyatt Centric Waikīkī Beach
The newest hotel in the revitalized heart of Waikīkī, the Hyatt Centric Waikīkī Beach is built for the modern explorer, offering contemporary luxury, with easy access to Waikīkī Beach and all the best shopping and dining in Honolulu.
Whether you will be hunting for the colorful murals of Kaka'ako (Honolulu's hippest neighborhood), venturing to O'ahu's North Shore to witness (or conquer) the massive surf, or exploring the Royal Hawaiian Center and world famous International Market Place, make the Hyatt Centric Waikīkī Beach your home base during your Hawaiian adventure. After your daily expeditions, unwind at the Lānai Splash Pool or enjoy a "Lānai Tai" at our bar. And when your day is finally done, simply retreat to your spacious, modern room to recharge for your next exciting day in Hawai'i.
Staying with the Hyatt Centric Waikīkī Beach means having the best accommodations, and that you will be cared for with industry leading service and genuine, local hospitality. A recent guest summed it up best:
"We'll be back!! Location is legit…center of Waikīkī. You can walk to EVERYTHING…Staff was super friendly and attentive. Made us feel like 'ohana, especially Rachel and Malia."
— Aimee K
Beautiful accommodations, the absolute perfect location, friendly, personalized service. It's all here for you at the Hyatt Centric Waikīkī Beach.
Ala Moana Hotel by Mantra
In celebration of its 50th anniversary, Ala Moana Hotel by Mantra recently unveiled its newly transformed lobby, pool deck and porte-cochère.
The re-imagined Ala Moana Hotel by Mantra celebrates Hawai'i's unique tropical beauty with the bright energy and vibrant colors of nature. Natural stone, timber accents and splashes of color introduce a new level of contemporary sophistication to one of Hawai'i's favorite landmark hotels. Headlining the bespoke design of the lobby is a breathtaking, hand-painted backdrop of Hawai'i's iconic flora, created by local artist Kamea Hadar.
The makeover includes a complete modernization of the hotel's elevated pool deck. Whether you settle into one of the expansive day beds, gather around the striking fire pits or enjoy quality family time in the pool, the hotel has introduced a new level of resort luxury.
The transformation does not stop here. Ala Moana Hotel by Mantra has recently welcomed the amazing DADA Salon, Spa and Café, headlined by one of Hawai'i's top hair stylists Richie Miao. Guests can indulge in the latest spa treatments from around the world, pamper themselves with a manicure and pedicure, or relax with a variety of massage therapies. Chef Fred DeAngelo is the creative force behind the menu at DADA café, which will showcase fresh local produce at breakfast, lunch and dinner.
Complementing the award-winning Signature Restaurant on Ala Moana Hotel's rooftop will be local favorite Pint + Jigger in early 2021. Pint + Jigger will showcase a selection of 21 different craft beers, original cocktails and a selection of savory food, all wrapped in a classy social atmosphere.
Adjoining one of the country's largest open-air shopping centers, Ala Moana Hotel by Mantra is located only a short stroll from Honolulu's iconic beaches. With secure underground parking, spacious accommodation, an extensive range of conference and event spaces as well as the convenience of local onsite retailers, everything is here for your next perfect vacation or business trip. Most importantly, everybody will feel welcome at the Ala Moana Hotel by Mantra with the hotel's friendly and personalized service, perfectly capturing the aloha spirit of the Islands.
Ala Moana Hotel by Mantra is part of Accor, a world-leading augmented hospitality group offering unique and meaningful experiences in 5,000 hotels, resorts and residences across more than 110 destinations.
Through October 2020, stay for a minimum of two nights and receive a 20% discount. This offer is available through Oct. 31. Kama'āina rates are also available with a valid Hawaii ID. 
Book online at alamoanahotelhonolulu.com