Who made Vanna White's Hawaii-designed dresses?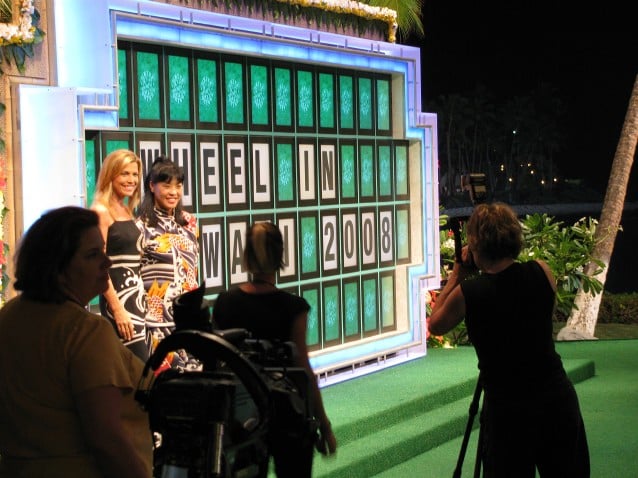 If you're watching the Big Island-filmed episodes of Wheel of Fortune this week, you may have noticed a change in the wardrobe worn by celebrity co-hosts, and HAWAII Magazine readers, Pat Sajak and Vanna White.
No tie for Pat. No sequined gowns for Vanna. Why? Because they're in Hawaii.
Pat's been wearing Tommy Bahama aloha shirts while Vanna has been wearing dresses created by Honolulu fashion designer Anne Namba.
Namba, who has been designing clothes since 1986, said that she was excited to hear that Vanna's stylist Roberta Wagner wanted her to see some of her designs.
"There were three requirements that I had to follow," says Namba. "Nothing blue or green—because it would clash with the ocean and trees in the background. The dresses had to be formfitting to show off Vanna's svelte figure. And, of course, sleeveless so they wouldn't get in the way when she turned the letters.
"Roberta also told me what colors look good on her: peach, yellow and red. I sent over eight outfits and they picked five—a week's worth." Namba created Vanna's Asian-influence dresses by using a combination of silk and the material from vintage kimono or obi (Japanese sash).
The Namba-designed dresses that Vanna wore have since been sold. If you're hoping to snag a duplicate, you're out of luck. "They were one-of-a-kind," says Namba.
Vanna will be wearing Namba's designs for a few more "Wheel goes Waikoloa" episodes airing tonight, Nov. 24 and 25. For the complete schedule of the Big Island-filmed episodes, click here. You can even win a free trip to Hawaii, just by watching.
Fun facts: Vanna White has worn nearly 5,000 dresses on Wheel of Fortune—and she's never worn a dress twice.