Why Honolulu is the next great art city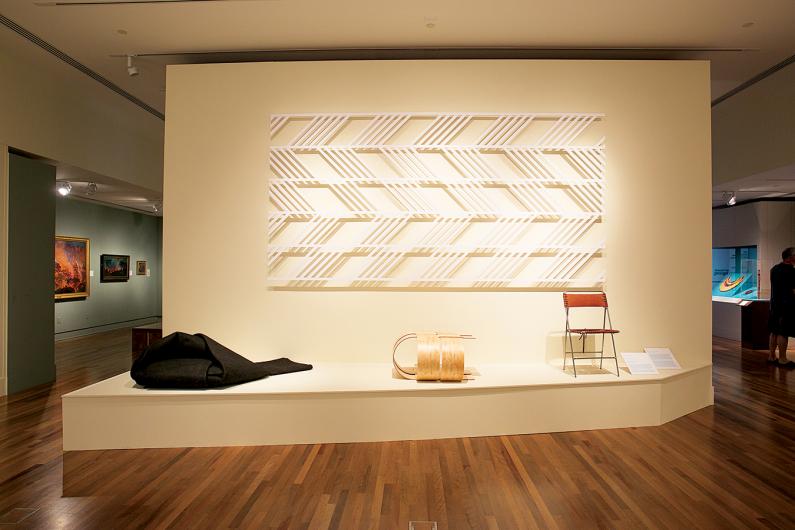 In the past few years Honolulu's art scene has been exploding with wider international appeal. Case in point: avant-garde art star Yayoi Kusama, who notably installed her first Hawaii exhibition this past spring—the polka-dotted "Footprints of Life" sprawled across Ward Village's IBM building courtyard, a prelude to a new commissioned piece she'll present at next year's 2017 Honolulu Biennial. It's interest from global icons like Kusama that's creating ripples outside the art community, with a Hawaii state senator recently introducing legislation to bolster the Biennial as Honolulu's own Art Basel.
While an intersection of art and commerce on that scale remains to be seen, a survey of the ideas currently on display around the city proves Honolulu has the pool of talent to sustain endlessly compelling bodies of works. The brightest corners of Honolulu's art scene have always held fearless artists, interrogating racial identity and Hawaii's heightened symbiotic relationship with its natural ecosystem. In an ever-developing metro hub like urban Honolulu, the work this produces feels tense, timely and true to form.
At the Hawaii in Design exhibition at the Honolulu Museum of Art (900 S. Beretania St., runs through March 12, 2017), 10 local artists across disciplines—from mixed media and graphic designers to furniture builders and surfboard shapers—encapsulate this especially engaging art moment we're in. Hawaii Island's Keith Tallett opens up a dialogue about controversial land access issues to Waipio Valley and Mauna Kea with his "Flying Hawaiian" series where the rugged tire tracks of four-wheel-drive vehicles pattern themselves across two polished, reflective fiberglass panels. Hilo's Iliahi Anthony channels her life-learned skills of braiding and weaving lei and accessories as a hula practitioner to fashion modern chairs and lounges, a meditation on the complete functionality of ancient Hawaiian traditions at the turn of this century. Maui's Joseph Paahana's "Transmuter" merges the divine elements found in Hawaiian petroglyphs with a Wi-Fi symbol, accompanied by a video installation merging Kaua'i's Wai'ale'ale and his Honolulu home base, to explore the connection between humans and nature in the digital age. Exhibited together among pieces by Sig Zane, Mark Chai, Matthew Tapia, CJ Kanuha and others, you're caught in the middle of an ongoing conversation, and an aesthetic language, unique and essential to life in Hawaii.
A few city blocks makai (toward the ocean), the district of Kakaako itself is a canvas. The vibrant remnants of Pow Wow Hawaii, a gathering of over 100 street artists from around the world that turns Honolulu's urban landscape into a revolving easel year after year, graffiti murals line buildings with an array of aesthetic sensibilities and sometimes subversive commentary. Walk through to see new works from notable names such as Slick, Sket One and Risk, alongside a number of emerging talent like Pantone, 1010 and Oahu's own Sean Yoro, better known online as Hula, who's work is also informed by concerns over climate change and sustainability.
Environmental and cultural themes repeat and overlap in Hawaii: Change and Continuity at the Hawaii State Art Museum (250 S. Hotel St., no end date determined) with 130 works by nearly 130 artists—the broadest representation of artistic expression across the Islands. Throughout the Ewa Gallery, there's a real sense of not just place, but momentum and motion, in observing what inspires Hawaii artists.
---
This article was originally published in the May/June 2016 issue of HAWAIʻI Magazine.