Why Mochi Doughnuts Need To Be on Your Hawaiʻi Must-Eat List
You can find these colorful, chewy doughnuts in bakeries in Hawaiʻi—and as far away as Russia.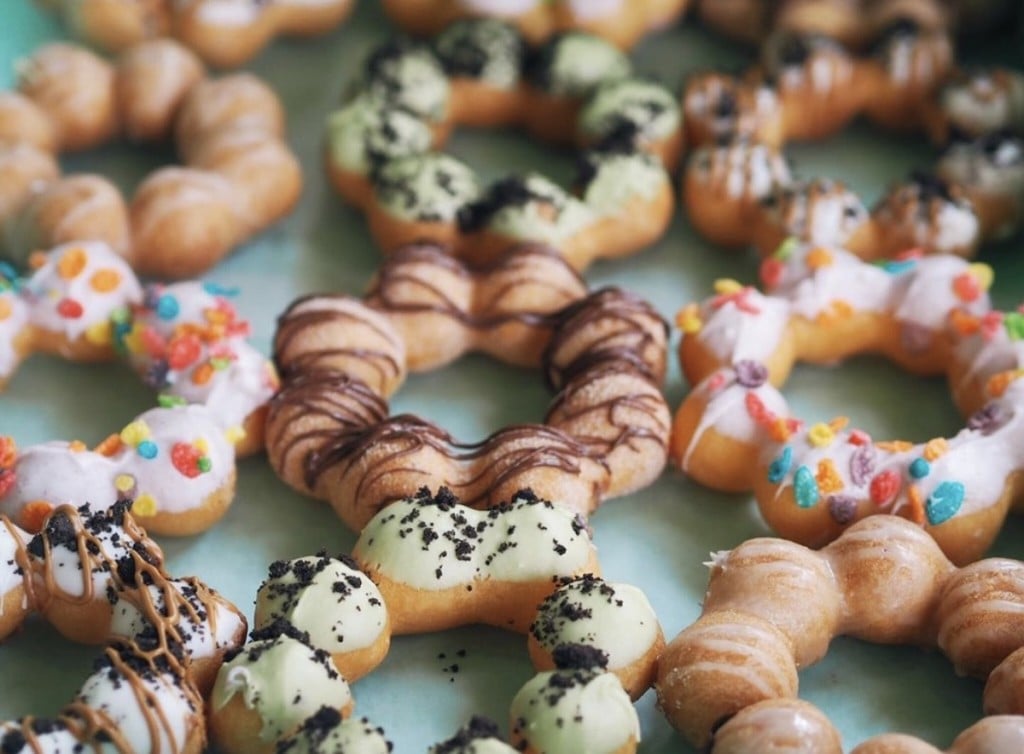 Mochi doughnuts are having a moment in Hawaiʻi.
You'll see these chewy versions of classic doughnuts at bakeries and farmers markets in Hawaiʻi, made from Japanese sweet rice flour, called mochi flour. This special flour gives the doughnuts a chewy, springy texture—they're not heavy or dense. The doughnuts are shaped into rings made up of eight segments that are easily pulled apart—similar to the pon de ring doughnuts that are popular in Japan.
Bakers show their creativity by topping these rings of fried dough with a variety of glazes—dark chocolate, pumpkin spice, bright-purple ube—and additions like macadamia nuts, crushed Oreos and colorful cereal.
Since 2016, Honolulu-based Mochi Foods Hawaiʻi has been developing various pre-mix products—including one for mochi doughnuts—that are used by executive and pastry chefs throughout the U.S. and around the world. Its products have a unique mochi taste and mouthfeel developed by an acclaimed team of Taiwanese food scientists.
The company's products are being used by more than 100 restaurants, bakeries and shops in more than 20 U.S. states—including Hawaiʻi—plus Canada and Russia.
"A lot of people don't know what mochi is," says Mochi Foods Hawaiʻi president Pei Wu. "But when they try mochi doughnuts, they love them. The texture is lighter and chewier. The mouthfeel is unique."
Mochiholic in Pleasanton, California uses Mochi Foods Hawaiʻi's premix for its mochi doughnuts in flavors like cinnamon sugar, strawberry and black sesame. In Russia, Bubble Donuts uses the pre-mix for its creative versions, with flavors like strawberry, green tea matcha, coconut and spicy lemon.
Mochi Foods Hawaiʻi also sells mochi-based pre-mixes for pancakes, waffles, cakes, breads and malasadas. In fact, the bakery at Dukes Lane Market & Eatery in Waikīkī serves chewy mochi malasadas using this pre-mix.
"We've perfected the mix, with the help of food science," Wu says. "Our mix is better than using just making your own."
Not planning a trip to the Islands—or Russia!—anytime soon?
That's OK. You can order any of Mochi Food Hawaiʻi's mixes online. Get small bags of mixes to make mochi doughnuts, pancakes, waffles, bread and malasadas at home—or to give them away as gifts. They come in a variety of flavors, from banana to ube. The company also sells gift sets and gluten-free products.
"Start with our mix, be creative and modify it however you want," Wu says.
mochifoods.com