Why the world keeps falling in love with Waikiki
A local writer discovers why the world is constantly drawn to its touristed shores time and again.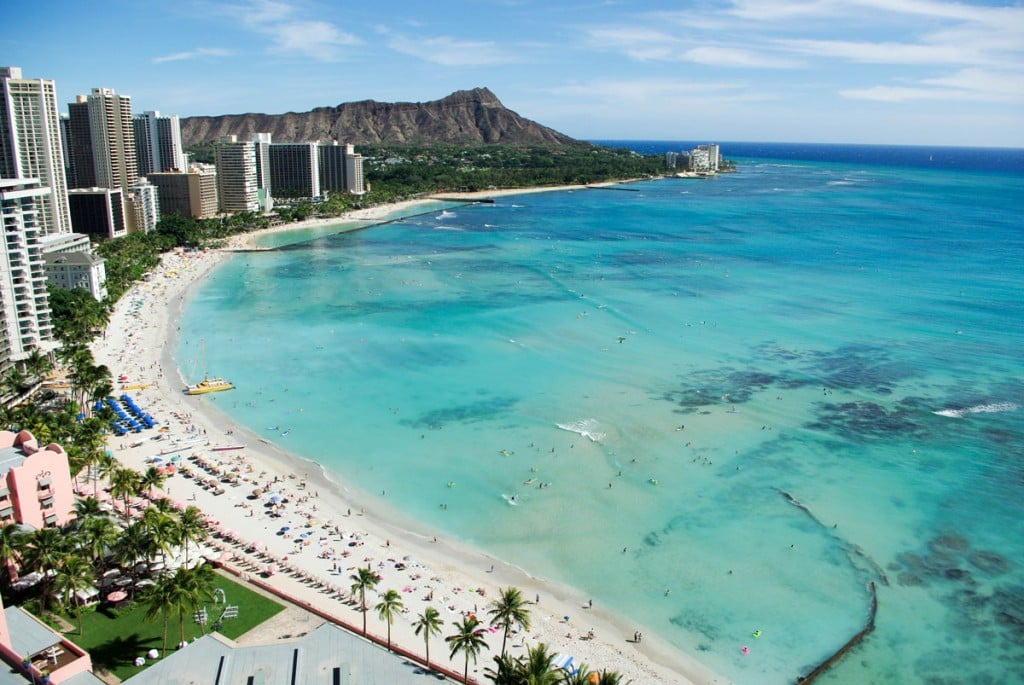 Slowly and absently stirring a mai tai in the shade of a beachfront bar, after having fallen under the spell of the day's late afternoon glow beginning to drape itself over Waikiki's famous crescent-shaped beach, I think, "Yeah, I could sit here forever."
Watching couples leisurely tread the shoreline, musicians strum familiar tunes on their ukulele and the glistening silhouettes of surfers glide along the soft waves beneath Diamond Head, an ancient volcano that made this place possible, it's easy to forget what day of the week it is, perhaps year. Time feels elastic here.
But, if there's one thing constant in Waikiki, it's change, and these past 12 months have been no exception. Behind me, a reimagined International Market Place is bustling with activity; across the way at the Hilton Hawaiian Village, futuristic stand-up paddleboards beaming with LEDs beneath their frames light up the water, ready to embark on an evening tour; towering over all of us, the new Ritz-Carlton, a luxury hybrid of residences and opulent suites that's also now the street's tallest building, just opened for business.
After all, it's on this very shore of Oahu that the epicenter of Hawaii's travel industry buzzes. Since the 1920s, after its first two hotels, the Royal Hawaiian and the Moana Surfrider, opened their doors, people have been flocking to Waikiki. Historically, the duo are the bay's most enduring presences, and, among the cacophony of new hotels that spring up around it, they're where one can still find a semblance of nostalgia and solace—something I can attest to as just another person in a sea of many, drinking up the scenery (and, yes, the wonderful libations) in the shadow of the Royal's pink stucco shell.
It's 7:30 p.m. when I step back onto Kalakaua Avenue, the city's main thoroughfare, to experience it as many others do, to which I do not walk, I meander. Without a concrete agenda, I go with the flow of a city you can't deny belongs to the tropics—down alleyways lined with apartment buildings tempered with the relics of quite beautiful midcentury Hawaiian signage, along the edge of a crowd huddling around a street performer breakdancing in board shorts, past a family in matching aloha-wear posing with colorful macaws—and into the makai (oceanside) wing of the International Market Place, where most of the foot traffic congests the sidewalks at this hour.
I end up cutting into a delectable plate of tender short ribs at Eating House 1849, the latest venture by chef Roy Yamaguchi on this island. Referencing Hawaii's turn-of-the-century plantation days, the menu salivates with an elevated mishmash of local comfort foods: steamed clam and tako, huli huli-style kimchi pork belly, spicy shoyu ramen, fried rice and a gourmet $20 loco moco. Situated near a bevy of escalators lifting bodies with shopping bags from designer stores slung over their shoulders toward valet drivers hustling to retrieve another rented Mercedes convertible, it's certainly no longer the laissez-faire International Market Place that Don Ho and Duke Kahanamoku frequented, but, for whatever it's worth, at least you can surprisingly order some Waiahole poi here and pretend.
This theme, of an enterprise taking its cues from a bygone era of the Islands, specifically of Waikiki, carries over to where I retire for the night at the Surfjack Hotel & Swim Club, a trendy mid-range boutique that opened this past summer. To embrace Waikiki is to embrace that it's a modern city, something the Surfjack appears to have casually nailed. If the high-end resorts along the beach promise what you'd expect of the neighborhood (postcard-rivaling views of Diamond Head, torches lighting up a resort-run luau), the Surfjack, nestled on Lewers Street beside the Ala Wai Canal, shakes up this expected sense of place altogether, often and wisely with the help of local tastemakers. Pilates sessions with Hawaii-born instructor Chelsea Peck help you breathe in the skyline from its penthouse lanai (balcony). The most Instagrammable frame of its version of Waikiki isn't a beach, it's a swimming pool, with "Wish You Were Here" tiling by lettering artist Matthew Tapia. That the restaurant, Mahina & Sun's, manned by chef Ed Kenney, doesn't serve ahi at this moment, to both educate and make a point about overfishing of the species, is itself a forward-thinking gesture, and smack dab in the bastion of a Hawaii driven completely by commerce and pleasing visitors at almost any cost. It may not have a five-star spa, but the hotel's concept itself is rejuvenating.
The next morning, I drizzle maple syrup over fluffy ricotta pancakes at Bills Sydney on Waikiki Beach Walk, a street already bustling with clear-eyed visitors ready to soak up another activity-full day. First, this fantastic brunch; next, browse the racks of another designer store?
"Many people view the area to be an overcrowded, pricey tourist trap," Nova Rizzo told me, a Waikiki-based blogger who's garnered a following with her site, The 96815, which focuses on the coveted zip code. "But, beyond the crowds, the glitz and glam, is a stretch of paradise rich in history, culture and natural beauty." Which is probably why, instead of leading me to another world famous restaurant, she steers me to the bacon, avocado, Spam and tamago egg musubis at Musubi Cafe Iyasume that serves the simple beach fare she swears will enrich my experience of the city.
As I sloppily bite into the chewy, local favorite, a chunk of white rice falls onto my slippers and sticks to my feet; I try to wipe it off in the fine sand, all while attempting to book a ride by phone on one of the colorful catamarans anchored along the beach, slurring through the words "sunset cruise" with a mouthful of Spam, and realize she's right. I'm reminded how nowhere else in the world could such a series of events unfold—a chain reaction set off by a $3 musubi from a hole-in-the-wall on Uluniu Street.
The taste of seaweed fresh on my tongue, a friend meets me at Moku Surf Shop, a stone's throw from the bronzed Kahanamoku statue, to rent longboards and erase a few hours in the Pacific. We paddle out to Canoes, a central break, where beginners are deep into their first surf lessons, joyfully hugging their boards; locals watching out for sets, sights fixed beyond the horizon; and a lone outrigger canoe—one of a countless many that have brought hotel guests out to this very spot since Waikiki's tourism beginnings more than a century ago—idly drifts. Together we wait for Waikiki to take us on yet another ride in the foamy waves. Lather. Rinse. Repeat.
Later, we hop onto Na Hoku II, a catamaran fueled on the anticipation of sunset and an open bar. As it takes us out past Diamond Head, the trade winds carry with it four different accents, a worldly chatter of its mélange of passengers, over the ship's brassy playlist of reggae and island music. The universal language of laughter fills the deck as ocean water splashes against the hull and over the bow. But the real cause of excitement? A vista of Waikiki you can't experience anywhere except from the sea.
And, so, here we are: Waikiki, a city that has a Saks Fifth Avenue now. Where another Michelin-starred restaurant allows you the opportunity to burn a quarter of your paycheck on steaks. Where a 37-story, luxury hotel-condominium blocks daylight from various corners of Kuhio Avenue, unless you're in one of its multimillion-dollar units which implies that in Waikiki even the sky has a price tag.
Yet, in plain sight, near Queen's Beach, is a jetty and a few communal walls, where visitors will clamber for a free space well before the sun sets, just to sit there as the clouds blush, waiting to see a star dip into the ocean and think: This is enough.