Why We Love the Mai Tai and Where You Can Get One on Oʻahu
The mai tai. Some say: Why? Others say: Why not?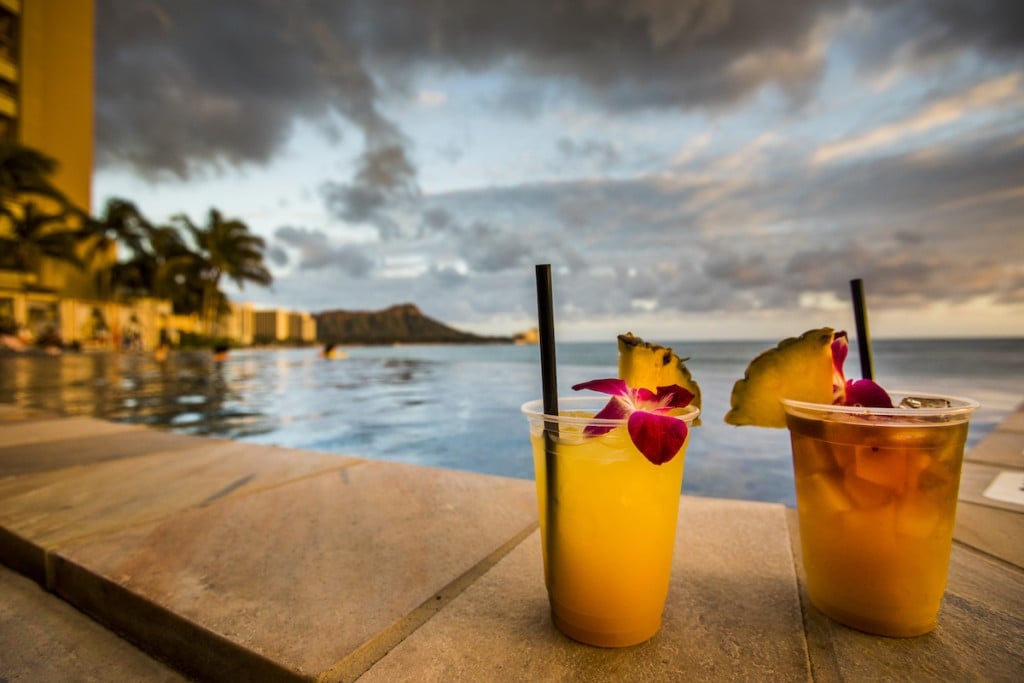 This story originally appeared in our sister publication, HONOLULU Magazine.
The mai tai. Some say: Why? Others say: Why not?
At my wedding, I was one of the latter. Little did we know, my brand-new bride and I, that the bartender at The Willows in Honolulu was intent on sending us off on our honeymoon with the kind of knee-crawling hangover that makes you miss your plane to Kaua'i and grounds you in a hot outdoor vinyl booth with a baggage handler who needs to tell you the real story of how Bruce Lee died—and tell you, and tell you, and tell you, for three solid hours. And you can't move because of that mai tai at your reception. That led to another, and another …
We're still married.
And I still enjoy a good mai tai.
It's not a local drink, but to the world it's become our local Island cocktail. It also has a bad reputation in many quarters—deservedly so. If you've ever come upon a table arrayed with 400 of the watery yellow-bronze Kool-Aid versions in little plastic cups at a hotel's timeshare presentation, you know what I mean. You feel shame that innocent people are going to go back home thinking this is our Hawai'i tipple.
Still, there's a case to be made for this curious hybrid that isn't even from the Islands. In fact, in the hands of brooding mixologists, the mai tai can actually command your full and unadulterated attention. That's because, once upon a time, it got its start as a connoisseur's craft cocktail intended for an elite audience—and a Polynesian one at that.
You can seek out that seeming oxymoron—a respectable mai tai—secure in the knowledge that it comes layered in Pacific Rim history and topped, not with an umbrella, but a return to its upper-class origins. We're going to give you three, plus options.
The History: Mai Tai Milestones
When the Mai Tai was born in 1944, as Victor Bergeron's personal treat for visitors from Tahiti, he made it as a showcase for a rare 17-year-old Jamaican rum, J. Wray and Nephew. The other ingredients—Orange Curacao, simple syrup, orgeat (almond syrup) and fresh lime—were mere dabs of color and flavor.
Bergeron concocted the drink at his Oakland restaurant, the very first Trader Vic's. But, like Dr. Frankenstein, he couldn't control his creation for very long once it became a sensation. A rival in Hollywood, Donn Beach—real name Ernest Gantt—got his version out at his Don the Beachcomber restaurant. Bartenders everywhere tried their hand.
In 2008, the Royal Kona Resort launched a Don the Beachcomber Mai Tai Festival. If you're wondering why the festival is named after Don the Beachcomber and not Trader Vic's, well, Beach has way more Hawai'i cred than Victor Bergeron: He's credited with creating the International Market Place in 1957. He even had his Don the Beachcomber bachelor pad/tiki bar/office up in the branches of the famous big banyan.
Don the Beachcomber's claim to the recipe doesn't come with an explanation for the name, which Vic's has ("Maita'i roa ae!" allegedly cried the Tahitians: "Very good!"). And the Don's mai tai recipe that floats around the Internet today doesn't seem like anything that was going around in 1934. It has grapefruit juice as well as lime juice, Pernod, Cointreau and Angostura bitters. Maybe that's why the restaurant chain fell on hard times and the last California outpost, a landmark in Sunset Beach, closed this April.
On the other hand, Trader Vic's perseveres as a purveyor of tiki kitsch in a truly global array of restaurants (many in the Middle East, including Saudi Arabia, the United Arab Emirates, Qatar and Bahrain, plus the San Jose Airport). But the Bay Area's outlet's offerings and drink menu's come on—"The ancient Polynesian's ceremonial Luau drinks were serve in festive communal bowls"—make it feel like a must-miss for those who cringe easily.
On O'ahu we're lucky to have mai tais you can enjoy and still live with yourself the next day, starting with the version that's most faithful to the Old Vic.