Wild Waipio, the Hawaii Island Valley Lost to Time
In sacred Waipio Valley, along Big Island's wild coast, water is everything.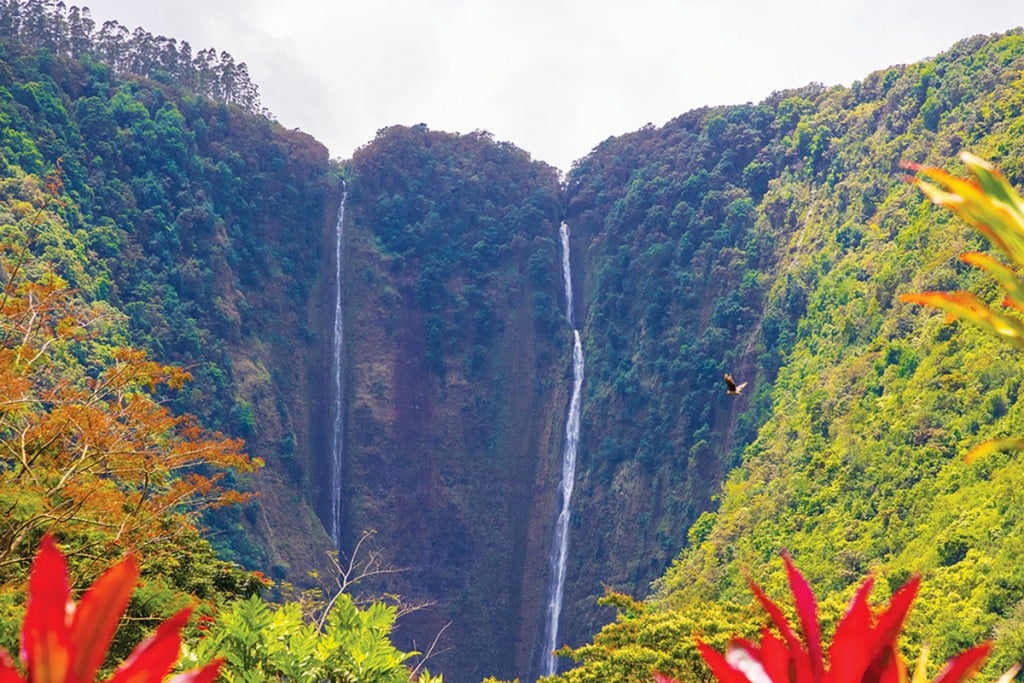 It had rained for nearly a week straight, and the thick mud along the steepest road of its length in the United States filled the air with the heady scent of fresh, wet, vegetative earth.
The sun was shining, finally, and it was the perfect time to visit: The abundant rain left waterfalls streaming down like faucets, turning Waipio Valley's 2,000-foot sheer cliff faces into the backside of a giant infinity-edge swimming pool.
I boarded the Waipio Valley Shuttle, an unassuming windowless white van kitted out with four-wheel drive and heavy-tread tires, with five other guests back at the quaint, country-style Waipio Valley Artworks in Honokaa. I'd waited years for this, having only ever been to the lookout at the end of Hamakua Heritage Corridor Drive, and read the signs saying you'll need four-wheel drive and an invitation to get into the depths of the valley, neither of which I had—until now. Waipio Valley Shuttle, staffed with local guides, has been ferrying visitors into the valley since 1970. The tours allow you to get beyond the county road and experience valley life, at times navigating branches of Wailoa Stream as if they were roads, like the residents do.
Our guide, Hili Rodriguez, 62, lived with his wife for a little over a year in what was, in the mid-2000s, the only house in the valley with electricity. He tells us about the 120 inches of rain that fall here each year, giving and guiding life in the valley, as we begin our descent. Facing down a 900-foot drop over less than a mile, we pitch uncomfortably forward, the seats creaking against gravity. Rodriguez appears to be an expert navigator of this road, which at times feels narrower than its two lanes. He seems at ease, indeed almost eager, to pull the parking brake and stop on some of the most extreme cliffside sections to tell us about the time he encountered a tiger shark feeding on river fish, "right down there," or pausing after inching along, the brakes smelling of metal, to let ascending cars pass on tricky, narrow curves.
It's a relief when the van levels off and rumbles back into the valley and we are able to sit upright without effort. Green is all around us—Waipio is warm, humid, alive. Rodriguez, chatty, jovial and gray-bearded, tells us that around 50 people live in the valley today, many without electricity, and he seems to know all of them. He points out Milton's house with the great waterfall view and the small 5-by-5-foot patch of Brad's yard that happens to be the only spot in the valley with cell service. Rodriguez pulls the van alongside a stream and tells us how just yesterday the water level was as high as his friend's small boat shed.
Water is everything in Waipio—even its name means "curved water," presumably for the snaking rivers that wind their way across the lush valley floor. It's the backdrop— Hakalaoa and Hiilawe falls, visible from where we stand, gush down hundreds of feet into the valley—and a way of life. "I love to kayak," says Rodriguez. "I just don't love to paddle." This solicits giggles from the group, but, it turns out, sometimes in Waipio, you don't actually have to. Several times a year, when conditions are just right, a "rain day" is declared. The valley kids grab boogie boards, kayaks and inner tubes and float beneath tunnels of foliage along Wailoa Stream clear through to the sea. "I would load up my kayak and coast all the way down. And, we'd show up at the beach and spend the day," says Rodriguez. Trees filled with slippers are prepped for these occasions—everyone grabs a pair for the walk upstream to do it all over again.
Rodriguez stops the van, goes to the back, pulls out a long pole with a small metal grabber basket at the end from under the seats, and returns to his seat. As he continues driving, he uses the pole to point out an unripe wild cacao pod. "There's a guy down here who made 80 pounds of chocolate using found cacao last year," Rodriguez says. He points out noni and avocado, describing the high prices these fruits fetch in Japan and on the Mainland, "but here they just grow." Further on, he telescopes the pole and picks oranges, passing them back to us. Hardly contained by their rinds, these feral citrus fruits are bursting with juice and before long everyone's hands are a sticky mess. We get out to take pictures of the twin streams and of the 1,000-foot-plus Hiilawe waterfall— and Rodriguez cracks open a fresh coconut and passes it around. Though he doesn't articulate it directly, the message is clear: The residents may appear to not have much, but really, they live amid glorious abundance.
Amid the jungle and residences, the ruins of a dozen heiau (temple) and cultural sites attest to the valley's heyday. In the 1700s, an estimated 5,000 Hawaiians called the valley home, and there was enough farming and fishing to sustain them. As outsiders arrived on the island, the population dwindled, especially following the devastating 1946 tsunami that surged into the valley, taking most structures with it. Today, the 50-odd valley residents are a mix of relative newcomers seeking an off-the-grid lifestyle, and kanaka maoli (Native Hawaiians) who have lived here for generations. Some are retired, others continue traditional wetland taro farming and some commute up and down the steep road (rain permitting) for work and school. Visitors are a constant—they walk down, attempt the road in their rental vehicles or take the shuttle—but everyone must make the trek back up before dark; there's nowhere to stay overnight unless you're an invited guest.
Shortly after passing a sign that says, "Waipio is like heaven, don't drive like hell, slow down, mahalo," we encounter another sort of valley resident. A brown horse with white patches saunters up the middle of the road and heads for the passenger-side window. Rodriguez explains the horse is a descendant of those abandoned when the tsunami struck 73 years ago. Soon, more horses appear. And they're not shy—they stick their noses in the windows prodding for oranges, which we happily share. I can smell the musty mildew of their briar-matted manes. Rodriguez has come prepared with alfalfa lumps and tosses a few to a pregnant mare foraging for riverside shoots.
We continue on, passing well-manicured taro farms, a hibiscus grove and ramshackle homes including the old "motel"—now just a private residence—with the only two surviving buildings from the 1946 and 1960 tsunamis. We cross several rivers. Rodriguez stops in the middle of one, letting the force of the coursing water press against the tires and stream beneath the hot metal of the still-running van, and continues to talk story. At one point, still in the river, we are passed by a pickup, its bed filled with laughing kids. I can't help but feel as though we've journeyed from the world above to an entirely different one below. Even time seems to tick by more slowly.
After what felt like a whole, relaxing afternoon—it turned out to be only about an hour and a half—it's time to head back. The van wheels engaging with the slope is like a roller-coaster car being pulled ever higher toward the drop. I can almost hear the clicking of the tracks. "This is Hawaiian-style roller-coaster, no hands!" says Rodriguez. And soon after, in a transition that feels as abrupt as a drop, I'm returned to the world of convenience and cell service, my mind as fuzzy as if I had just awakened from a dream.
Meghan Miner Murray is a Kona-based freelance science and travel writer, contributing researcher for National Geographic Traveler magazine and a scuba guide.
Waipio Valley Shuttle
Reservations recommended. One-and-a-half to two-hour tours are offered Monday through Saturday at 9 a.m., 11 a.m., 1 p.m. and 3 p.m.; cost is $65 adults, $35 children under 11. Call (808) 775-7121 to book or visit waipiovalleyshuttle.com.
Please Kokua
1) Respect the residents. Be mindful that people still live here.
2) Be courteous on the road. Cars heading up toward the lookout have the right of way.
3) This is a sacred place. Don't litter, speed or trespass.
4) Consider booking a tour instead of heading into the valley on your own.