Will Big Island highway construction project ever end?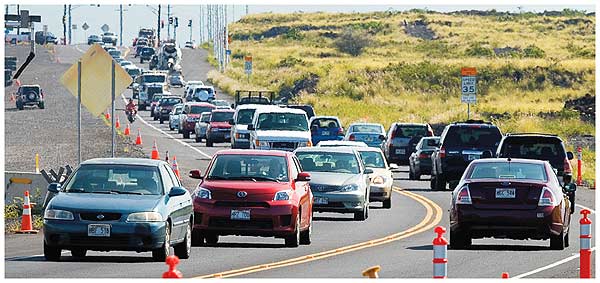 You ask. We answer.
We got a question from HAWAII reader Lisa Marie McCormick about road construction on the Queen Kaahumanu Highway on the Big Island.
My husband and I come back each year for a week or three. We stay at our time share in Waikoloa and travel into Kailua-Kona early to dive. On our January visit, the last eight miles between the airport and Kailua-Kona took over an hour. And that was at 6:30 a.m.!

I was told by some local friends that they already built a section wrong, and had to rip it up and start over. What is the timeline for completion, and how far will the construction reach?
First, the answer to the first half of your question, Lisa Marie: Unfortunately, not any time soon.
Widening the main highway into Kailua-Kona from Keahole Airport from two to four lanes was slated for two phases. Construction of the first phase—from Kailua-Kona to Kealakehe Parkway—began in July 2005. It was slated to end more than a year ago, in April 2007. After delays, state officials are saying it's beginning to look a lot like Christmas this year for completion.
The second phase of construction, from Kealakehe Parkway to Keahole Airport, could then begin as early as spring 2009, with completion—cross your fingers here—in spring 2011.
That's just under six years to build eight miles of road—two years more than it took to build San Francisco's Golden Gate Bridge.
Your local friends were correct. According to a December 2007 West Hawaii Today story, a new section of the highway was torn up and laid again last year after the grade of a slope was built incorrectly.
After phase two of construction reaches the airport, then phase three begins—on the highway into Kailua-Kona from the south.
But that's a whole other traffic jam, Lisa Marie.