Winners announced for aio Media and Hawaii Lodging & Tourism Association's 2018 Awards
Honoring the best in Hawaii's visitor industry, the tourism awards recognized 14 of the state's top achievers.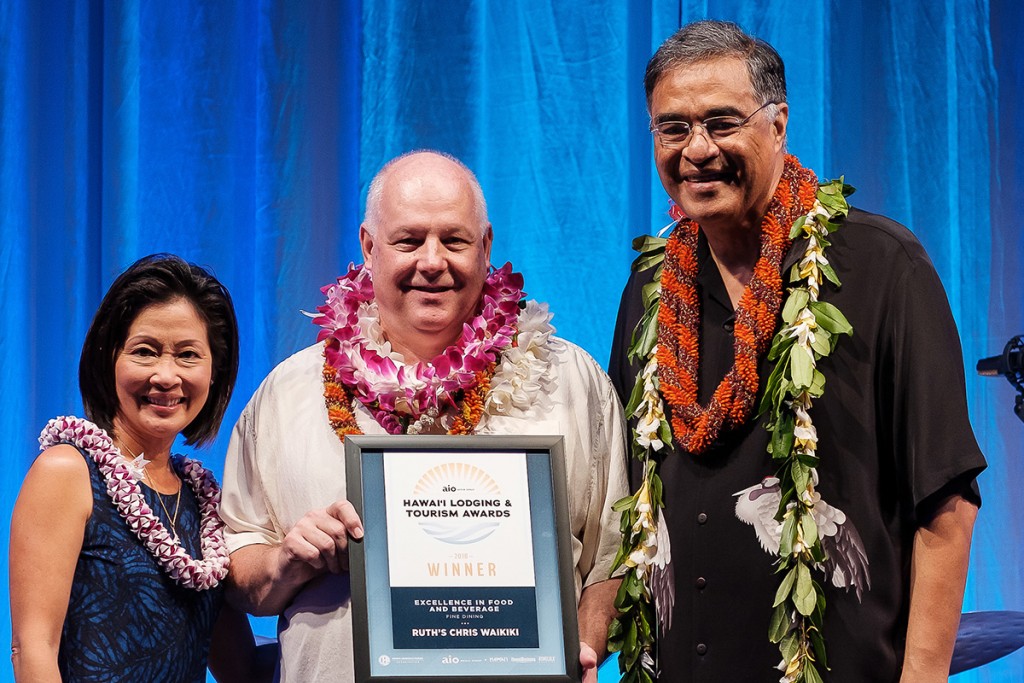 On March 8, 2018, the Hawaii Lodging & Tourism Association (HLTA) with aio Media (HONOLULU, Hawaii Business and HAWAI'I Magazines) came together to honor some of the industry's top achievers in Hawaii. Honorees were nominated across 14 categories, including food, culture, agriculture, events, hotels and individual contributions. See photos from the event, and find out who won below.
Agritourism/Agriculture Tourism Destination
Any agriculturally based operation or activity that brings visitors to a farm or ranch.
Greenwell Farms
The farm was an early adapter of then yet-to-be-named ag tourism sector when it implemented free farm tours back in the early 1990s. From these humble beginnings of welcoming walk-in visitors that found the farm, Greenwell Farms is now an active marketer. The iconic ag tourism operation on the Kona Kohala Coast welcomes nearly 70,000 visitors from around the world every year.
Agritourism/Farmers Market
Featuring everything from produce to prepared foods and even arts and crafts, these weekly events bring locals and visitors together to enjoy the fruits–pun intended–of many hours of hard labor.
Kapiolani Community College Farmers Market
Run by the Hawaii Farm Bureau, this farmers market has become very popular with locals and visitors, with over 70 vendors and between 5,000 and 9,000 customers every week, of which over 40 percent are visitors. Visitors to KCC Farmers Market have an opportunity to see and taste what Hawaii has to offer, from rare fruits to a wide variety of farm to table, ready-to-eat dishes. You can even donate fresh produce to families in need. The market began in 2003 and is still considered one of the biggest and best in the state.
Excellence in Food and Beverage
These restaurants have excelled at showcasing an unequivocal spirit of aloha, support for our local agriculture industry, and provide locals & visitors with a true Hawaii dining experience.
Fine Dining
Ruth's Chris Waikiki
The Ruth's Chris Steak House legacy began 52 years ago when Ruth Fertel invested her life savings to buy a little neighborhood steakhouse in New Orleans called Chris Steak House that would become a sizzling success. Today, Ruth's Chris Steak House has five restaurants in Hawaii, many located in iconic resort destinations, all catering to the most discerning guests from countries around the world as well as from our own community.
Casual Dining
Duke's Waikiki
Opened by T-S Restaurants in 1993 at the Outrigger Waikiki Beach Resort, Duke's Waikiki is named after Hawaii's famous Olympic swimming champion and surfer, Duke Kahanamoku. Duke's prides itself on representing the legacy of Duke Kahanamoku by fostering a spirit of aloha and excellence while exposing restaurant guests to a snapshot of old Hawaii. And the mile-high Hula Pie doesn't hurt either.
Local/Sustainable Dining
Azure at The Royal Hawaiian, a Luxury Collection Resort
A world-class restaurant perched along the Waikiki beachfront under the canopy of the Royal's dramatic Spanish-Moorish architecture, Azure offers travelers an atmosphere of exquisite relaxation and upscale dining. This bejeweled oceanfront space is adorned with intimate candles, plush banquettes, pillows and pristine table settings where people can enjoy the freshest fish and ingredients.
Best Tourism Events
These festivals and gatherings highlight the best social experiences that introduce our visitors to our island culture and lifestyles.
Heritage and Cultural Events
Annual Prince Lot Hula Festival
The largest non-competitive hula event in Hawaii continues Prince Lot Kapuaiwa's rich legacy of hula, which started in the 1800s when he invited halau hula (troupe) to perform at his paina (dinner party) at his Moanalua summer home. For the past 40 years, halau throughout Hawaii have come to Oahu to perform on the historic hula mound in the lush outdoor setting of Moanalua Gardens. In addition to hula kahiko (traditional) and auana (modern) performances, the event also provides valuable educational and cultural exhibits, demonstrations and activities for the visitors and residents who attend this two-day event.
Agriculture Event
Hawaii Food and Wine Festival
The Hawaii Food and Wine Festival has grown year after year to become a premier food and wine experience highlighting Hawaii's unique and diverse culture through cuisine. With eating tours, gastro- and agritourism gaining popularity, the festival is able to capitalize on these niche markets as visitors seek more authentic experiences.
Best Hotels/Accommodations
From beach bungalows to billowy sheets and top-notch customer service, these hotels know how to help their guests relax and experience Hawaii at its best.
Small Hotel (less than 399 rooms)
Four Seasons Resort Oahu at Ko Olina
With 370 luxury guest rooms and suites, Four Seasons Resort Oahu at Ko Olina offers breathtaking views of the Pacific Ocean and Ko Olina's turquoise-blue waters with white sand beaches.
Large Hotel (400 rooms and above)
The Royal Hawaiian, a Luxury Collection Resort
Built by Matson Navigation Company to accommodate its wealthy travelers, the Pink Palace of the Pacific is an icon along famed Waikiki Beach with its distinctive Spanish-Moorish architecture and striking coral pink exterior. The Royal Hawaiian officially opened its doors on February 1, 1927, perfectly embodying the beauty of its location and the romantic atmosphere of what would soon become one of the most popular destinations in the world.
Luxury (four or five diamond star rating)
Aulani, a Disney Resort & Spa
No other property in Hawaii has dedicated the time, resources, energy and passion to the design and programming of a resort more than Aulani. Since the conceptual phases, The Walt Disney Company made a concentrated effort to ensure the resort pays respect to and celebrates the culture and history of Hawaii.
Leadership in the Industry
These folks have been movers and shakers, striving for continued excellence in their fields.
Young Achiever
Trevor Ozawa
As a council member of District Four, Ozawa is directly connected to the heart of the tourism industry. Councilmember Ozawa's priorities include being a supporter for public safety, fiscal responsibility, upgrading Honolulu's aging infrastructure, and spurring economic growth and diversification. He is especially keen in bolstering initiatives and resources to help Hawaii's epicenter of tourism—Ala Moana and Waikiki—thrive and remain a vibrant destination for locals and visitors alike.
Cultural Advisor
Blaine Kamalani Kia
As the cultural advisor for Waikiki Beach Walk, Kia brings both intimate knowledge of Hawaiian culture to the table and decades of experience as a successful Hawaiian musician and kumu hula (teacher). His daily weekday hula show, "Ku Kaaheo, To Cherish With Pride," and twice monthly rebranded "Na Mele No Na Pua" Sunday showcase bring the best of Hawaii's arts and entertainment to the open air of Waikiki.
Contribution to Tourism by an Individual
Kamea Hadar
Although Hadar's work is based in traditional portraiture, it has evolved off of the canvas to large scale murals and installations that can be found in cities around the world. Through the Pow! Wow! street art festival, Hadar helps cultivate one of the largest and wide-reaching collaborative art experiences in Hawaii.
Outstanding Individual in Music & Entertainment
Henry Kapono
Kapono has become a household name throughout Hawaii and the Pacific. His music has taken him all over the world and his fan base is very diverse. He's a gifted vocalist, guitarist, songwriter, composer and captivating performer. He holds multiple honors and awards, including a Grammy nomination and 14 Na Hoku Hanohano Awards, including Male Vocalist of the Year, Song of the Year, Single of the Year, Album of the Year and Rock Album of the Year.