Yes, That's a Flying Honu in the Sky
ANA's new Airbus A380 aircraft are adorned with Hawaiian sea turtles.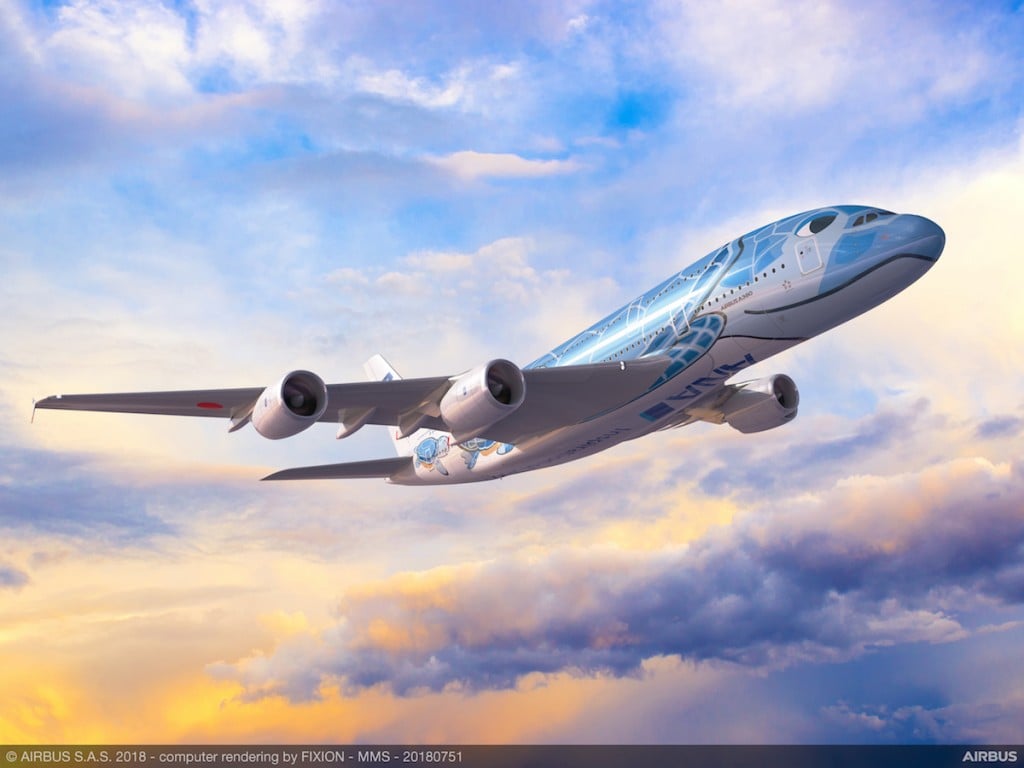 All Nippon Airways (ANA) unveiled its first Airbus A380, the airlines' largest aircraft, and they're decorated with blue, green and orange sea turtles, an homage to the endangered Hawaiian sea turtles.
The first flight is scheduled for May 24; tickets to fly aboard the Airbus A380 have been available since Jan. 10.
Called the Flying Honu, the double-decker four-engine jet airliner is outfitted with couch-style seating, called ANA COUCHii, in first and economy classes. The luxe seating is a first of its kind for Japanese airlines. Each couch-style seat comes with its own bedding, making it ideal for family trips.
ANA chose to name the aircraft after the honu because it symbolizes good fortune and prosperity.
To celebrate the launch, the airline is donating 520 milo (Indian tulip tree) to the Hawaiian Legacy Reforestation Initiative to help rebuild the native ecosystem in Hawaii. (The 520 trees represent the 520 seats on the aircraft.)
"We hope all our passengers who embark on the Airbus A380 Flying Honu will be blessed with good fortune as they experience Hawaii," said Takashi Shiki, senior executive vice president of ANA, in a news release. "We are honored to count Honolulu as one of our key cities and are proud to help travelers experience Hawaii's natural beauty and hospitality."
The in-flight menus for first-class passengers were created with the help of chef Ryo Takatsuka of Noe, an award-winning Italian restaurant at the Four Seasons Resort Oahu at Ko Olina. The initial menu, which includes a Blue Hawaii cocktail, of course, will be served from May 24 through the end of summer.
Meanwhile, ANA plans to double the number of seats connecting Honolulu with Tokyo by 2020. The airline is also planning to open a new lounge at the Daniel K. Inouye International Airport in Honolulu. It will be the largest lounge at the airport.
To find out more about the aircraft or to book a flight, click here.