Yoga on the Kona Coffee Living History Farm
Discover a different way of greeting the sun each Friday morning on Hawaii Island.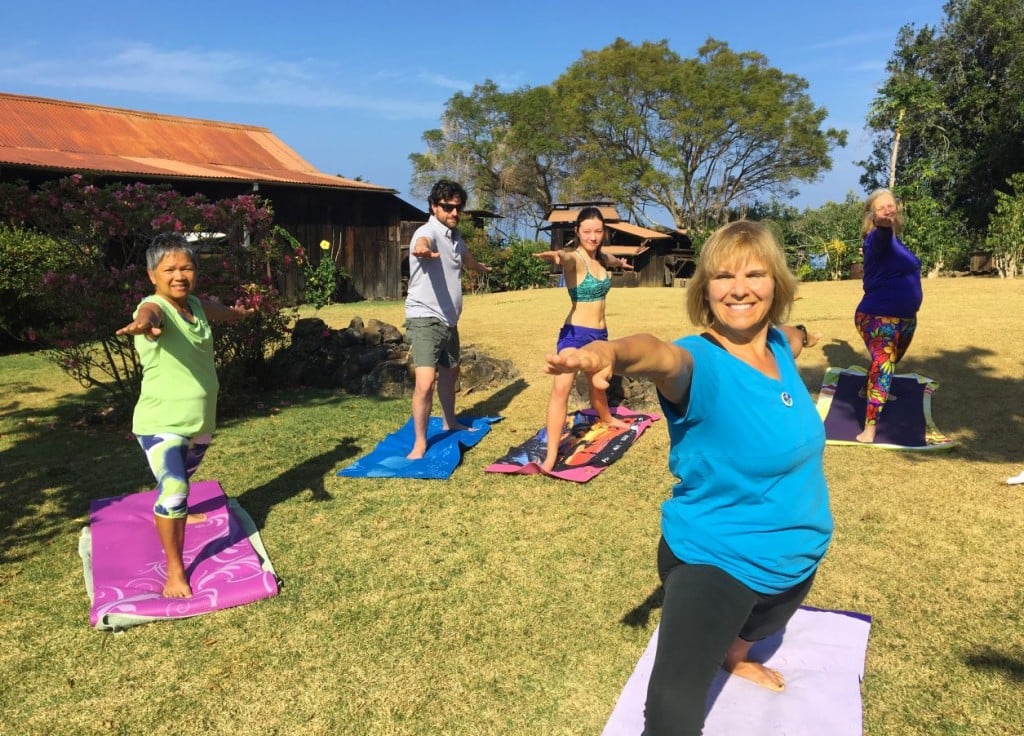 Greet the sun at Kona Historical Society's outdoor yoga sessions, held every Friday morning on the tranquil grounds of the Kona Coffee Living History Farm, the only living history coffee farm in the nation. You'll feel like you stepped back in time to the 1920s, where the historic coffee mill, farmhouse and coffee tree orchards exist just as they did when immigrant Japanese coffee workers first harvested the world-famous Kona coffee.
Leading the class is veteran yoga instructor Liz Aschenbrenner, who has over 20 years of experience practicing yoga. She guides participants through a series of uplifting morning Hatha yoga exercises, toning poses and peaceful meditations during the 1 1/2 hour class on the front lawn of the farmhouse.
Her style of yoga is aimed at helping people of all ages, body types and fitness levels connect with their breath through a variety of traditional poses like the Warrior Series, Downward Dog and Child's Pose, while developing strength, mobility and flexibility.
Yoga on the Farm proceeds go to support Kona Historical Society's education and outreach efforts. There are no reservations required (a yoga mat is also provided for you), so feel free to just drop in.
What might be the best part: A complimentary steaming hot cup of 100 percent Kona coffee afterward, straight from the farm.
After the yoga class, take a tour through the coffee trees and rustic cabins of the farm, and listen to the costumed interpreters, who play Japanese immigrant workers, as they explain the picking, grinding and milling process that makes the delicious coffee.
Friday, March 3 from 7:30 to 8:45 a.m.; March 10, 17 and 24 from 8 to 9:30 a.m. Times may vary by month, so call ahead. $10 for nonmembers, free for those who purchase an annual $35 membership. Farm tours require a separate admission for non-members. Kona Coffee Living History Farm, 82-6199 Mamalahoa Hwy., Captain Cook, Hawaii Island, (808) 323-3222, konahistorical.org.