You Can Now Ride a Gondola in Hawaiʻi
This tour provides one-of-a-kind views of Waikīkī from the Ala Wai Canal, but it's a unique sight for bystanders, too.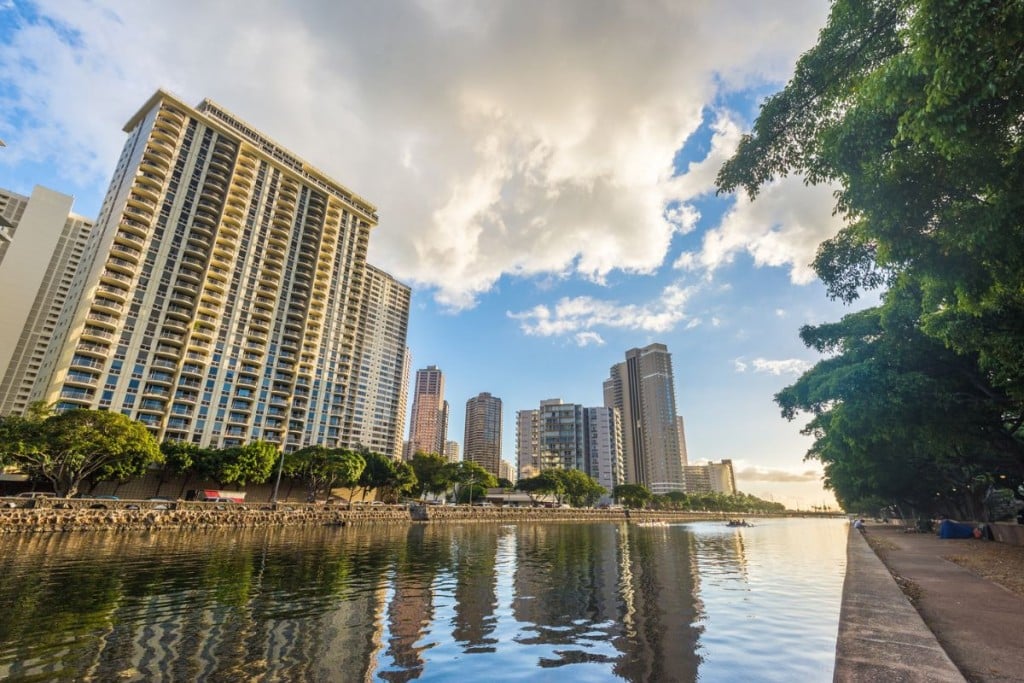 Like most residents on Oʻahu, I was surprised to see gondola rides being offered on the island.
It seemed like another kitschy tourist attraction. On Hawaiʻi WOW Gondola Tours' website, the company tells visitors to "embrace the shimmering water of Waikīkī's Grand Canal," while on a Venetian-style gondala ride. The company is referring to the Ala Wai Canal, but it's not exactly what I call shimmering.
I attended school across the street from the Ala Wai Canal. It's notorious around Oʻahu for carrying toxic bacteria, bearing a muddy brown color and emitting not-so-fragrant smells. So, when I heard that gondolas were gliding across the canal, you could say I was a little confused.
But co-founder and gondola cruise director Shawn Kalmanson hopes to reverse the murky views surrounding the canal. Kalmanson tells me that he hopes people who are skeptical of the experience can "reopen their minds" as it's a misconception that the canal is dangerous or even toxic.
OK, Shawn. I'll try.
When I arrive at the dock in Waikīkī, I'm greeted by Larry (who also goes by "Gondo-Larry") and Eli Kalmanson who both say, "Bueona sera!" in Italian accents. All three men are dressed in the signature gondola captain uniform: striped polo shirts, a red scarf, a woven hat and Ray-//Bans. And it's a family affair: Larry is Eli and Shawns' father. Together, they started the business with a mission to bring joyful, relaxed and romantic experiences to the residents and visitors of Oʻahu.
The Kalmansons moved to Hawaiʻi a few years ago from Canada after their mother started to experience daily migraines. In hopes of curing her from the pain, the family moved to the Islands and Oʻahu became her antidote.
Eli recalls this story as we start the boat ride out of Waikīkī Harbor. As the captain, he steers the gondola to the sound of jazz music playing from a tiny portable speaker. I'm sitting across Shawn who offers me sparkling apple cider in a plastic champagne glass and a delicious tiramisu. It's all included in the experience, which starts at $100.
As we to glide down the peninsula of Magic Island—at Ala Moana Beach Park'—and head towards the Ala Wai Canal, the sun is beginning to set. I highly recommend booking the evening slot because of the pink clouds and gold hue in the sky. This makes the ride feel more special.
As we move down the canal, I notice the fiberglass gondola is quite beautiful. It was shipped from the mainland but on its side is an ama (outrigger float) meant to assist the stability of the gondola. It also pays homage to the ancient Hawaiian craftsmanship of traditional outrigger canoes. Yet, a gondola is still a unique sight to see in the waters around Oʻahu.
We receive many stares from passers-by—mostly friendly. I won't be surprised if I see myself on someone's Instagram page in a few days as bystanders take photos. But the Kalmansons seem to be familiar with these reactions and they enthusiastically wave back to onlookers and yell, "Aloha!" Some might like this attention, but to be completely candid, I resorted to keeping my sunglasses on to avoid any recognition.
Aside from some passing looks, the ride fulfills all of the company's goals. It's a unique tour that serves up sights of Waikīkī that can only be seen from the Ala Wai Canal.
My personal views of the Ala Wai Canal did cloud part of the excursion—but it's no reason to be apprehensive. The Kalmansons are extremely personable and enthusiastically lean into their Venetian gondola captain characters, forging a type of experience that I thought I'd never see in Hawaiʻi. Nonetheless, for folks who want a one-of-a-kind experience while on Oʻahu, this checks all the boxes. It'll definitely bring a smile to your face (and others who are watching).
For more information on gondola tours in the Ala Wai, visit hawaiiwowtours.com.