You Can See Work of Famed Architect Vladimir Ossipoff All Over Oʻahu
Described as "the premier postwar designer of kama'āina-style," Vladimir Ossipoff is a man worth talking about.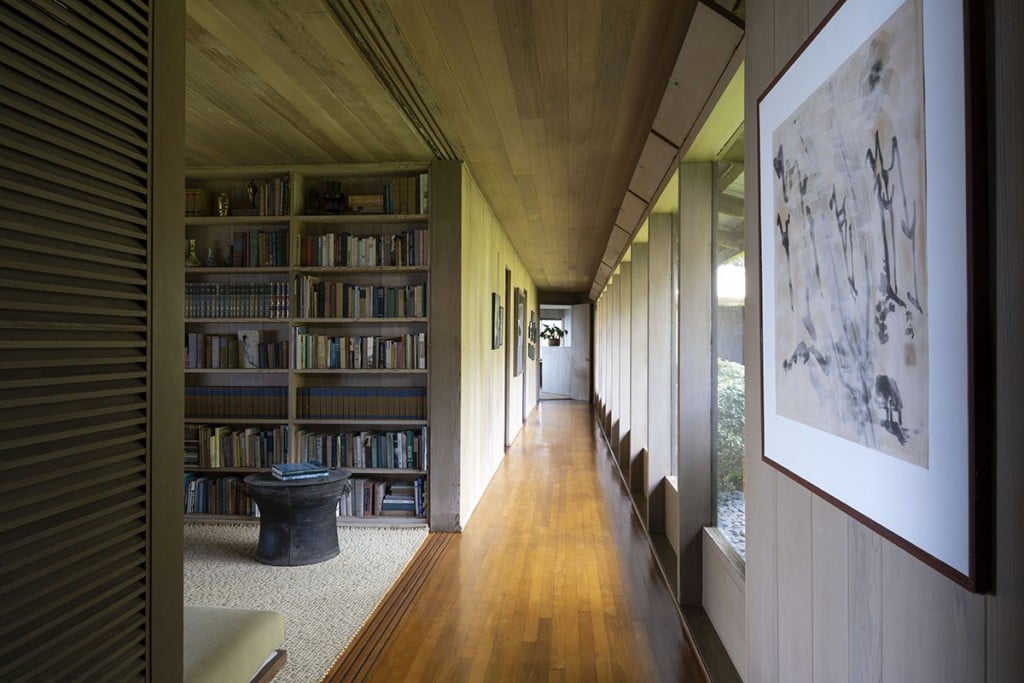 "An architect has to be a bit of a sociologist, lawyer and psychologist. He has to know human nature."
That's what architect Vladimir Ossipoff once said in regard to his profession. And he would know better than most: Born in Russia and raised in Japan, Ossipoff rose to architecture's upper echelons during a lifetime spent mostly in Hawai'i. His works—which come in myriad forms, from the otherworldly IBM building in Honolulu to the illustrious Liljestrand House, which effortlessly blends in with the forested hillsides of O'ahu's Mount Tantalus—have stood the test of time and remained at the forefront of modern architecture through the decades. Although we know so much about Ossipoff's works, questions remain: Who is the man himself, and how did he become such a powerhouse in Hawai'i architecture?
Born in Vladivostok in 1907, Ossipoff had a complicated childhood. His father, a Russian military officer, moved his family to Japan in 1910. Ossipoff spent most of his early years there, from 1910 to 1923, and attended the American School in Tokyo, where he learned to speak fluent Japanese, Russian and English. Following the 1923 Great Kantō earthquake, Ossipoff and his mother moved to Berkeley, California, where he completed high school and earned a degree in architecture from the University of California, Berkeley, in 1931.
"You don't have anything to lose. Why don't you come over?"
That's what high school friend and college roommate Douglas Slaten said to convince Ossipoff to move from California to Honolulu. After a three-year stint working at the homebuilding department at Theo H. Davies from 1932 to 1935, he formed his own architectural firm in Honolulu—Vladimir Ossipoff, AIA—which later became Ossipoff and Associates. The first home he designed under his own firm was for Cyril E. and Milme Pemberton in Makiki Heights, and although it was the beginning of his career, the home showed many design tendencies that would go on to define Ossipoff's later works.
"He was an international-style architect," says Glenn Mason, president of Mason Architects Inc. "He never designed anything in a classical style."
Mason, who worked with Ossipoff and has helped preserve and protect historical properties—including Ossipoff homes and buildings—notes that Ossipoff, even at the beginning of his career, was using architectural techniques that would later define his style: simple lines, favoring rational structures over obtuse constructs, designing for functionality over form, and focusing on the relationship between exterior and interior—the home and the natural world.
"He did some really, really seminal work particularly in the '50s and '60s," says Mason.
Some would call it Ossipoff's golden era. During this two-decade stretch, the then fully localized Russian was in high demand and completed some of his most famous works: the Hawai'i Preparatory Academy, the Outrigger Canoe Club, the Liljestrand House, the IBM Building, the Thurston Memorial Chapel, the Pacific Club. And the list goes on. While Ossipoff was a genuinely talented architect, Mason also credits some of his success to his upbringing, specifically being able to speak fluent Japanese. "We had a very large Japanese population at the time, and he spoke fluent Japanese. So he was able to communicate with some of the best Japanese craftsmen—and he had an advantage going on job sites because of that," says Mason. "A lot of the places that he did that were so nice were largely because of the highly detailed craftsmanship."
"Fifty, 60 years later, people are saying those are great buildings," says Mason. "And that doesn't normally happen."
Ossipoff, who was still actively designing into his mid-80s, died at 90 on Oct. 1, 1998; he was survived by his daughters, Alexandra and Valerie, and grandchildren. He was described as an intense individual, one with a look that could draw you in, just like his homes could. He helped influence many young architects and worked with some of the best designers of his time. And it's almost certain that his homes, and the buildings he helped create, will be around for many more decades to come.
This story was published in our 2021 September/October digital issue.