You Need to See Wailuku's "Small Town Big Art" Initiative
Celebrating art and the messages it can convey, "Small Town Big Art" brings even more life the to bohemian streets of Wailuku.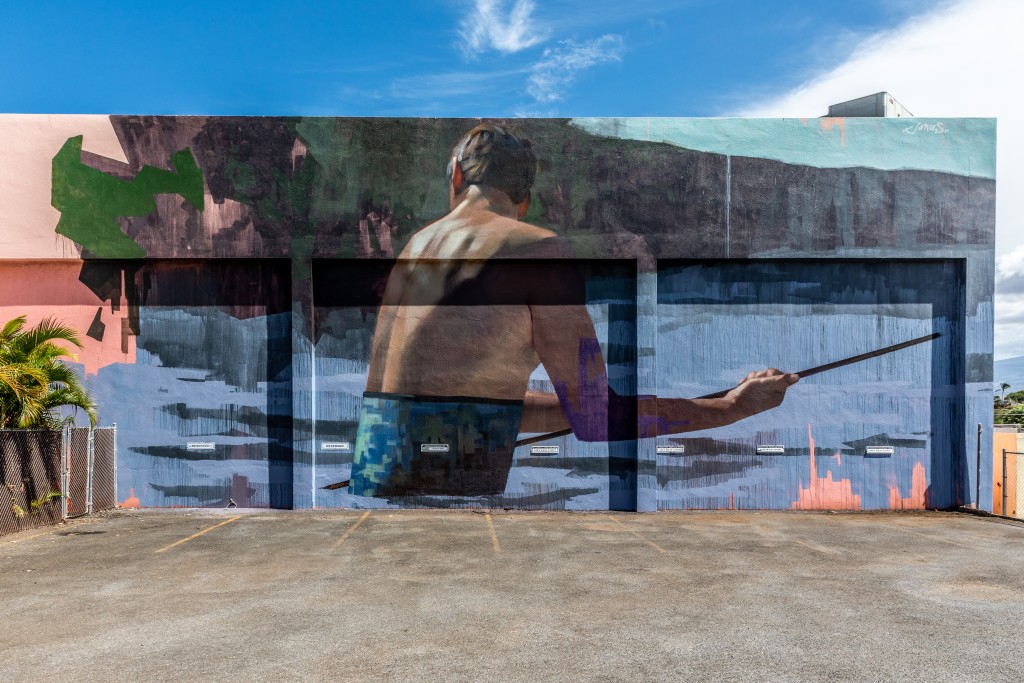 Wailuku is already one of the best towns to visit in Maui. Its eccentric streets, collection of locally owned small businesses and jovial community are uniquely Hawaiʻi, and encapsulate what it means to have aloha spirit.
Doubling down on its artistic personality, Wailuku is also seeing a number of grand mural pieces and large-scale art installations appear in and around the already colorful district. A collaboration between the County of Maui and Hale Hō'ike'ike at the Bailey House—also referred to as the Maui Historical Society—Small Town Big Art (ST*BA) looks to show the unique history and culture of Wailuku, and Maui, through murals, dance, theater, sculptures, architectural work and more.
Just walking through Wailuku, you're bound to see these wonderful visions of artistic expression on the walls of local businesses. But it's not just the technical talent that is on display—although it is very impressive. ST*BA aims to connect artists with historical and cultural values that pertain to a distinct sense of place, Wailuku. Sometimes that involves pairing professional artists with community consultants, while artists can also bring their own ideas to ST*BA for review. So while the public art is absolutely worth seeing just to see it, it is the stories and messages conveyed through the pieces that are truly enriching.
For example, a striking image of a young child holding a growing plant was painted by Maui-based artist Kirk Kurokawa on the front of the 2103 Wells Street building—the Maui County Children's Peace Center. Titled "Hoʻomau," the piece was done to show the healing process of children who have been abused and are on the road to recovery. Inspired by the ʻōlelo noʻeau (Hawaiian proverb) "He lei poina 'ole ke keiki," which means "A lei never forgotten is the beloved child," and all of the other art installations done in tandem with ST*BA also follow their own ʻōlelo noʻeau.
Another mural shows the back of a local fisherman casting his line. It's called "Eli," and was painted by Canadian artist Emmanuel Jarus, who resided in Wailuku for a residency program. During his stay, he was invited by a Wailuku family to go on a fishing trip with them, where he observed how the kamaaina interacted with the ocean and nature to provide for themselves and others.
Located just across the street is "Return to the Source," a mural inspired by an excerpt in a 3.5 hour talk story between cultural activists and kanaka maoli (Native Hawaiians) Clifford Naeʻole and Hōkūao Pellegrino about how individuals can always look towards the natural environment to learn the lessons that can guide us through life. The piece was created by Cory Kamehanaokalā Holt Taum and was accompanied by a 20-minute contemporary dance performance at the Hawaiʻi State Judiciary Building Hoapili Hale courtyard entitled "The Bits Left Behind" by Ali Pineo, Jen Cox, Katie Istvan, Hallie Hunt and Sarah Bauer.
If you're in Wailuku for a day, take the time to see some of these fantastic pieces of art and culture. Fortunately, they're all just off of the town's central strip, Main Street, and the ST*BA website has a great interactive map you can access online that also explains what the story and intention were behind each piece of art.
For more information, you can visit Small Town Big Art's website.