Your Checklist to Driving the Road to Hāna
You'll want to know these tips before embarking on the picturesque but precarious road on Maui.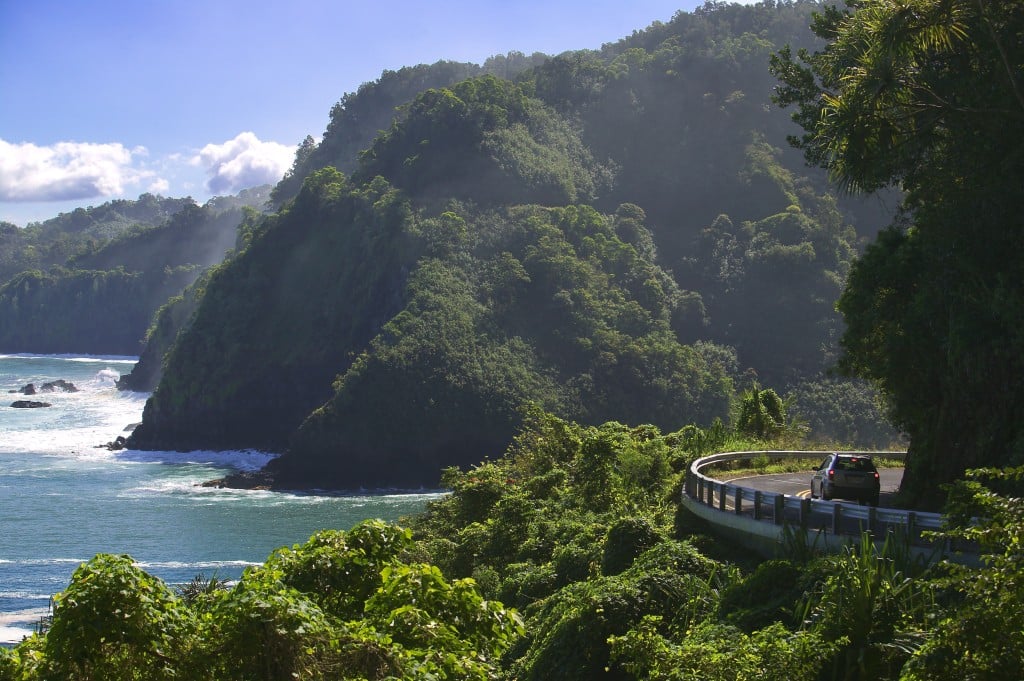 While there's many natural wonders to discover in east Maui, there's much to see and experience on the actual road to Hāna. The scenic drive weaves through lush tropical forests and flowing waterfalls, placing it at the top of many travelers' bucket lists. It's truly a beautiful journey but it can also be extremely dangerous. Stretching 52 miles from Kahului to the town of Hāna, the road twists over plunging cliffs, one-lane bridges and tight corners. It's a drive best done well-prepared, so check these tips before you go on a one-of-a-kind journey.
Check the weather
East Maui is famous for verdant jungles and dramatic waterfalls—because it rains often. While it's likely you'll experience light showers in Hāna, check for severe weather such as flash floods. Driving through a torrential downpour is extremely dangerous, especially on a perilous road that is susceptible to flooding and landslides. If a heavy rainstorm is in the forecast, it's wise to postpone the drive to Hāna, even if it means to another trip.
Wear and pack the appropriate apparel
Since it does rain often, remember to pack a light jacket as well as a swimsuit and hiking shoes if you plan on hiking in Hāna. Along the road you'll spot waterfalls and ponds for swimming. Once in Hāna, you'll also find beautiful beaches so be sure to pack a beach towel and reef-safe sunscreen. There are also coastal walking paths at Wai'ānapanapa State Park and longer trails at the Kīpahulu District of Haleakalā National Park for hiking. Just do not wear clothing you don't want to get muddy.
Top off on gas
Traveling to and from Hāna is an all-day excursion, therefore having enough gas is crucial. Once again, it's 52 miles from Kahului to the remote region. After you leave the North Shore towns of Pāʻia and Haʻikū, there are no gas stations and you do not want to be stranded on the road. Fortunately, there is a gas station in Hāna to refill for your journey back.
Bring snacks and water
No one is happy when hungry, especially on a long car ride. Pack snacks to refuel energy and keep spirits high in the entire car. But unlike gas stations, there are rest stops along the road. Park the car to stretch and grab ʻono food at one of the many local food trucks or quaint farm stands.
Get an early start
To avoid lines of cars and crowded lookouts, get on the road early. The earlier you leave, the more time you can enjoy Hāna without feeling rush and surrounded by other people. And the night before the big drive, make sure to head to bed early. It is much safer to drive feeling wide awake rather than sleep deprived.
Be prepared for no cell service
For most of the drive to Hāna, you will not have cell reception, so plan accordingly. On the road, there are many picturesque moments to capture, so make sure to charge your cell phone and switch it to airplane mode to preserve the battery life.
Always Be Respectful
This is one of the most important tips of advice when driving the road to Hāna. Be courteous to residents, other drivers as well as to nature. If a car is close behind, pull into a road shoulder to let the driver pass, otherwise you'll slow down traffic and create a line of angry cars. Similarly, pull over for pictures. It's much safer to stop on the side of the road to grab a picture than attempt to drive and capture a shot. And always remember to respect kapu (no trespassing) signs and stay off private property.
Remember you must drive back
Hāna is a tropical oasis that you can spend all day exploring. Just remember that the road you took, you'll have to take back. You do not want to be on the winding road in the dark, so leave before the sun sets.