5 Hana, Maui Food Trucks and Farm Stands to Visit
Put these roadside stops on your Maui itinerary.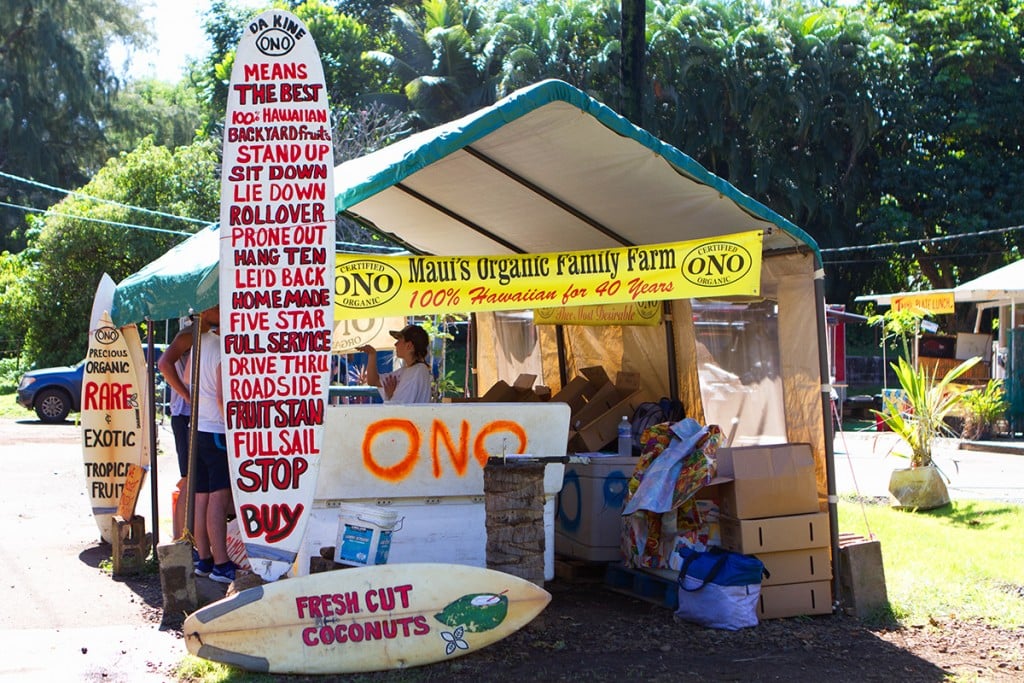 Hana, Maui, is a lush place, and there's no better way to experience the bounty grown by local farmers and caught by Hana-based fishermen than at these food trucks and farm stands along Hana Highway.
1. Ono Organic Farms Fruit Stand
Just look for the bright yellow Ono Organic Farms surfboard and you'll find Ono Organic Farms' fruit stand. The farm, a longtime family-owned and -operated Maui business, was featured on Gordon Ramsay's "Uncharted" on National Geographic. At the fruit stand, you'll find everything from locally grown breadfruit to Maui pineapples, starfruit, lilikoi (passion fruit) and guava. Better yet, you can try before you buy!
10 a.m. to 6 p.m. daily, next to the Hana gas station, (808) 248-7779, onofarms.com
2. Da Fish Shack
A local worker's recommendation for good fish supplied by Maui fishermen, Da Fish Shack serves fish and chips; top-quality fish tacos; a tender, flavorful fish burger; and several fish and shrimp entrées, along with ever-changing specials. End your meal with a house-made cookie or brownie.
5260 Hana Highway, 10 a.m. to 5 p.m. Monday through Thursday, 10 a.m. to 6 p.m. Friday, 10 a.m. to 4 p.m. Saturday, (808) 269-3922, facebook.com/dafishshack
3. Ae's Thai Kitchen
Look for the colorful red truck and umbrellas right across the street from the Hana Ranch Store and you'll find Ae's (the name rhymes with "hay") food truck, which serves Thai classics including pad Thai, curry and green papaya salad, in addition to local seafood favorites like coconut-crusted mahi and fresh-caught fish with chips.
5123 Hana Highway, 11:30 a.m. to 7 p.m. daily, (808) 446-1502, facebook.com/Aesthaikitchen
4. Troy's Plate Lunch
Run by a professional chef and generally only open on the weekends, it might not look like much, but this little shack packs a big flavor into all its ever-changing plate lunch offerings, like orange chicken, fried fish, garlic shrimp, katsu curry and barbecue pork, each with a side of rice and your choice of mac or tossed salad.  If you're really lucky, you'll catch Chef Troy on a day that he's serving up fresh fish he caught himself.
5420 Hana Highway, Saturday and Sunday, 10 a.m. to 5 p.m. (808) 264-2992, facebook.com/pg/Troysplatelunch
5. Hana Farms Grill and Market
This semi-permanent structure run by Hana Farms (psst, you can also buy some of their packaged products online) is both a local market and a cute little café. The market sells Maui-made banana bread, cookies, crafts, jewelry, keepsakes, coconut postcards, coffee, sauces and other neighborhood products.
At the stand, you can get house-made ice cream, Maui coffee, flavored sodas and other refreshers. Our recommendation: Auntie Corie's Oatmeal Crazies, giant homemade cookies that are great to split among two or more people.
At the grill, you'll find delicious burgers and sandwiches sourced with local ingredients and filling plates with Maui beef brisket, Hana-caught mahimahi or ono with lilikoi butter, kalua pork with grilled pineapple and farm-grown veggie skewers.
Farm stand: 8 a.m. to 6:30 p.m. Monday through Thursday, Saturday and Sunday; 8 a.m. to 8 p.m. Friday Grill: 11 a.m. to 3 p.m. Monday through Thursday, Saturday and Sunday; 11 a.m. to 3 p.m. and 5 to 8 p.m. Friday, (808) 248-7371, hanafarms.com/grill