Your complete Merrie Monarch Festival guide to this year's events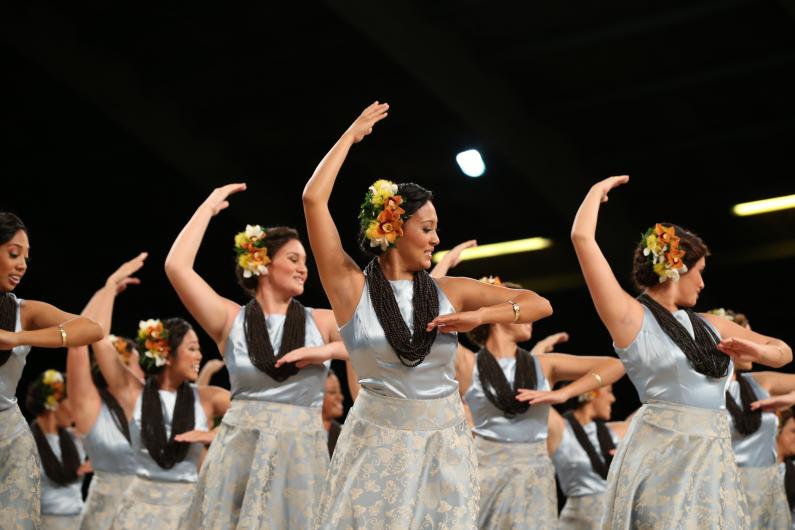 The Merrie Monarch Festival, held in Hilo, is both the world's most prestigious hula competition and a cultural showcase of Native Hawaiian traditions and practices—a yearly institution watched around the world.
The always sold-out tickets for the festival's three competition days—beginning this Thursday, March 31 through Saturday April 2—have long since been doled out, but if you're in Hilo, the week also includes plenty of free entertainment and open-to-the public events including a Hawaiian arts fair and the Royal Parade through downtown.
No matter where you are, you can always live stream Merrie Monarch's three main hula competitions online thanks to Honolulu-based TV station KFVE. Their television coverage, available throughout the Islands, also includes highlights from last year, backstage conversations with hālau (hula groups) and solo competitors and best-of highlights at the festival's conclusion.
Hālau from across the Islands have practiced all year for the event, and an invitation to perform in Merrie Monarch competition is a great honor. This year, there are 12 entrants in the crowning Miss Aloha Hula event and a total of 25 competing wāhine (female) and kāne (male) groups performing both ʻauana (modern) and kahiko (traditional) hula as well as oli (traditional chant).
The festival honors the legacy of King David Kalākaua, nicknamed the "Merrie Monarch" for his love of the arts, especially music and dance. King Kalākaua was also a supporter of the revival of oli and hula, which were used by Hawaiians to share and express everything from mythology and history to religion, but were discouraged by missionaries. The Merrie Monarch Festival began in 1963 to perpetuate, promote and preserve the Hawaiian culture, but its most popular draw—expressive and graceful competitive hula events—was included in 1971.
Here's the week's schedule! Note all times are in Hawaii Standard Time (HST):
COMPETITION EVENTS
MARCH 31 to APRIL 2, 2016
Each night's competition will start at 6 p.m. HST (12 a.m. U.S. East Coast, 9 p.m. on the West Coast). Competitions generally run for around six hours. Competitive events will be re-televised the following day on local TV (KFVE) only. Click here to watch the events as they happen via live stream.
Miss Aloha Hula
Twelve female soloists will each perform oli, hula kahiko and hula ʻauana, but only one will be crowned Miss Aloha Hula. Thurs., March 31 • live stream and live TV broadcast: 6 p.m. til 12 a.m. • re-televised on Fri., April 1 from 11 a.m. till 5 p.m. (TV only)
Group Hula Kahiko
Group performances of ancient and traditional hula. Fri., April 1 • live stream and live TV broadcast: 6 p.m. to 12:30 a.m. • re-televised on Sat., April 2 from 11 a.m. to 5:30 p.m. (TV only)
Group Hula ʻAuana & Awards Ceremony
Group performances of modern hula dance followed by an awards presentation for winners in both group categories. Sat. April 2 • live stream and live TV broadcast: 6 p.m. to 1 a.m. • re-televised on Sun., April 3 from 11 a.m. to 6 p.m. (TV only)

FREE AND OPEN TO THE PUBLIC FESTIVAL EVENTS IN HILO
MARCH 27 to APRIL 2, 2016
Hoʻolauleʻa (Celebration)
The opening festival begins at 9 a.m. on Sunday, March 27 in the Afook-Chinen Civic Auditorium (323 Manono Street). The event includes performances from local hula halau.
Mid-day Entertainment
Every festival weekday, live entertainment will be hosted at the Hilo Naniloa Hotel starting at 12 p.m. and at the Hilo Hawaiian Hotel starting at 1 p.m.
Invitational Hawaiian Arts Fair
This popular arts-and-crafts fair features dozens of local and Hawaiian artisans and live entertainment in the Afook-Chinen Civic Auditorium (323 Manono Street). The Arts Fair runs Wednesday to Friday from 9 a.m. to 5 p.m.; and Saturday, April 2 from 9 a.m. to 4 p.m.
Hoike (display or exhibit) Performances
A showcase of hula and folk dances from around the Pacific Rim will be held on Wed. at 6 p.m. in the Edith Kanakaʻole Stadium (1500 Kalanianaʻole Ave.).
Merrie Monarch Royal Parade
On Satuday, April 2, beginning at 10:30 a.m., a festive parade winds its way through downtown Hilo via Kīlauea Avenue, Keawe Street, Waianuenue Avenue and Kamehameha Avenue. The parade begins and ends on Pauahi Street.
---
53rd Annual Merrie Monarch Festival
March 27 to April 2, 2016 • Various event locations throughout Hilo, with all competitive performances taking place in the Edith Kanakaʻole Tennis Stadium (1500 Kalanianaʻole Ave.) and the Art Fair in the Afook-Chinen Civic Auditorium (323 Manono Street) • For more information, visit merriemonarch.com