Your Events Guide to the 2017 Merrie Monarch Festival
Here is what's happening in Hilo during the world famous hula competition.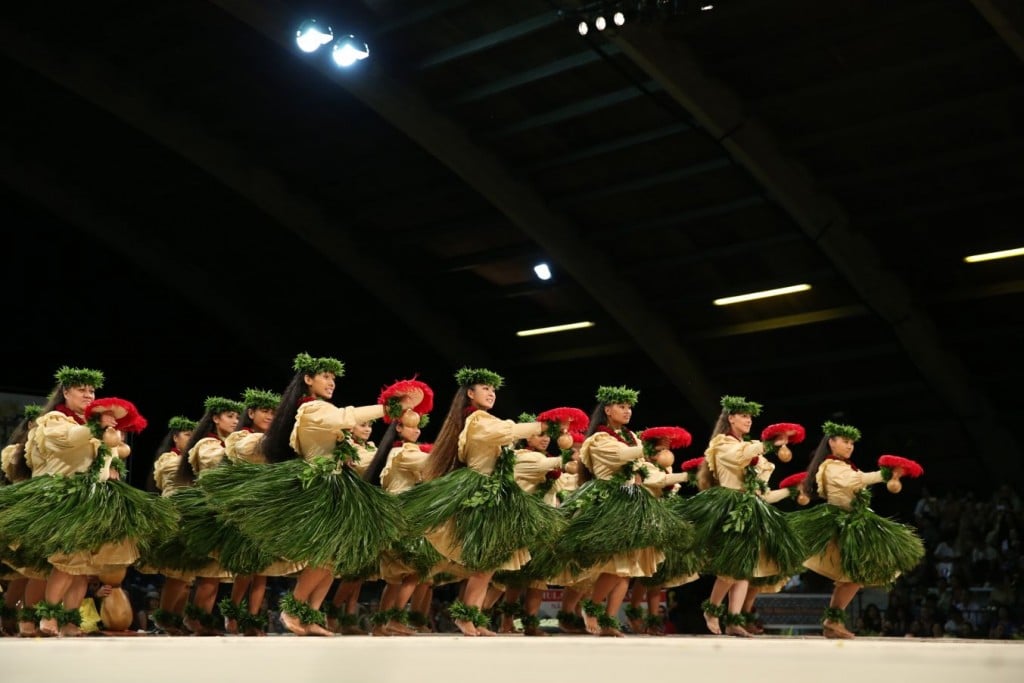 Every Spring, Hilo comes alive during the annual Merrie Monarch Festival—an internationally-acclaimed celebration of Hawaii's most beloved art form, the hula.
Three nights of exhilarating competition unite a total of 28 men's and women's hula halau (groups) from across the Hawaiian Islands and the continental U.S. this year, alongside visiting dancers from Asia and Polynesian cultures spanning the Pacific region. The result: celebrations all week long, from Sunday, April 16 through Sunday, April 23.
If you managed to get tickets to the competition this year (lucky you!), or just plan to be in the Hilo area during this fun-filled week, here's your guide to its can't-miss events.
FESTIVITIES
Sunday, 4/16
Hoolaulea
It's the official event to kick off the Merrie Monarch Festival. The hoolaulea (celebration) sets the tone for the entire event, where pride in culture and perpetuating Hawaiian traditions are on display in the vibrant dedication and enthusiasm of the local halau who welcome all with their dancers to Hilo.
A traditional protocol called a kipaepae (literal translation, "the stepping stones into a house") is held as part of the opening ceremony.
Free, 9 a.m., Afook Chinen Civic Auditorium, 323 Manono St., Hilo, Hawaii Island.
Wednesday, 4/19—Saturday, 4/22
Merrie Monarch Invitational Hawaiian Arts Fair
One of the most popular events at the festival, local artisans, crafters and a line-up of award-winning entertainers gather to exhibit an array of Hawaiian goods to the public. With vendor spaces at capacity every year, this official fair of the Merrie Monarch Festival has it all—from large-scale acrylic paintings and feather lei to koa bowls and modern Hawaii-inspired fashions.
Free, Wed. through Fri., 9 a.m. to 5 p.m., Sat., 9 a.m. to 4 p.m., Afook Chinen Civic Auditorium, 323 Manono St., Hilo, Hawaii Island, more info at namakua.com.
Wednesday, 4/19
Hoike
Nowhere else in the world will you see the diversity of the Pacific's dance traditions on this scale and in this type of arena. Hoike means "to show, exhibit"—appropriately so, the stadium stage lights up with Polynesian dances, from New Zealand to Tahiti. Per tradition, Hilo halau, Halau O Kekuhi, dances first. A hometown favorite, the halau performs under the direction of kumu hula (teacher) Nalani Kanakaole, daughter of the late Edith Kanakaole, for whom the stadium is dedicated.
A royal court of 22 members total, most recognizably King Kalakaua and Queen Kapiolani, is also presented.
Tickets are not required for this showcase. Seating is a first-come, first-serve basis which makes it one of the most packed events leading up to the three nights of Merrie Monarch competition. Attendees will start lining up as early as 3:30 a.m. on Wednesday morning to claim their seats.
Free, 6 p.m., Edith Kanakaole Stadium, 350 Kalanikoa St., Hilo, Hawaii Island, no tickets required.
Saturday, 4/22
Merrie Monarch Royal Parade
Beginning and ending at Pauahi Street, this closing parade winds through downtown Hilo. Thousands gather alongside Kilauea Avenue, Keawe Street, Waianuenue Avenue and Kamehameha Avenue to see the colorful procession of pau riders, local musicians, community organizers and high school bands.
Free, 6 p.m., Edith Kanakaole Stadium, 350 Kalanikoa St., Hilo, Hawaii Island, no tickets required.
COMPETITION
Thursday, 4/20
Miss Aloha Hula
In the first official night of Merrie Monarch competition, solo female hula dancers vie for the top title of Hawaii's female dancers: Miss Aloha. This year, 10 participants will command and charm the attention of the audience and judges in two dance categories—kahiko (ancient) and auana (modern)—in addition to an oli (chant).
The competitors are scored on not just their technique, but their olelo Hawaii (Hawaiian language), costume and overall interpretation of the dancer's storytelling. Last year's winner, Kayli Kaiulani Carr of Halau Hiiakainamakalehua, will pass the crown down to 2017's new Miss Aloha Hula by the night's end.
6 p.m., Edith Kanakaole Stadium, 350 Kalanikoa St., Hilo, Hawaii Island.
Friday, 4/21
Group Hula Kahiko
Prepare yourself for epic stories of the Hawaiian Islands and its peoples in the first night of group competition. Devoted to kahiko, the ancient form of hula passed down for generations in the Islands, these highly anticipated performances are divided into kane (male) and wahine (female) competition. Traditional instruments, chanting and ornamentation shape the essence of this style. This year, nine male halau and 19 female halau will do their best to wow the judges, and honor their ancestors, with their athletic finesse and grace.
6 p.m., Edith Kanakaole Stadium, 350 Kalanikoa St., Hilo, Hawaii Island.
Saturday, 4/22
Group Hula Auana & Awards
Auana is the most observable of hula in the Islands, a style developed in the early 1900s, often accompanied by stringed instruments. More creative liberties are taken in auana, with halau putting surprising spins on steps and costumes, and drawing inspiration from unexpected places.
This is the longest night of the competition, which includes a final tallying of the votes and an awards presentation to the winning halau (men's and women's) in both kahiko and auana. An overall winner of the 2017 Merrie Monarch Festival is also awarded.
6 p.m., Edith Kanakaole Stadium, 350 Kalanikoa St., Hilo, Hawaii Island.