Your Events Guide to the 2018 Merrie Monarch Festival
In a week full of hula and Hawaiian culture, there's a lot to see and do in Hilo.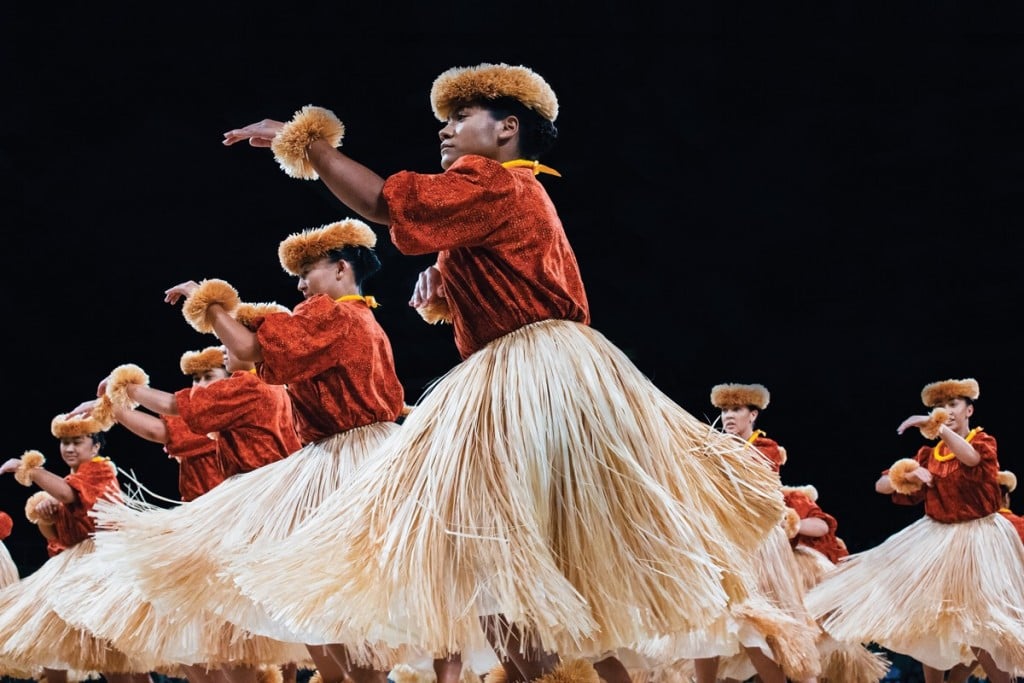 Every year, Hilo becomes abuzz with excitement as the annual Merrie Monarch Festival rolls around. A weeklong celebration of hula, Hawaiian culture and the aloha spirit, it's easy to get lost in the festivities and goings on. With a hoolaulea (celebration), an art festival, crafts fair and much-anticipated hula competitions happening on different days, make your itinerary foolproof with our event guide, below.
Public festivities
Though these activities are public and free, you'll still want to plan ahead to get a good seat at the shows.
Hoolaulea
There's no better way to start Merrie Monarch week than by attending the hoolaulea, which showcases Hawaiian traditions and ceremonies to the public. The event will also include a performance by a local halau hula (dance troupe), and sets the mood for the rest of this festive week. Sunday, April 1, 9 a.m., Afook Chinen Civic Auditorium, 323 Manono St.
Merrie Monarch Invitational Hawaiian Arts Fair
During the middle of the middle of the week, this arts festival and fair opens up to the public. Filled to the brim with local vendors and artists, the fair also features live entertainment. Wednesday, April 4 to Friday, April 6 from 9 a.m. to 5 p.m., Saturday, April 7 from 9 a.m. to 4 p.m., Afook Chinen Civic Auditorium, 323 Manono St.
Hoike
For one night, the Edith Kanakaole Stadium becomes the mainstage for the highly anticipated hoike (the Hawaiian word for "show" or "exhibit"). What will be shown, and exhibited, are forms of dance from all over the Pacific. It's recommended to arrive early, as seating is on a first-come, first-served basis. Wednesday, April 4, 6 p.m., Edith Kanakaole Stadium, 350 Kalanikoa St.
Merrie Monarch Royal Parade
Starting on Pauahi Street, the jubilant parade moves through Kilauea Avenue, Keawe Street, Waianuenue Avenue and Kamehameha Avenue before ending back where it started. Marching down the roads will be high school bands, pau horseback riders (women wearing long, colorful skirts) and local musicians. Saturday, April 7, 10:30 a.m., Downtown Hilo.
Competitions
These events are ticketed, so if you don't have a reserved seat then watch the competition online or find a bar in Hilo broadcasting it on TV—you'll still have fun.
Miss Aloha Hula
Competing for the title of Miss Aloha Hula, 12 of Hawaii's best female dancers will be judged on their oli (chants), hula kahiko (traditional dance) and hula auana (modern dance), as well as their proficiency in olelo Hawaii (Hawaiian language) and overall presentation. Thursday, April 5, 6 p.m., Edith Kanakaole Stadium, 350 Kalanikoa St.
Group Hula Kahiko
Twenty-four halau hula, split into kane (men) and wahine (women) divisions, will use hula as a medium to tell stories and legends of the Hawaiian Islands. In the first group competition, halau will dance in the ancient style, known as hula kahiko, and are accompanied by traditional instruments and chants. Friday, April 6, 6 p.m., Edith Kanakaole Stadium, 350 Kalanikoa St.
Group Hula Auana and Awards Show
In contrast to the hula kahiko, hula auana is a more modern take on the traditional artform with groups wearing colorful and elaborate costumes and lots of flower lei. The performances are also matched with modern stringed instruments.
Afterwards, the scores are tallied for both the group hula kahiko and group hula auana competitions, and awards are presented to the winners. An overall winner of the Merrie Monarch Festival is also revealed, putting a cap on the exciting and culturally significant week. Saturday, April 7, 6 p.m., Edith Kanakaole Stadium, 350 Kalanikoa St.
For more information, visit merriemonarch.com or call (808) 935-9168.