Your Guide to ʻAkaka Falls State Park on Hawaiʻi Island
Everything you need to know to see this accessible waterfall just north of Hilo.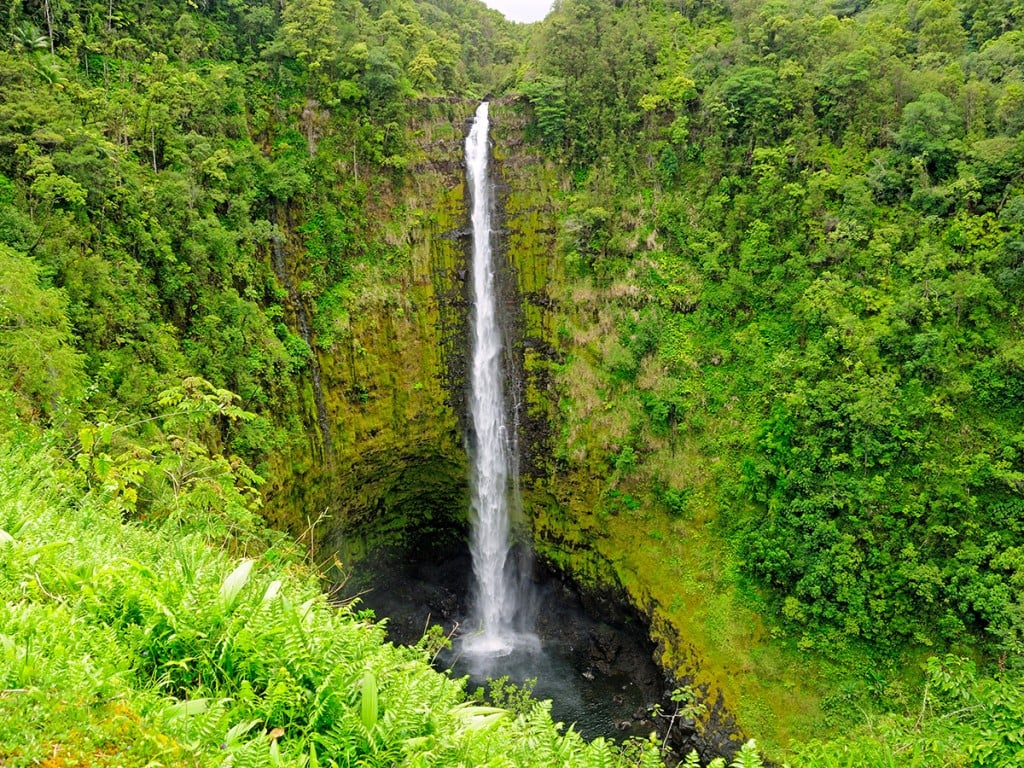 Seeing a waterfall in Hawaiʻi.
Yes, it's a thing.
And one of the most accessible waterfalls is ʻAkaka Falls on Hawaiʻi Island. In fact, you can see two waterfalls—ʻAkaka Falls and the smaller Kahuna Falls—on this short but beautiful hike through a lush rainforest filled with bamboo and wild orchids. And it's only a half-hour drive from Downtown Hilo.
Here's what you need to know to see the 442-foot falls.
Location: 875 ʻAkaka Falls Road, Honomū, Hawaiʻi, 96728
ʻAkaka Falls is located in the state-run ʻAkaka Falls State Park, located in Honomū, about 20 miles north of Hilo International Airport. The park features a big parking lot and the trail to both waterfalls is paved with railings. There are steps, though, so parents can't use strollers and it's not wheelchair accessible.
The park also has restrooms though no gift shop or concession stands.
The loop hike itself is short: about 0.4 miles, with slight uphill sections, through bamboo groves and lush foliage. (This area gets more than 84 inches of rainfall a year.) You can see both the 100-foot Kahuna Falls and ʻAkaka Falls, which plummets 442 feet into a stream-eroded gorge. (By comparison, Niagara Falls is 325 feet; Multnomah Falls in Oregon is 620 feet.)
The waters here are home to ʻoʻopu ʻalamoʻo, a species of goby fish that will climb vertically to the top of the falls—yes, the entire 442 feet!—to lay its eggs.
Hours: The park is open from 8 a.m. to 5 p.m. daily.
Entrance Fee: Like other state parks, there is an entrance fee for non-residents. Visitors pay $5 per person, children under 3 are free. Only credit cards are accepted. (Hawaiʻi residents with a valid Hawaiʻi ID are free.) You can pay prior to arrival by calling CallToPark at 1-888-767-9037. (Location #125932) or paying online here.
Parking: Residents are free, but non-residents have to pay $10 to park their vehicles in the lot. You can also pre-pay using the number and website listed above.
What To Bring: Since this area can see a lot of rainfall, it would be prudent to bring rain gear—jackets, umbrellas, ponchos. Though it may be overcast, you should still wear sunscreen if you're outdoors. (Clouds don't actually block the harmful UVA and UVB rays from penetrating your skin.) While the path is paved and the trek short, you should still wear sturdy shoes and bring water.
What To Do Nearby: Just outside the park is Mana's Aloha Fruit Stand, where you can buy fresh coconut water, pineapples and bananas. Visit Honomū Goat Dairy, where you can play with baby goats, sample goat milk products or pick up hand-crafted goat milk soap or award-winning goat milk caramels. If you didn't get enough nature, you can walk around the 17-acre Hawaiʻi Tropical Bioreserve & Garden, just 20 minutes south of the state park. Here you can wander this lush garden filled with more than 2,500 tropical and subtropical plants, like orchids, anthuriums and hibiscus, with views of Onomea Bay.
Get updates about ʻAkaka Falls here.