Your Guide to Downtown Honolulu, O'ahu
For excitement on O'ahu outside of Waikīkī, the neighborhoods of Chinatown and Downtown Honolulu are well worth a visit.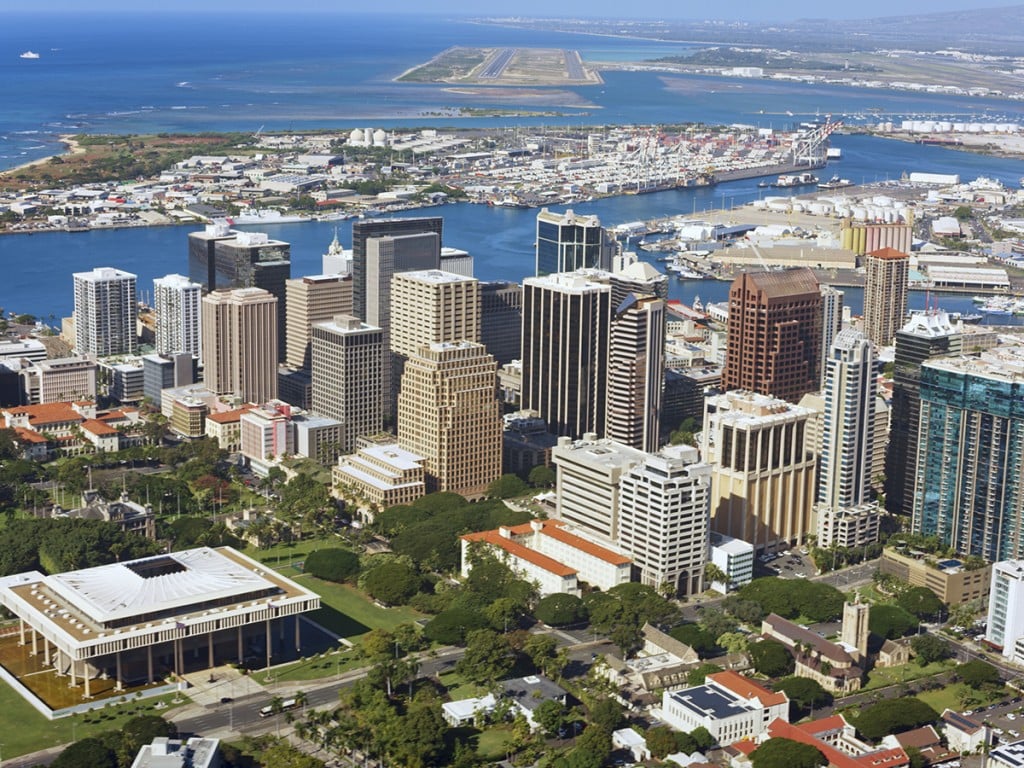 Chinatown and Downtown Honolulu are among Hawai'i's most storied neighborhoods, with rich histories that date back hundreds of years. Chinatown, just 'Ewa of downtown Honolulu, was home to thousands of Chinese immigrants who worked on Hawai'i's sugar plantations in the 1800s; it nearly burned down in 1900 during attempts to combat the bubonic plague. Years later, it became a red-light district for soldiers during World War II. But the neighborhood today isn't just a relic of the past; it's a thriving community with an eclectic mix of shops, bars, museums, eateries and theaters. There's plenty to see, explore and savor in Chinatown, and Downtown Honolulu, too. Here's a brief guide on how to get started:
1. Sip cocktails at Skull & Crown
View this post on Instagram
Floral wallpaper, stone idols, and the low sounds of rolling thunder greet you at Skull & Crown Trading Co., a dark tiki bar that combines horror elements, such as human skulls and shrunken heads in glass jars, with facets of actual Hawai'i history. For example, the "Trading Co." in Skull & Crown's name is a nod to the real-life trading companies that operated in Honolulu in the early 1800s, and bar owner Noa Laporga burns sandalwood incense each day before the bar opens because that's what downtown⁠ likely smelled like back then, when the local sandalwood industry was booming. Light a fire of your own with the namesake Skull & Crown cocktail, made with three types of rum, cinnamon syrup made in-house, sweet and spicy John D. Taylor Velvet Falernum, plus fresh grapefruit and lime juice⁠—all served in a porcelain half-skull and lit on fire. Drink up, me hearties. 62 N. Hotel St., (808) 372-9618, skullandcrowntrading.com.
2. View local art at Downtown Arts Center
Located inside the Chinatown Gateway Plaza, the Downtown Arts Center may be a relatively new addition to the Honolulu arts scene, but its 4,000-square-foot gallery has already attracted a following of artists, collectors, and art enthusiasts. At a time when many art galleries were having to shutter their doors, DAC's executive director, Sandy Pohl, elected to open. The neighborhood arts hub offers a year-round medley of exhibitions, workshops and live events; two exhibitions are currently on display, through April 30: the Hawai'i Watercolor Society's annual juried show, featuring watercolor works by local artists including Dawn Yoshimura, Jimmy Tablante, Tamara Moan and Kelly Kimura; and a solo multimedia exhibition by Hawai'i artist Robert Mace. 1041 Nu'uanu Ave., (808) 773-7339, downtownarthi.org.
3. Shop for vintage island ephemera at Tin Can Mailman
View this post on Instagram
If you're interested in vintage Hawai'i memorabilia and ephemera, look no further than Tin Can Mailman on Nu'uanu Avenue, which boasts a diverse collection of books, maps, postcards, photos, hula dolls, tiki mugs, and more. Named for the "tin can mail" system of having mail dropped overboard in biscuit tins and retrieved by local swimmers (in areas like Tonga, where turgid waters and deep trenches make it impossible for ships to conventionally anchor), Tin Can Mailman brings back the Hawai'i of yesterday, with materials that date back to the 1920s and earlier. Whether you're shopping for a difficult-to-find artifact or just want to admire the elaborate window display out front, Tin Can Mailman is a one-of-a-kind shop and an attraction unto itself. 1026 Nu'uanu Ave., #1A, (808) 524-3009, tincanmailman.net.
4. Explore the remnants of a Russian fort
In the early 1800s, Russian fur traders began frequenting the Hawaiian Islands for meat, vegetables, fruit and other provisions. King Kamehameha I allowed the traders to build a supply house on land that fronted Honolulu Harbor⁠—but when the king discovered that the men were instead building a fort as part of an attempt to take over the island, he had them removed. In response, then-O'ahu Gov. John Adams Kuakini rebuilt the fort to help defend the harbor and the royal residences (roughly where Harbor Court is today). With 12-foot thick walls, the roughly 2-acre Honolulu Fort was the largest structure in Hawai'i when it was completed. Today, Honolulu Fort is long gone. But its legacy lives on through its nearby namesake Fort Street Mall and at Walker Park, where the fort once stood. In 1838, 52 cannons were reported to have been mounted at the fort, each with the ability to launch projectiles up to 32 pounds; a lone cannon still stands here today.
5. See a show at two historic theaters
Downtown Honolulu is home to two theaters that are on the National Register of Historic Places: Hawai'i Theatre and Kumu Kahua Theatre.
Built in 1922, the Hawai'i Theatre was a grand movie palace that drew large crowds mostly for silent films and vaudeville shows, and later more modern movies. By the 1980s, the theater had fallen into disrepair and was at risk of being demolished. But thanks to a comprehensive seven-year renovation, Hawai'i Theatre reopened in 1996 and has since become among Honolulu's preeminent venues for concerts, large theater performances and national touring shows. The art deco neon marquee, with the matching "HAWAII" vertical neon sign, is the largest of its kind in the state. 1130 Bethel St., (808) 528-0506, hawaiitheatre.com.
Farther down Bethel Street, Kumu Kahua Theatre has been producing theater by, for, and about the people of Hawai'i for more than 50 years. What began as a way for University of Hawai'i graduate students to perform experimental theater works in 1971 evolved into the only organization in the United States dedicated to producing and performing "theater of place," or original works that tell stories about a specific geographic region and that area's cultures. In 1994, Kumu Kahua moved into its current home: the historic Kamehameha V Post Office building, originally built in 1871. 46 Merchant St., (808) 536-4441, kumukahua.org.
At both Hawai'i Theatre and Kumu Kahua, come for photos of the stunning exteriors⁠ but stay for world-class performances.
6. Enjoy eclectic cuisine at any time of day
View this post on Instagram
In addition to offering some of the best Chinese cuisine on the island at restaurants like Lam's Kitchen, Little Village, Lee Ho Fook, and Ginger & Garlic, Chinatown also features an outstanding selection of cuisine from a surprising mix of cultures.
Start your day off right with brunch at swanky Bar Podmore; everything's good but the highlights include "Christmas Breakfast," a twist on eggs Benedict with smoked salmon and spinach atop a crispy potato rosti; and one of Hawai'i's few full English breakfasts, complete with locally sourced pono pork sausage, bacon, fried eggs, baked beans, potatoes, mushrooms, charred tomatoes, black pudding and fried bread⁠—just describing it is a mouthful. 202 Merchant St., (808) 521-7367, barpodmore.com.
Go from West End vibes at Podmore to inspired Vietnamese dining at The Pig & The Lady (that's 6,200 miles in just five Honolulu blocks!), long celebrated in Honolulu for its modern take on crispy chicken wings, "shaking beef" tenderloin, banh mi sandwiches (the beef brisket in the French dip is slow roasted for 12 hours), and a half-dozen types of pho prepared with different proteins including pork belly, oxtail, and impossible meat. 83 N. King St., (808) 585-8255, thepigandthelady.com.
For dinner, step into a Hotel Street izakaya (a Japanese pub that serves food and drinks) at elegant Yakitori Hachibei, which specializes in skewered barbecue chicken, pork wraps, Japanese wagyu, Kaua'i shrimp, you name it⁠—as well as miso butterfish, fried chicken karaage, beef tongue curry, ramen, and other assorted goodies. 20 N. Hotel St., (808) 369-0088, hachibei.com.
View this post on Instagram
Save room for dessert and head around the corner to Wing Ice Cream Parlor, where owner Miller Wing Royer makes his own ice cream with wild flavors you won't find elsewhere. The selection rotates but past winners have included pineapple Thai basil sorbet, rose petal, Jasmine tea, avocado, curry masala, and even pizza ice cream. 1145 Maunakea St., Suite 4, (808) 536-4929, wingicecream.com.
It's all a little unusual but always interesting and exciting⁠—and hey, that's Chinatown and Downtown Honolulu for you.