Your Guide to Hawaiʻi's 2022 Summer Festivals
Mark your calendars because these summer events and festivals you don't want to miss.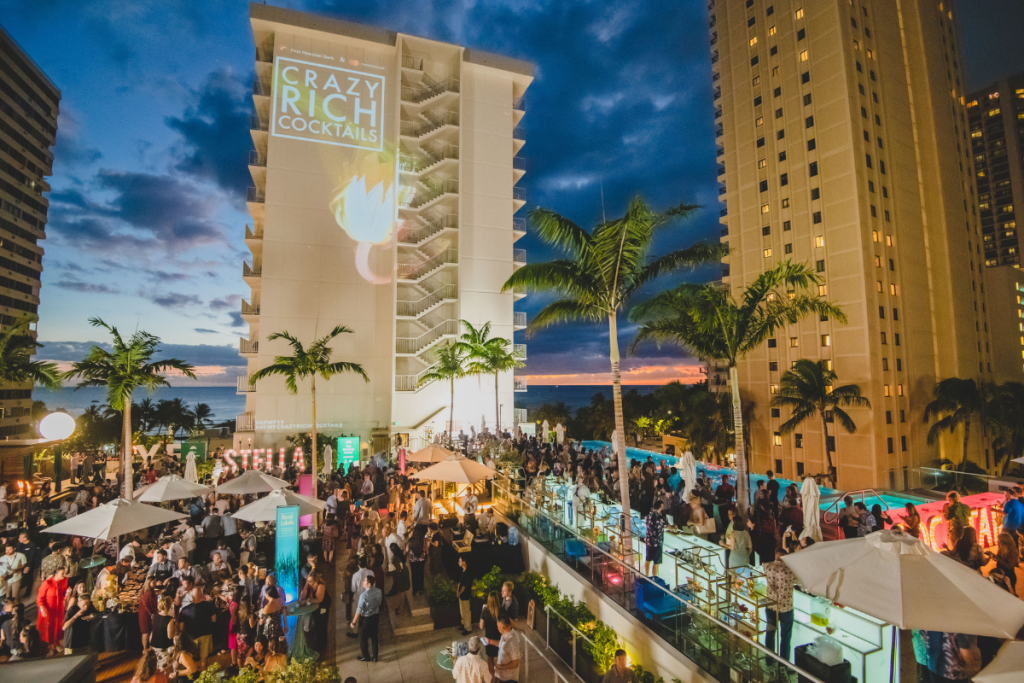 Throughout the Islands, residents and visitors alike are looking forward to the return of Hawaiʻi's most beloved summer events. Over the years, many of these festivals have become community traditions. And for the last two years, summers haven't felt quite the same—for many reasons—one being the absent festivals. Fortunately, many of these festivals are making their grand return in 2022 after virtual iterations or complete cancellations. From King Kamehameha floral parades in early June to film festivals in the dog days of summer, these events make summer feel like, well, summer. Below, find a list of events and festivals across the island this summer and into fall.
It is always wise to double check event venues for the most up-to-date information, especially during the era of COVID-19.
Oʻahu
150th Annual King Kamehameha Celebration Floral Parade
June 11
Celebrating its 150th anniversary this year, the annual King Kamehameha Celebration Floral Parade honors Kamehameha I, who united the Hawaiian Islands. The parade includes brightly decorated floats, lively marching bands and traditional pāʻū riders representing the Hawaiian royal court.
To find out more, visit sfca.hawaii.gov.
2022 Waikīkī Hawaiian Steel Guitar Week
July 11-16
This free, week-long festival is an exciting celebration of Hawaiian music and the Hawaiian steel guitar. All week, music lovers can sway to the upbeat music that is emblematic of the Islands at the Royal Hawaiian Center's Royal Grove stage. There will be performances by various Hawaiian steel guitar experts and ensembles. For those unable to attend the concerts in person, the festival will be streamed on the organization's Facebook page and on YouTube.
For more information on performers and times, visit waikikisteelguitarweek.com.
ʻUkulele Festival Hawaiʻi
July 17
Since the inaugural festival in 1971, Hawaiʻi's annual ʻUkulele Festival has become the largest international festival of its kind. Before the pandemic, the free event was held at the Queen Kapiʻolani Park in Waikīkī and internationally known artists, as well as Hawaiʻi's most talented ʻukulele musicians took to the stage. This year, the 52nd event will not only be held virtually, but it will be the final festival. So, it definitely should not be missed! The lineup of ʻukulele virtuosos includes Jake Shimabukuro, Herb Ohta and Paula Fuga, just to name a few.
For more information on how to watch the festival, visit ukulelefesthawaii.org.
Duke's OceanFest
Aug. 20-28
Waikīkī welcomes the return of Duke's OceanFest. The weeklong festival is held on the shores of Waikīkī, celebrating none other than Duke Kahanamoku and his contributions to Hawaiʻi water sports. All week there will be exciting sports competitions in honor of Duke's legacy, including longboard surfing, surf polo, swimming, stand-up paddling as well as hula performances and film shows. To conclude the festival, there will be a lei-draping ceremony at the Duke Kahanamoku statue.
For more information visit, dukeoceanfest.com.
Aloha Festivals
September 2022
Aloha Festivals is the largest annual celebration of Hawaiian culture and throughout the month of September, there is an exciting lineup of events on Oʻahu. You don't want to miss the Waikīkī Hoʻoʻlauleʻa (celebration), Hawaiʻi's largest block party or the colorful floral parade.
For the complete list of events and dates, visit alohafestivals.com.
40
th
Annual Okinawan Festival
Sept. 3-4
The annual Okinawan Festival returns with an in-person event. The festival is one of the largest celebrations of Okinawan culture in the state. Make sure to go hungry to the event to sample dishes from the many vendors offering Okinawan cuisine and local favorites. Along with celebrating delicious Okinawan food, there are language and culture classes, as well as a variety of arts and crafts to try your hand at.
To find out more, visit okinawanfestival.com.
Honolulu Pride Parade and Festival
Oct. 15
Every October, members of Hawaiʻi's LGBTQ+ community host events to celebrate inclusion and representation. All are invited to join the festivities, with the main event the Pride Parade along Kalālakau Avenue in Waikīki.
To find out more, visit hawaiilgbtlegacyfoundation.com.
Hawaiʻi Food and Wine Festival, Oʻahu
Nov. 3-6
With festivities across multiple islands, the Hawaiʻi Food and Wine Festival is a premier celebration of local cuisine and fine dining. Top chefs from Hawaiʻi and around the world prepare exquisite tastings and culinary experiences. The annual festival is co-chaired by noted Hawaiʻi chefs Roy Yamaguchi and Alan Wong who are dedicated to highlighting Hawaiʻi's bounty of locally grown ingredients, meats, seafood and sustainable farming practices. While the festival is scheduled for the fall, tickets can sell out for this popular event.
To purchase tickets, visit hawaiifoodandwinefestival.com.
Maui
Maui AgFest and 4-H Livestock
June 4
Pancake breakfast? Sure. Watermelon-eating contest? Of course. Presented by the Maui County Farm Bureau, Maui AgFest and 4-H Livestock Fair is an opportunity to meet farmers and ranchers, and to explore the island's rich agricultural history and culture. Guests can browse through a made-in-Maui market, enjoy dishes highlighting locally grown ingredients and experience a livestock show and auction. The event is free, and parking is $5 per car. Purchased tickets are required for the Legacy Pancake Breakfast and Grand Taste competition in the afternoon.
For tickets and more information, visit mauicountyfarmbureau.org.
6
th
Annual World Whale Film Festival
June 8
To celebrate World Ocean Day on June 8, Pacific Whale Foundation presents the 6th annual World Whale Film Festival. The celebration kicks off with an in-person event at Ocean Vodka Organic Farm Distillery in Upcountry Maui. The evening features dinner, drinks and a screening of films under the stars. Film buffs and conservations worldwide can stream the films from home June 8-30.
For tickets and information, visit pacificwhale.org/filmfest.
41
st
Annual Kapalua Wine & Food Festival
June 9
The annual Kapalua Wine & Food Festival is known for bringing together world-class vintners and chefs along the beautiful Kapalua coast. The festival is the longest operating wine and food event in the country and known for its memorable culinary experiences.
For tickets, visit kapaluawineandfoodfestival.com.
Maui Film Festival
July 6–10
Every summer, residents and visitors alike look forward to the Maui Film Festival. There's something special about watching movies under the stars. And the festival's lineup always includes a wide variety of thought-provoking, light-hearted and Hawaiʻi-centric films. Since restructuring during the pandemic, the festival spans multiple days at the Maui Arts & Cultural Center and now includes a digital portal to watch award-winning films right from the comfort of your home.
For tickets and this year's lineup of films, visit mauifilmfestival.com.
Hawaiʻi Food and Wine Festival, Maui
Oct. 21-23
The Hawaiʻi Food and Wine Festival kicks off on the island of Maui. The festivities begin with the 25th Annual Roy Yamaguchi's Golf Classic. The following day, wine takes the spotlight at the "Big, Bold and Beautiful," where guests can clink their glasses with vintners from around the world. The Maui festivities conclude with an award celebration recognizing the best chefs and restaurants in the industry. Once again, the festival is scheduled for the fall, but tickets can be purchased in advance.
To purchase tickets, visit hawaiifoodandwinefestival.com.
Kauaʻi
Kauaʻi Pride Parade & Festival
June 4
The Kauaʻi Pride Parade is back this year and expect a colorful bright parade down Rice Street in Līhue. The parade starts at the Vidinha Stadium and ends at the Historic County Building, where there will be food trucks and vendors including Shaka Burgers Hawaiʻi, Naruto Noodles and Carabella's Pizza. There will also be live music, entertainers and community resources. The all-day event is for all ages and is a celebration of inclusivity in the Islands.
More information can be found at kauaiprideparade.com.
Soto Zen Bon Festival
June 15-19
Throughout the Islands, Obon festivals are returning and the Japanese Buddhist festival welcomes all to participate. The sleepy town of Hanapēpē comes alive during the Soto Zen Bon Festival. Hundreds of lanterns decorate the temple grounds and the streets are filled with traditional Japanese music and taiko drumming. The festivals are just one example of the many multicultural traditions in the Islands.
For more information, visit kauaisotozen.org.
21
st
Paniolo Heritage Rodeo
July 22-24
Another interesting facet of Hawaiian history is the paniolo (cowboy) culture that can be traced throughout the Islands. The Paniolo Heritage Rodeo returns to CJM Country Stables & Rodeo Arena Grounds in Poʻipū and is hosted by the Kauaʻi Roping & Rode Club. The club preserve the unique Hawaiian paniolo lifestyle and heritage.
For more information, visit kauafestivals.com.
Kauaʻi Chocolate and Coffee Festival
Oct. 13-15
Who doesn't love chocolate and coffee? The festival celebrates all things cacao and coffee, with tastings, workshops, farm tours and keiki (children) activities. The agricultural awards dinner will feature a menu inspired by cacao and coffee.
For more information, visit kauaichocolateandcoffeefestival.com.
Hawaiʻi Island
9
th
Annual Big Island Jazz & Blues Festival
June 4
The Big Island Jazz & Blues Festival has been the premier festival in the islands for an evening of award-winning music. Grammy winners and blues masters serenade the audience with their ragtime melodies and syncopated rhythms on the Mauna Kea Beach Hotel's ocean front lawn.
For more information, visit bigislandjazzandbluesfestival.com.
King Kamehameha Day Celebration Parade
June 11
On Saturday, the annual King Kamehameha Day Celebration Parade will make its way through the historic Kailua Village. The elegant court princesses and the paʻu queen will be adorned in the flowers and colors of the Hawaiian Islands. They will be followed by regal paʻu riders on horseback. Hālau hula (hula troupes), equestrian units and marching bands will also be a part of the extravagant floral parade to honor King Kamehameha.
For more information on the parade route visit, konaparade.org.
Hilo BrewFest
June 29
Raise a pint at the annual Hilo BrewFest! Sample craft beer from dozens of microbreweries around the world. And pair a crisp pint with grub from the lineup of local restaurant vendors.
More information can be found at hilobrewfest.com.
Annual Mango Festival
Aug. 13
The Sanctuary of Mana Keʻa hosts a free festival all about mangoes at the Hale Halawai Beach Park. You can taste all the different varieties of the juicy fruit and pick your favorite, or sample products and dishes incorporating the golden fruit.
For more information, visit the festival's Facebook page.
Hawaiʻi Food and Wine Festival, Hawaiʻi Island
Oct. 28-29
Hawaiʻi Food and Wine Festival presents a "Bourbon, Brews & BBQ," evening as well as a "Cuisine of the Sun" on Hawaiʻi Island during the multi-day festival.
To purchase tickets, visit hawaiifoodandwinefestival.com.
Kona Coffee Festival
Nov. 4-13
What do you think of when you hear Kona? The answer is coffee. There is no better place to learn and enjoy a cup of world-famous coffee, other than this town on the west side of Hawaiʻi Island. Today, Kona is the epicenter of coffee farming in Hawaiʻi due to the rich volcanic soil conditions. The Kona Coffee Cultural Festival celebrates the pioneers, artisans and the fascinating history of the crop on the island. The first Kona Coffee Festival was held back in 1970 and is still a highly anticipated event that spans 10 days.
For event details, visit konacoffeefest.com.