Your Guide to Hilo on Hawaiʻi Island
This sleepy town on the northeastern side of the Big Island has everything from scenic waterfalls to a charming zoo.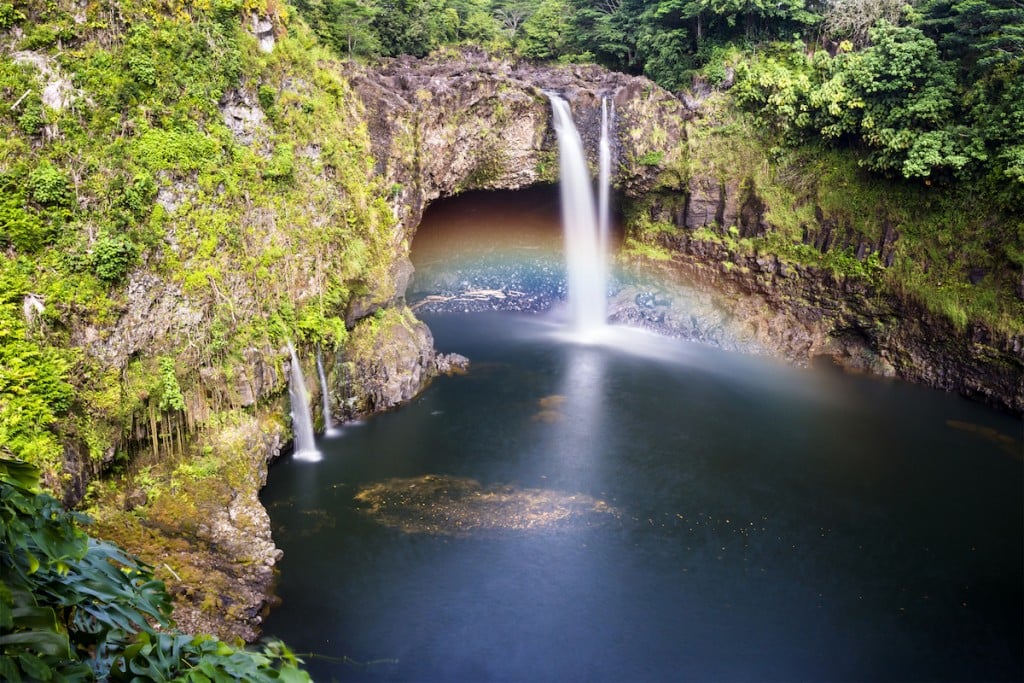 Every time I visit Hilo, I'm amazed by how much the sleepy town on Hawaiʻi Island has changed—and how much is hasn't changed at all.
The little town on the northeastern side of the Big Island has seen a lot of changes. It was first settled around A.D. 1100 by Polynesians, who established agricultural and fishing communities. Christian missionaries arrived in the 1820s, followed by whaling and trading ships. Starting in the 1900s, Hilo began attracting visitors to its active volcanoes. (Hawaiʻi Volcanoes National Park opened in 1916.) Then, in 1946 and 1960, the city was damaged by deadly tsunamis. Sugar, a big export, started to decline, though other agricutural crops, including orchids and macadamia nuts, thrived. Today, you can find cute boutiques, busy restaurants and a busting farmers market.
Here are our Hilo picks:
Moon and Turtle
View this post on Instagram
Run by Hilo-born chef-owner Mark Pomaski, this tapas-style restaurant highlights local ingredients prepared in often surprising ways. (Pomaski is known to shop at the Hilo Farmers Market to get inspiration for his dishes.) Here's a sample: fresh-caught goatfish over Japanese sushi rice, local mushroom risotto with truffle oil, Kona mussels in coconut milk curry, local striped marlin ceviche with sweet corn and papaya, and carbonara with house-made semolina pasta and wild boar sausage. Try the house-made cocktails, too.
51 Kalākaua St., (808) 961-0599
ʻImiloa Astronomy Center
View this post on Instagram
This 40,000-square-foot, state-of-the-art exhibition and planetarium complex is part Hawaiian cultural center and part astronomy museum. It's obvious from its interactive displays, programs and events here that the center is focused on the connection between culture and science. Its full-dome planetarium is a must-see; it hosts regular shows, including a daily interactive tour of the current sky from dawn to dusk. Stay for lunch (or dinner) at the popular Sky Garden Restaurant.
600 ʻImiloa Place, (808) 932-8901, imiloahawaii.org
Panaʻewa Rainforest Zoo & Gardens
This charming 12-acre zoo is the only tropical rainforest zoo in the U.S.—and it's free. There are more than 80 species of animals here, including native birds, two Bengal tigers, spider monkeys and a giant anteater named Spike. The petting zoo—only open on Saturdays—is a must for kids. The zoo doubles as a botanical garden, with orchids, bamboo and dozens of varieties of palms.
800 Stainback Highway, (808) 959-7224, hilozoo.org
Hilo Farmers Market
Since 1988 the Hilo Farmers Market has showcased some of the island's best and freshest produce and goods. The open market is open daily, but on Wednesdays and Saturdays more than 200 local farmers and crafters set up tables, selling everything from Hawaiʻi-grown coffee to freshly caught fish. Find a variety of seasonal fruits—white pineapples are a treat—and specialty items including jellies, local goat cheese, Hawaiian chile pepper oil and honey. Find Kapila Saurenman, "The Coconut Guy," who skillfully opens coconuts that he harvests himself and serves you the refreshing water inside.
Kamehameha Avenue and Mamo Street, (808) 933-1000, hilofarmersmarket.com
Suisan Fish Market
More than 100 years ago, a group of immigrant Japanese fishermen and peddlers started a fish auction and market right on Hilo Bay. It was—and still is—the place on the island to get the freshest seafood. The no-frills market next door benefits from this: It serves some of the Big Island's best poke, including the popular spicy ʻahi (yellowfin tuna) and kim chee tako (octopus).
93 Lihiwai St., (808) 935-9349, suisan.com
ʻAkaka Falls State Park
While Waiānuenue (Rainbow) Falls is a favorite—and easy-to-get-to—waterfall, consider the slightly longer hike to ʻAkaka Falls, 11 miles north of Hilo. This short half-mile hike will take you through a lush rainforest with wild orchids and bamboo groves before reaching the first waterfall, the 100-foot Kahuna Falls. Just around the bend is the star attraction: the 442-foot ʻAkaka Falls, which cascades into a stream-eroded gorge. There's a minimal entry fee.
875 ʻAkaka Falls Road, Honomū, (808) 961-9540
Two Ladies Kitchen
View this post on Instagram
Two words: Call ahead. The coveted strawberry mochi—a large strawberry surrounded by pillowy-soft, sweet rice cake—is the most popular item here. And if you don't order ahead, you'll likely never get to try one. But this little storefront in Hilo serves more than just strawberry-filled mochi. Find ones stuffed with sweet azuki (Japanese red bean paste), grapes, peanut butter, Okinawan sweet potato, chocolate brownies and malted milk balls. Cash only.
274 Kīlauea Ave., (808) 961-4766
Makani's Magic Pineapple Shack
View this post on Instagram
If you want something cold and Instagrammable, this ice cream shop is perfect. What started as a juice spot turned into a truly magical shack that serves over-the-top smoothies, overflowing acai bowls and exotic ice creams in flavors like ube (purple yam), dragon fruit and lychee, with dozens of choices for toppings. There are mermaid cones, unicorn cookies and something called Magic Cookies. You can upgrade your drink or bowl to a hollowed-out pineapple, too.
54 Waiānuenue Ave., (808) 935-8454
Pacific Tsunami Museum
If you're interested in learning about Hilo's history, visit this museum dedicated to tsunami education. Tsunamis are large ocean waves generated by earthquakes, underwater landslides and other disturbances. While they aren't necessarily common in Hawaiʻi, two in modern times proved deadly in Hilo. The first, in 1946, took 159 lives; the second, in 1960, killed 61. Here you can learn about how tsunamis form, find out why Hilo is so susceptible to tsunamis and hear stories from the people who survived.
130 Kamehameha Ave., (808) 935-0926, tsunami.org
Sig Zane Designs
View this post on Instagram
Take home aloha wear with serious cultural cred. Beloved local designer—and accomplished hula dancer—Sig Zane has long emphasized Hawaiian design elements in his aloha shirts and other apparel. His designs are dramatic, bold and dynamic—a far cry from the kitschy aloha wear you'll find in discount bins in Waikīkī or at the swap meet.
122 Kamehameha Ave., (808) 935-7077, sigzanedesigns.com
Kawamoto Store
View this post on Instagram
Locals have been flocking to this old-school okazuya—a localized Japanese deli—since it opened in 1947. The menu is packed with what locals love to eat: nori chicken, shrimp tempura, cone sushi, shoyu chicken, corned beef hash, Spam musubi. Get there early; popular items sell out fast.
784 Kīlauea Ave., (808) 935-8209, kawamotostore.com