Your Guide to Honolulu's Queen Street
Get inked, purchase locally produced sake, pick up a used surfboard, throw a few beers back and renew your car's safety check all on one street.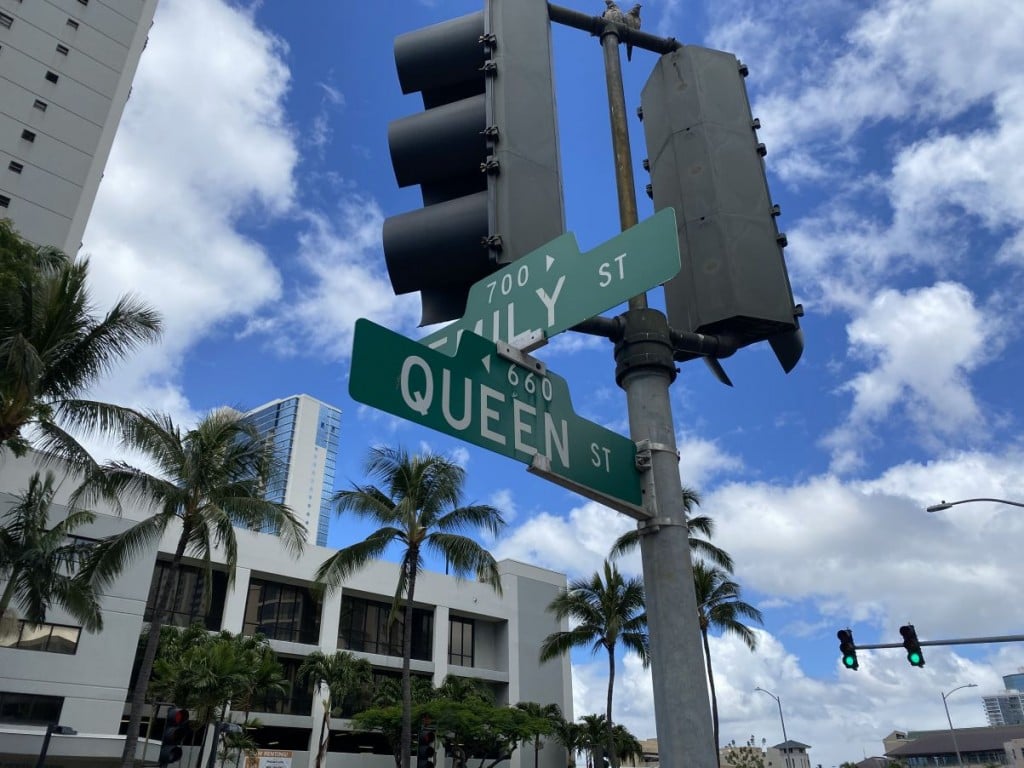 With a mishmash of auto body shops, breweries, tattoo parlors and other businesses, Queen Street, which runs from Kakaʻako to Downtown Honolulu, packs a lot into its just-over-a-mile stretch. While known for its large population of industrial services—automotive shops, large-scale storage and transmission repair shops are the norm—there's a new wave of businesses rising from this overtly urban environment. And it is absolutely worth checking out, even if it's only for a block or two.
Start your day early—the midday sun turns Queen Street into an oven—and park your car at the Whole Foods Market (388 Kamakeʻe St., 379-1800) on the corner of Kamakeʻe and Queen. The parking is free, so you won't have to worry about meters and two-hour time limits, and you can stock up on water and snacks before heading out. While it may be tempting to indulge at the food court, cross the street instead and head to Thyda's Tacos (1034 Queen St., 310-666-4671). A favorite among Queen Street denizens, Thyda's Tacos, which has everything you'd expect from a Mexican-style food truck—tacos, burritos, enchiladas and more—is trying to dispel the idea that there is no good Mexican food in Hawaiʻi, one happy stomach at a time.
After Thyda's Tacos, the sidewalk tapers off and really becomes more of a suggestion. Walk on the side of the road, watch out for cars, cross when you can. On the corner of Queen and Cummins streets, just past the Still & Moving Center dance school, you'll find Queen Street Tattoo (980 Queen St., 808-637-9888). A vendor in all types of tattoos, the artists at this tattoo parlor are some of the best on the island if you're looking for anything American traditional—think snakes, daggers and eagles. And while there are not many murals to pose in front of in the area, there is a massive building-sized piece of work on the side of Queen Street Tattoo, painted by the shop's own employees.
As you continue up the street, drop by Blade & Timber (970 Queen St., 808-208-1709), where you can learn how to throw axes with friends and family. Remember when we said Queen Street was eclectic? After you cross Ward Avenue, dip into Hamada General Store (885 Queen St., 808-379-1992) which isn't actually a general store—anymore. Established in 1958 as a grocery store, H. Hamada Store, the grocer closed its doors in 2007, only to be reopened again in 2008 by the owners' son, Brandon Hamada, as Hamada General Store, a dine-in and takeout restaurant serving up local-style meals. If you're still feeling full from Thyda's Tacos, the eatery serves a poke bowl on the lighter side, which consists of locally caught ʻahi, crispy rice crackers, shiso, radish sprouts, white rice, tsukemono, green onion coulis and katsuobushi. Those looking for a meal will want to consider getting the katsu curry moco plate, which comes with a bed of white rice topped with breaded pork loin, Japanese curry, shredded cheese, two eggs any style (sunny-side up, if you want to be a loco moco purist), potato mac salad and tsukemono.
Fortunately for those who love to eat, there's still a lot of walking to do. As you continue to proceed up the road, Waikīkī Brewing Co., Kakaʻako (831 Queen St., 808-591-0387), will tempt you with the promise of Hawaiʻi-brewed craft beers and freshly baked pizzas. Aloha Beer Co. (700 Queen St., 808-544-1605), half a block up, offers similar temptations. It's your choice where to get your drink on, but don't worry, there are no bad options here.
For an alternative drinking experience, Queen Street is even home to one of the island's only sake breweries, Islander Sake Brewery (753 Queen St., 808-517-8188), which opened just days before many businesses had to shutter because of the COVID-19 pandemic. Islander Sake Brewery closed along with the rest of them, but it's back in business now so grab a stool in the brewery's cozy tasting room and sip away at the locally crafted spirits. Bottles are also for sale, however they are best kept refrigerated, so be sure to grab one on the way back to your car.
Finally, if you like surfing, the ocean or just exceedingly large collections of surfboards, swing by Used Surfboards Hawaiʻi (762A Queen St., 808-591-9995). From shortboards to longboards, paddleboards to kiteboards, this tiny storefront has its entire inventory—literally hundreds of boards—on display. Aside from great prices on used surfboards—they'll even pad, pack and ship your board for off-island residents—the shop also has air conditioning. So take your time admiring all of the shred sleds on sale: It's a long, hot walk back to your car.