Your Guide to Kāhala
Living in one of O'ahu's most luxurious districts is worth every penny.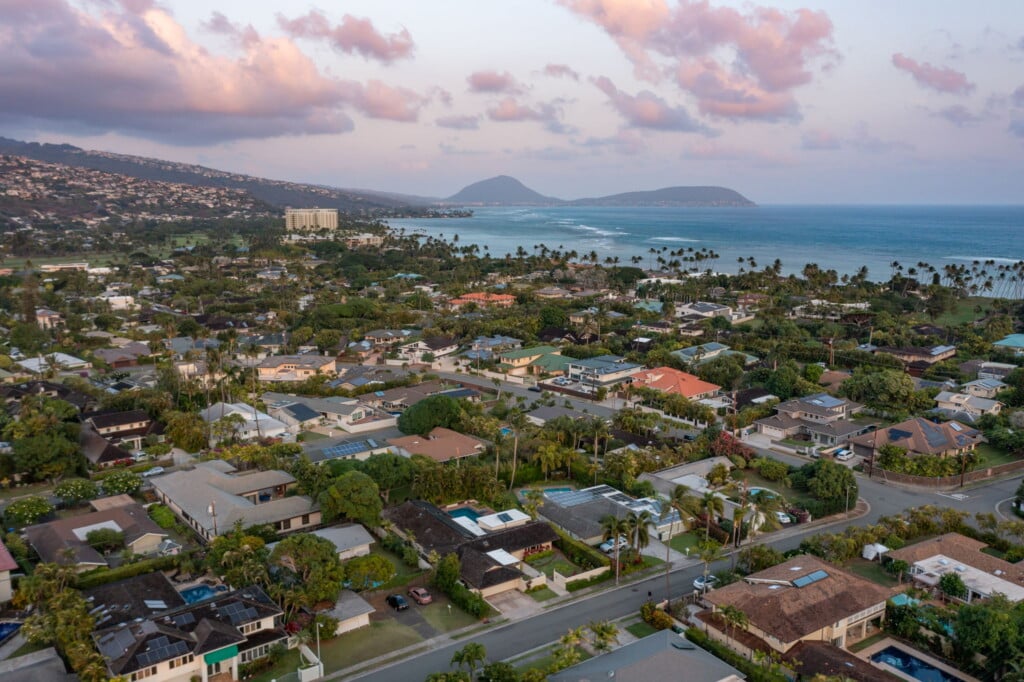 Kāhala is local luxury at its finest and one of the nicest places to call home in Hawaiʻi. Just outside of the hustle and bustle that is Waikīkī and Downtown Honolulu, the streets of Kāhala are lined by beachfront homes and expansive properties with multimillion-dollar price tags. But if you can afford it, Kāhala is worth every penny, especially if you love the outdoors, want to be close to town but not in town, and enjoy a thoroughly walkable community. If you're looking to buy in the area, or just want to know what it's like living in Kāhala, our friends at List Sotheby's International Realty are here to help.
First, know that homes in Kāhala come at a premium price. "In Kāhala, right now, there are 15 homes on the market with the highest costing $22 million" says List Sotheby's International Realty agent Hai Cha Lambert, who has over 30 years of local real estate knowledge. "Right now, the cheapest home on the market is $1.78 million, and that's an old home, a real fixer-upper." These prices are the norm in Kāhala. Homes listing from $2 million to $3 million—the high end of affordability for many locals—often go quickly, according to List Sotheby's agent Scott Startsman, who once served as president of the Kāhala Business Association and knows the area well.
Not all homes in Kāhala are fast sellers, however. As the price climbs—many homes easily exceed the $10 million mark—homes tend to sit on the market longer, sometimes for years. It's not uncommon for international buyers and real estate investors to eventually snap up these higher-priced homes, many of which are on large lots. "The larger lot sizes of Kāhala allow for homeowners to design a quality, nicely sized home that still has the yard space and room to have privacy from your neighbors," says Startsman. "Land is at a premium here and Kāhala gives you that with the convenient access to all that the urban core of Oʻahu has to offer."
Buying a home that is ready to move into immediately is also a perk, says Lambert. "People are willing to pay when properties are move-in ready."
Really, anyone who can afford to live in Kāhala will enjoy the area—with easy access to town and some of the best beaches on the island within walking distance, it's a luxurious place to live. And it's flat—no steep hills or narrow roads here, unlike other high-priced areas on O'ahu, like Hawai'i Loa Ridge and upper Makiki—making it easy for residents to explore the neighborhood on foot. "Kāhala is located on a flat plane, it's got wide streets perfect for getting out and walking the neighborhood and you can really enjoy the surrounding architecture and landscaping," says Startsman. "You have six public access rights of ways to beaches and Kāhala Beach Park nearby, so you can easily access the ocean and Diamond Head. If you're wanting to be outdoors and active, it's a great neighborhood for that."
While the price range may not be suitable for everyone's budget, if you can swing it, living in Kāhala is about as good as it gets. And while most of the properties come with a premium price tag, attentive buyers can wait for the occasional $2 million to $3 million home to come on the market. Of course, having a knowledgeable real estate agent on your side will make it infinitely easier to snag one of those heavily sought-after properties.
Scott Startsman, Realtor-Associate ® HI License RS-62384, (808) 400-8854, scott@hiestates.com. Find his agent profile page here.
Hai Cha Lambert, Realtor ® HI License RB-13951, (808) 286-6622, hlambert@listsir.com. Find her agent profile page here.