Your Guide to Kīlauea, Kauaʻi 
Don't confuse this peaceful town on Kauaʻi with the fiery volcano. This charming neighborhood is home to mushroom-powered cafés, trendy boutiques and a historic lighthouse.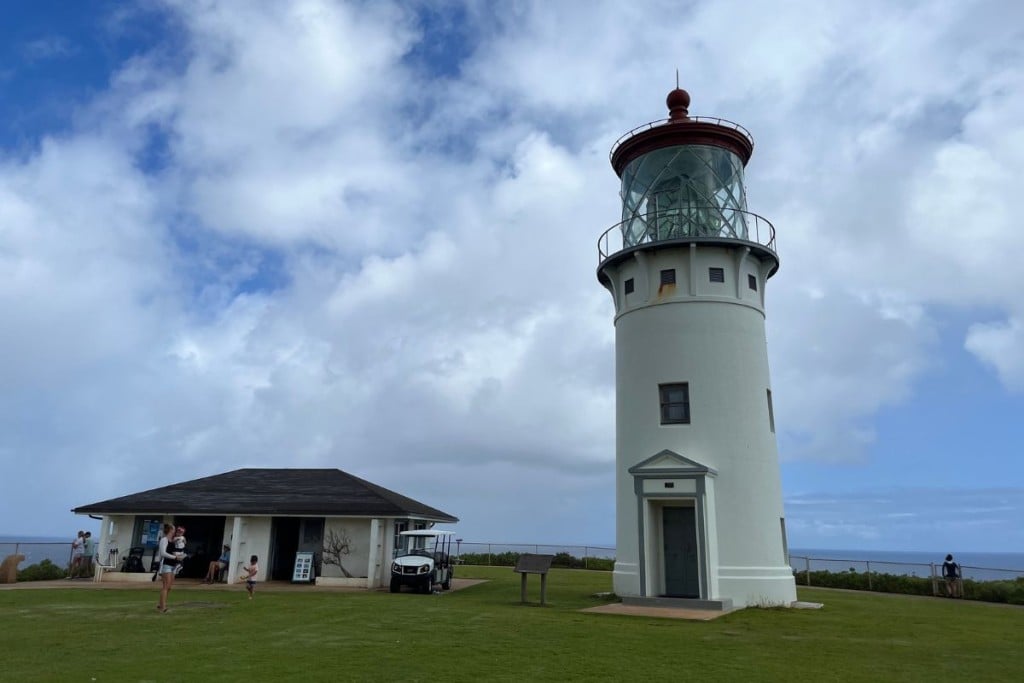 Like most of the neighborhoods on Kauaʻi, the quiet town of Kīlauea is a tranquil respite—and not to be confused with the active Kīlauea volcano on Hawaiʻi Island. While it's home to the historic Kīlauea Lighthouse, it's a town often bypassed on the drive to Hanalei. But it's worth the detour to stop and wander the uncrowded streets. Here, you'll find an eclectic, yet laid-back assortment of health-conscious cafés, juice bars, yoga studios as well as surf shops and hip boutiques. Not far from the shopping hub, you can take a stroll on the family-friendly Wai Koa Loop Trail and, of course, visit the town's main attraction, the Kīlauea Lighthouse. If mushroom elixirs, aura-cleansing crystals and bird sanctuaries sound appealing, pull off Kūhiō Highway and explore this gem of a town.
Trilogy Coffee & Tea Bar
View this post on Instagram
Start your day in Kīlauea at Trilogy Coffee & Tea Bar. And this is not the average coffee shop. Here, you can order specialty espresso and superfood lattes such as mushroom milk and witch's brew (a spice blend made with the herb ashwagandha). The cozy café also offers tempting vegan and gluten-free baked goods. As you wait for your beverage—or superfood potion—browse through shelves of artisanal chocolate and mushroom-based teas, including local company Mālama Mushrooms. You can find fungi teas with ingredients like lion's mane, reishi and chaga. Then sit in the peaceful courtyard to sip, relax and people watch. 4270 Kīlauea Road, Kīlauea, trilogycoffeekauai.com.
Kauaʻi Juice Co.
View this post on Instagram
After a superfood coffee, grab a fresh juice at the beloved Kauaʻi Juice Co. The shop is inside the Kīlauea Plantation Center, a charming stone building, and right next door to Metamorphous Yoga. For a little heartier sustenance or a healthy lunch to-go, there is a colorful variety of bowls, with options like the rainbow goddess salad or the coconut satay kelp noodles. 4270 Kīlauea Road, Kīlauea, kauaijuiceco.com.
Hunter Gatherer
The same spirited vibes of Trilogy Coffee & Tea Bar and Kauaʻi Juice Co. flow right into Hunter Gatherer. Artsy treasures line the shelves and tables in this bohemian boutique. From heart-opening rose quartz crystals and patchouli oil to Pendleton beach blankets and tarot cards, there is an eclectic assortment of goods that are certainly worth gathering. 4270 Kīlauea Road, Kīlauea, huntergathererhawaii.com.
Kīlauea Fish Market
Kīlauea Fish Market is also in the historic stone Kīlauea Plantation Center. The eatery has been serving popular plate lunches and ʻahi wraps since 2004. It's a favorite among residents and visitors. And recently, the family-run shop opened a shave ice stand on the market's patio. After enjoying a teriyaki chicken or poke plate, grab a shave ice from the small stand outside—it's run by the fish market owner's daughter—for dessert. 4270 Kīlauea Road, Kīlauea, kilaueafishmarket.com.
Aloha Exchange
Located in a green plantation-style building with a red roof, Aloha Exchange is a surf and skate lifestyle brand with rad apparel to suit any outdoor activity. From surf shorts and wetsuits to jackets and camping gear, Aloha Exchange has original designs for the entire family. 2485 Keneke St., Kīlauea, alohaxchng.com.
Wai Koa Loop Trail
The Wai Koa Loop Trail is about a 5-minute drive from Kīlauea's main shops when starting from the Kauaʻi North Shore Dog Park. Some parts of the trail are currently closed, but access is allowed from the dog park. The loop is an easy five miles on flat terrain through Kauaʻi's beautiful forests. Halfway through the trail, hikers reach the Kīlauea Stone Dam. The dam was built during the height of the sugar plantation era and connected farms to water. Today, the area surrounding the dam is a garden oasis, with a cascading waterfall, lush greenery and even a Buddha statue. Like the town of Kīlauea, it's a serene and peaceful hike. However, portions of the trail can be muddy, so wear appropriate shoes and bring a jacket. Afterall, one of the wettest spots on Earth is located on Kauaʻi's North Shore. Access to the trailhead is available at the Kauaʻi's North Shore Dog Loop, 5445 Kahiliholo Road, Kīlauea.
Kīlauea Lighthouse
The Daniel K. Inouye Kīlauea Point Lighthouse is the town's historic treasure. The lighthouse was built in the 1900s by a French engineer to help sailors find the small town. The French engineer designed the lens of the lighthouse to have refractive glass and more than 400 glass prisms. As a result, the lighthouse was visible 20 miles away with an oil vapor lamp. But as lighthouses became obsolete, Kīlauea was the last manned lighthouse in the Hawaiian Islands. In 1979, it was placed on the Hawaiʻi and National Register of Historic Places. Today, the lighthouse sits in the Kīlauea Point National Wildlife Refuge where bird lovers can flock to the lighthouse to see hundreds of seabirds nesting along the cliffs. You can spot the black ʻiwa, the largest seabird on the island, and the red-tailed and white-tailed koaʻe, which are known to "dance" in the air. Even if you're not a passionate bird enthusiast, the lighthouse offers spectacular views of Kauaʻi's coast. The lighthouse is also a designated sanctuary for humpback whales. In the winter, be on the lookout for playful humpback whales and their calves. Reservations are needed to enter the wildlife refuge. 3580 Kīlauea Road, Kīlauea. kauairefuges.org/about-the-lighthouse.