Your Guide to Lanai City
Lanai's only town might be small, but there's a lot to buy, eat and see along its humble streets.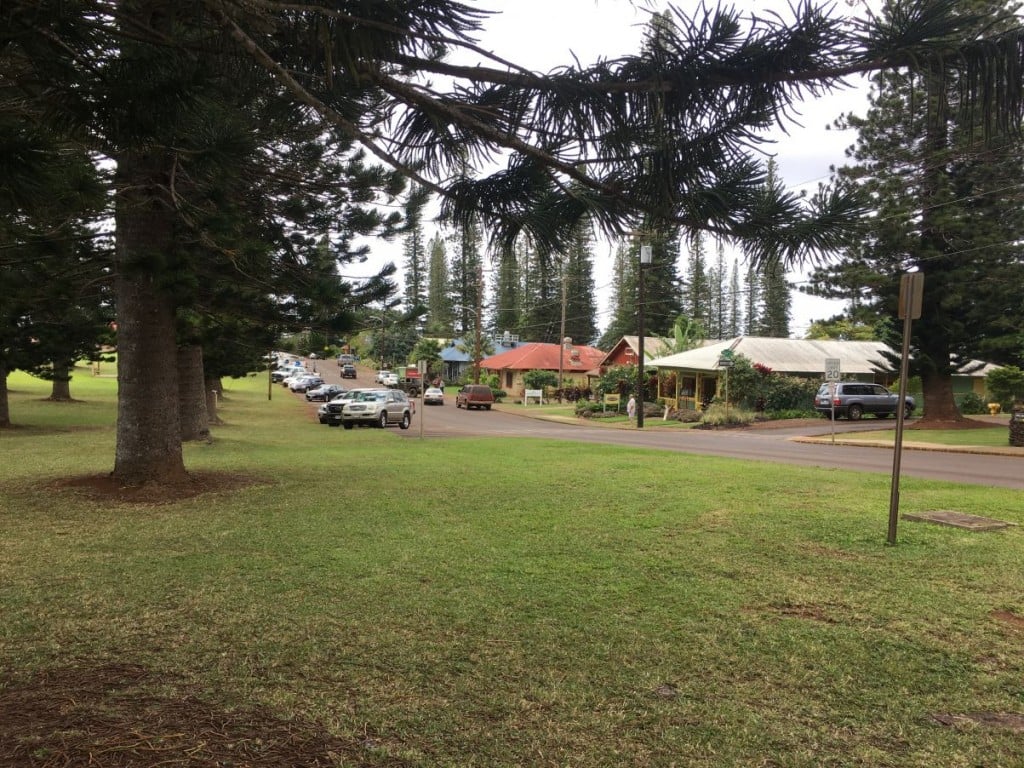 To call Lanai City a city might be a bit of an overstatement. It's a town, and a small one at that. Give yourself an hour or two and you can probably walk the entirety of it. Fortunately, there's a lot to check out, such as a movie theater, heritage center and some ono restaurants. Another perk of visiting this humble borough is that the residents of Lanai City are some of the nicest people you'll meet. Don't be surprised when someone you don't know gives you a smile and a wave, and it's almost too easy to fall into a long conversation with one of the friendly shopkeepers.
Lanai Heritage Center
There's no better place to start your tour of Lanai City than at its heritage center, which is conveniently located next to Hotel Lanai. Here you can learn all about the history of Lanai, from its days before Western influences to its time as to its time as a plantation island used to grow pineapple. There are quite a few artifacts and relics set out for display in this cozy little museum, and friendly staff are always looking to talk about the island's past and present. 730 Lanai Ave. # 126, Lanai City, (808) 565-7177, lanaichc.org.
Lanai City Bar & Grille
Located in Hotel Lanai, the Lanai City Bar & Grille serves as an upscale dining option for those looking for really, really, no really, good food. Joel Harrington, executive chef of Lanai City Bar & Grille, has put together a delectable menu, mixing the flavors of the Islands with Asian and American influences. We're talking Tex-Mex inspired short rib croquettes so decadent they'll melt in your mouth, and a venison loin dish that uses produce straight from Lanai. The restaurant is also a perfect pau hana setting, with an energetic bar area and live entertainment. 828 Lanai Ave., Lanai City, (808) 565-7212, lanaicitybarandgrille.com.
Coffee Works
It's hard to miss Coffee Works—just look for the giant black coffee cup sign. Originally opening its doors in Honolulu way back in 1975, Coffee Works moved to Lanai City in 2000 and still serves a wonderful cup of coffee using local Hawaiian beans. The coffee house is also known for its specialty drinks, such as its blended Kona Mocha and spiced Chai latte. Although its interior doesn't have much room to spare, Coffee Works features a quaint outdoor seating area where you can find the right spot to sip the day away. 604 Ilima St., Lanai City, (808) 565-6962, coffeeworkshawaii.com.
Lanai Art Center
The function of the Lanai Art Center is twofold. At first, you'll likely just see it as a gallery and gift shop selling a wide variety of products that the island's talented artists have produced, such as dolls, sculptures made from locally sourced red clay and paintings of the island. However, look a little harder and you'll find that the art center is also a place for residents and visitors to learn how to improve their artistic craft. In the corner of the building lies a modest lending library and the center organizes workshops and classes on a regular basis. 339 7th St., Lanai City, (808) 565-7503, lanaiart.org.
Blue Ginger Cafe
If you're looking for a good, local, filling meal, look no further than Blue Ginger Cafe. At this modest bakery and lunch spot, you can find one of the best loco mocos in Hawaii, as well as omelets stacked with Portuguese sausage; fresh mahimahi burgers put together in homemade buns; and traditionally prepared chicken katsu, deep fried and breaded with panko, just how it should be. If you still have room for a sweet treat after your meal, the bakery has a wide selection to choose from; the blueberry turnover is a standout. 409 7th St, Lanai City, (808) 565-6363, bluegingercafelanai.com.
Hale Keaka
If you thought there'd be nothing to do in Lanai City at night, then you'd be wrong! Hale Keaka, Lanai's only movie theater, screens two recently released movies every night, each with a single showtime, Monday through Thursday, and holds two showings for each movie Friday through Sunday. The actual theater itself is no slouch either, with state-of-the-art screens, air-conditioned rooms and comfortable leather seating. 465 7th St, Lanai City, (808) 565-7511, lanai96763.com/showtimes.