Your Guide to Makawao, Maui
Easy to miss but hard to leave, here's how to fill a day exploring Maui's upcountry paniolo town, Makawao.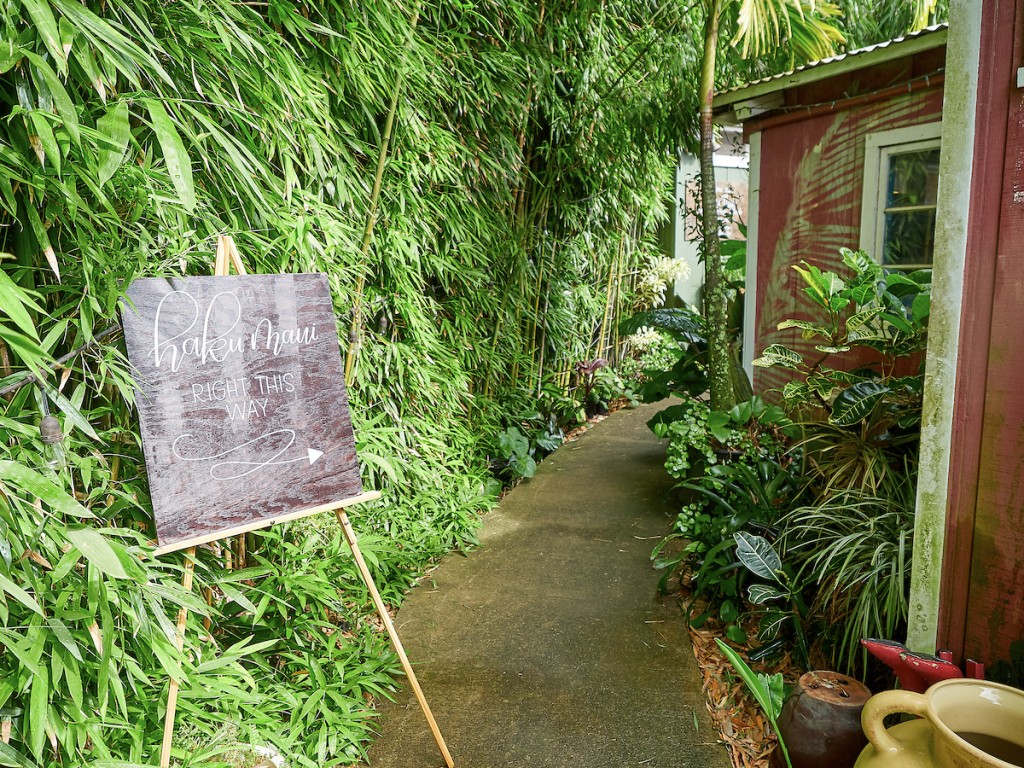 There's no doubt about it: The upcountry Maui town of Makawao is a must-see for visitors. It's surrounded by beautiful ranchland, filled to the brim with chic boutiques, too-cool-for-school cafes and delectable breakfast, brunch and lunch spots, all the while sporting an unassuming but charming paniolo appeal. And although it's small—you can probably visit every nook and cranny in half a day—the town has a lot of history (there's even a museum dedicated to the town's storied past), and its friendly and approachable residents and shop owners will make it tough to leave. If you're looking to plan out your visit, here are five Makawao shops and activities to add to your itinerary.
Haku Maui
For most stores, being hard to find is a detriment, however Haku Maui, located behind the many storefronts on Baldwin Avenue, embraces its gorgeous little nook surrounded by lush foliage and towering bamboo. Here you can buy lei or, as the name implies, haku lei, the vibrant flower crowns handcrafted by store owner Britney Texeira. If you want to try your hand at creating something beautiful, Haku Maui also holds a monthly haku lei workshop. 3643A Baldwin Ave., Makawao, (808) 385-5008, hakumaui.com.
Holoholo Surf
In olelo Hawaii (Hawaiian language), holoholo means to walk, ride or sail for pleasure. And it's certainly a pleasure browsing Holoholo Surf's moderate but highly curated selection of Hawaii-made swimwear, as well as Maui-made Oshan skin care products. The shop was opened by Julie Stone, who, after creating her own luxe line of swimwear, Posh Pua, decided she wanted to support other local creators and, in essence, have more fun. That's where this radiant little boutique comes in. 3621A Baldwin Ave., Makawao, (808) 572-2100, holoholosurf.com.
Sip Me
View this post on Instagram
Although there are two other Sip Me locations on Maui, one in Kahului and the other in Paia, the small-chain coffee shop got its start in Makawao, serving coffee, tea, organic smoothies, juices and baked goods. It's the perfect place to find some shade and rest your feet while tasting coffee produced and roasted right on Maui. Like any good cafe, the coffee shop's interior has a laid-back vibe, with its numerous succulents on almost every flat surface, hardwood flooring and chic minimalistic furnishings. 3617 Baldwin Ave, Makawao, (808) 573-2340, sipmemaui.com.
Makawao Forest Reserve
View this post on Instagram
While technically not in the town of Makawao, Makawao Forest Reserve is every hiker's dream come true. The 2,093-acre forest is home to many indigenous flora, such as the Cook pine, hala pepe, eucalyptus, lele, mamaki, pilo and kupukupu. There are seven developed and marked trails for hikers to trek, and the reserve's main trail, the Kahakapao Loop, is 6.2 miles long.
Habibi
View this post on Instagram
If you're looking for some of the best hummus in Makawao, look no further than Habibi, a sweet little open-air Middle Eastern restaurant that makes its pita bread fresh daily. If you've never had a shawarma, Habibi, which roughly translates to "my friend," makes a decadent lamb shawarma. The Mediterranean sandwich is slow-broiled halal lamb marinated in the house spice blend, which is then placed in a pita and surrounded by toum, lettuce, pickles and tabouli. If that isn't enough, the fried cauliflower serves as an excellent add-on to any meal. 3655 Baldwin Ave, Makawao, (808) 280-8551.