Your Guide to Riding Honolulu's Skyline Rail System
The much-anticipated fixed rail line on Oʻahu opened in July, but it only runs from Hālawa to Kapolei for now.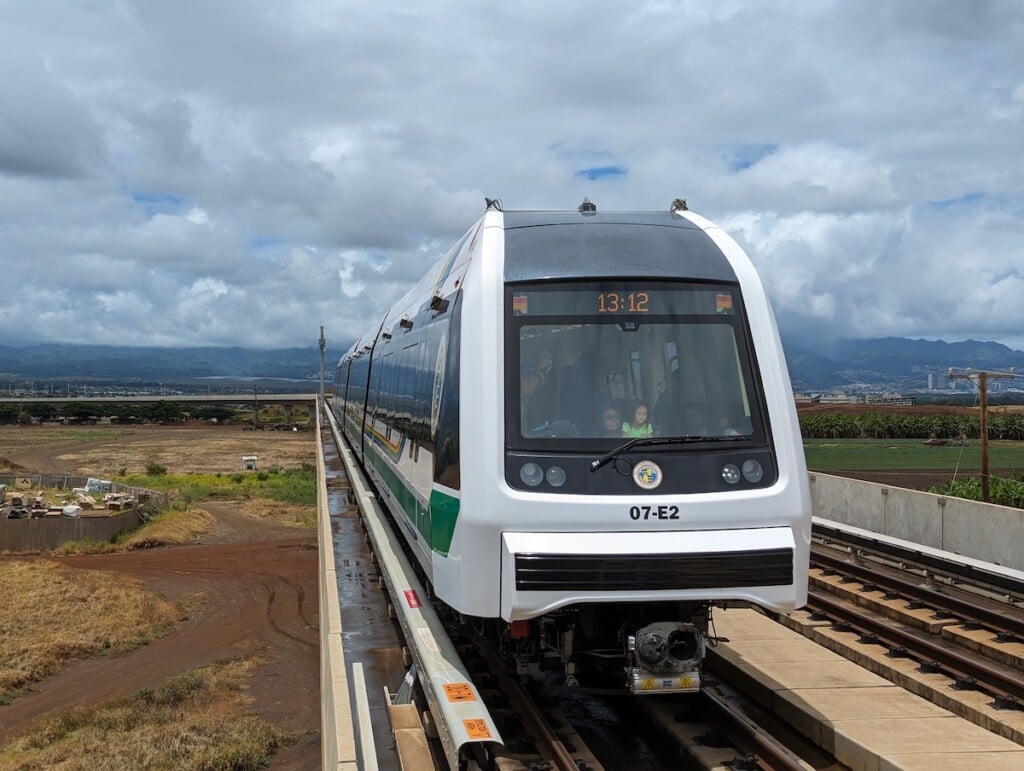 Starting June 30 Skyline, Honolulu's new fixed rail system, began operating on Oʻahu. It's the first metro rail system in Hawaiʻi—and it's been decades in the works.
The multibillion-dollar project isn't completed yet—right now only nine stations are open along the 15-mile stretch from Hālawa to Kapolei—but it's already generated a lot of excitement, especially from residents who have waited years to ride it.
During the first five days of operation (from June 30 to July 4), it was free to ride the rail. More than 71,000 people took advantage of the fare-free period. Starting yesterday, though, you have to pay to ride it.
Here's what you need to know now if you're on Oʻahu and planning to ride Skyline.
1. You'll need a Holo card.
You can't get into any rail station without a Holo card, a contactless smart card used to pay for public transit. Think Oyster in London, OMNY in New York City and Ventra in Chicago. You need this card to ride Skyline—and also TheBus system on Oʻahu. You can buy a Holo card at any of these retailers for $2. Cards can be loaded online, over the phone or in person at various retail locations. Tap the Holo card at the entrance fare gate to enter the station. Each first tap with come with a free transfer, for 2.5 hours.
2. A ride costs as much as the city bus.
A single fare for an adult is $3 and includes unlimited transfer for 2.5 hours. That means a roundtrip fare is $6 per adult. A 7-day pass is $30.
For children ages 6 to 17, a single fare is $1.50. A 7-day pass is $15. Kids under 6 are free with a fare-paying adult.
A single fare for seniors 65 and older and disabled riders is $1.25.
3. You can bring a stroller or bike but not food or drinks onboard.
You can bring the following items onboard Skyline:
Bicycles
Wheelchairs
Strollers
Coolers
Luggage
You can not bring these:
Open food or drinks
Unleashed pets (not including service animals)
Sharp objects
Firearms and ammunition
4. There are no restrooms onboard or at rail stations—yet.
Like other metro rail systems, there are no restrooms onboard. But there aren't any restrooms at rail stations, either. At least not yet. The city cited safety and vandalism as reasons they weren't open. But the plan is to open accessible bathrooms with infant-changing tables—ones that you have to ask a station attendant to use.
5. There are park-and-ride areas for cars.
Right now there are three park-and-rides and two smaller temporary lots, with a total of 1,275 parking spaces. Parking here is free for transit riders only. Here's a list of parking areas with their times of operation. You can also take a city bus to any rail station. (You'll need your Holo card to ride the bus.)
6. Skyline isn't 24 hours.
Skyline operates between 5 a.m. to 7 p.m. on weekdays and 8 a.m. to 7 p.m. on weekends and city holidays.
7. Hang on!
If you stand onboard, remember to hang on to a grab bar or strap. Trains accelerate much faster than most vehicles. And the ride itself isn't the smoothest, so if you didn't nab a seat, hold on.
8. There are only escalators going up at rail stations.
If you're going down at a rail station, you will need to either use the stairs or the elevator.
9. Use "elevator etiquette."
When boarding the train, allow others to exit before entering and let kūpuna and others with disabilities board first. Remember to offer seats to those who need them if you are able; do not block train doors, bicycle securement areas, or aisles; and silence your mobile devices and avoid loud conversations. Be courteous to others.
10. Research points of interest before you go.
Right now there's not a lot built in and around the rail stations. But there are places you can stop at along the 15-mile stretch. Kualakaʻi East Kapolei (Station No. 1) is about 2 miles from Ka Makana Aliʻi, a large outdoor mall in Kapolei with shops and restaurants; on Wednesdays and Sundays it hosts a farmers market. Kalauao Pearlridge (Station No. 8) is about half a mile from Pearlridge Center, with department stores, shops, restaurants and a movie theater; it hosts a farmers market on Saturdays.
If you plan to just ride the rail without getting off—which is what a lot of residents had been doing—it takes about 45 minutes roundtrip.
By 2025, Skyline should expand to include stations at Pearl Harbor and the Daniel K. Inouye International Airport.
For more information on Skyline, visit honolulu.gov/skyline.