Your Guide to Ringing in 2022 in Hawaiʻi 
Fireworks, festivities and more to celebrate the new year.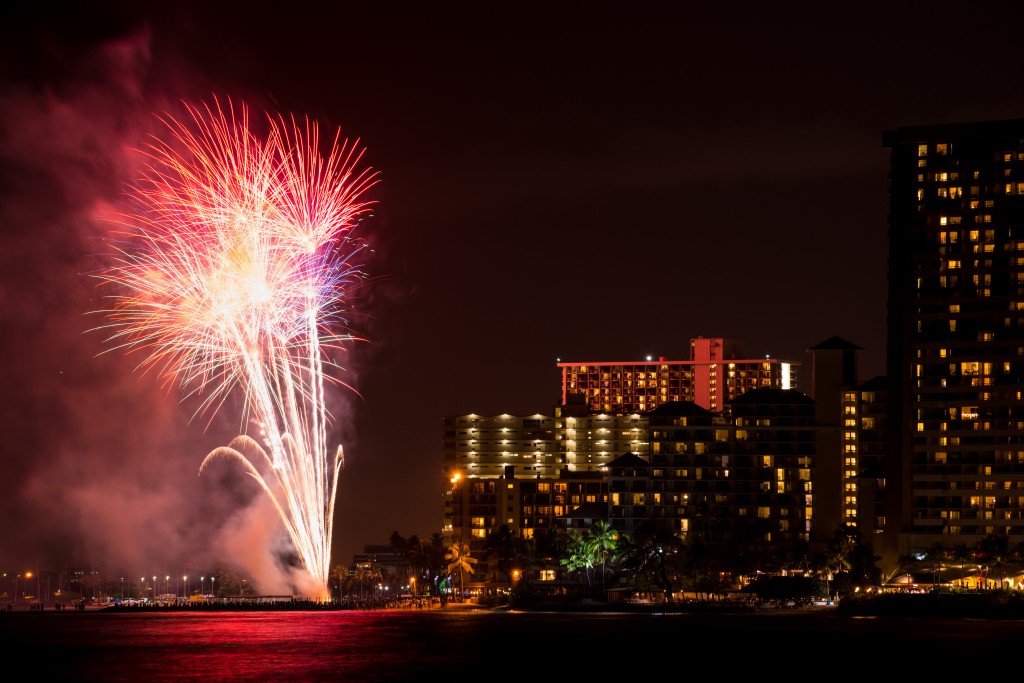 Hauʻoli Makahiki Hou! (Happy New Year!)    
While many venues were silenced last year by COVID-19, festivities are making a comeback. To celebrate the arrival of 2022, check out these events.  
O'ahu
Waikīkī New Year's Eve Fireworks  
After being canceled last year due to the pandemic, the extravagant light show is back. While the event is known for drawing a lot of people, you can still experience the fireworks fun away from the crowds. Just find any spot with a makai (ocean-side) view and enjoy the show! The display begins at midnight and lasts for eight to 10 minutes.   
More information can be found on the Waikīkī Improvement Association's website.  
Fukubukuro Shopping Fun at International Market Place   
Right in the heart of Waikīkī, International Market Place celebrates Fukubukuro, a Japanese shopping tradition. On New Year's Eve and New Year's Day, shoppers can purchase a "lucky bag," filled with goods from stores including Anthropologie, Maui Divers Jewelry and Surf Line Hawaiʻi. Each bag also comes with a complimentary gift card. However, in the spirit of Fukubukuro, all gifts are a surprise.   
For a list of participating stores and more information, visit the market's website.  
Maui
Fireworks from Wailea   
On Maui, the new year is marked by the extravagant Wailea fireworks show. Join the enthusiastic crowds sprawled along Wailea's beaches as colors erupt in the night sky. It's a popular event with limited parking, so arrive early—and bring some beach chairs and blankets. The fireworks start at midnight.     
Bill Maher 10th New Year's Anniversary   
Comedian Bill Maher celebrates 10 years of end-of-year laughs at the Maui Arts & Cultural Center on Dec. 30. With nine years of sold-out shows, Maher's new year's act is an island favorite, and there's really no better way to start 2022 than laughing with him and his guests.  
Book tickets on the MAAC's website.   
Hawaiʻi Island
Hilo Bay Fireworks  
If you're in East Hawaiʻi, welcome 2022 with a fireworks show at Hilo Bay. Watch as fireworks erupt over the ocean, beginning at midnight. The spectacular show can also be seen from a distance so if you can't make it to the bay, find a place with a clear view and watch from afar.   
Jazzy New Year's   
Don dazzling 1920's attire and dance into 2022 at Gertrude's Jazz Bar and Bistro in Kona. With the Greg Shirley Quintet at the helm, the tavern transforms into a Gatsby-esque speak–easy. The show starts at 9 p.m. and includes a champagne toast at midnight.  
Reserve tickets on Brown Paper Ticket.   
Kauaʻi
Festival of Lights   
Another Christmas has passed but the Festival of Lights continues to light up Līhuʻe. New Year's Day will be the last night to enjoy the holiday wonderland of lights and handcrafted decorations at Kauaʻi's Historic County Building. Explore the park grounds and take a close look at the Christmas ornaments, handmade by local residents. You don't want to miss this 25-year-old holiday tradition.   
For more information and directions, visit the Festival of Lights' website.