Your Guide to the 2022 Aloha Festivals
Here's your primer to the largest and longest-running cultural celebration as it returns to hosting in-person events.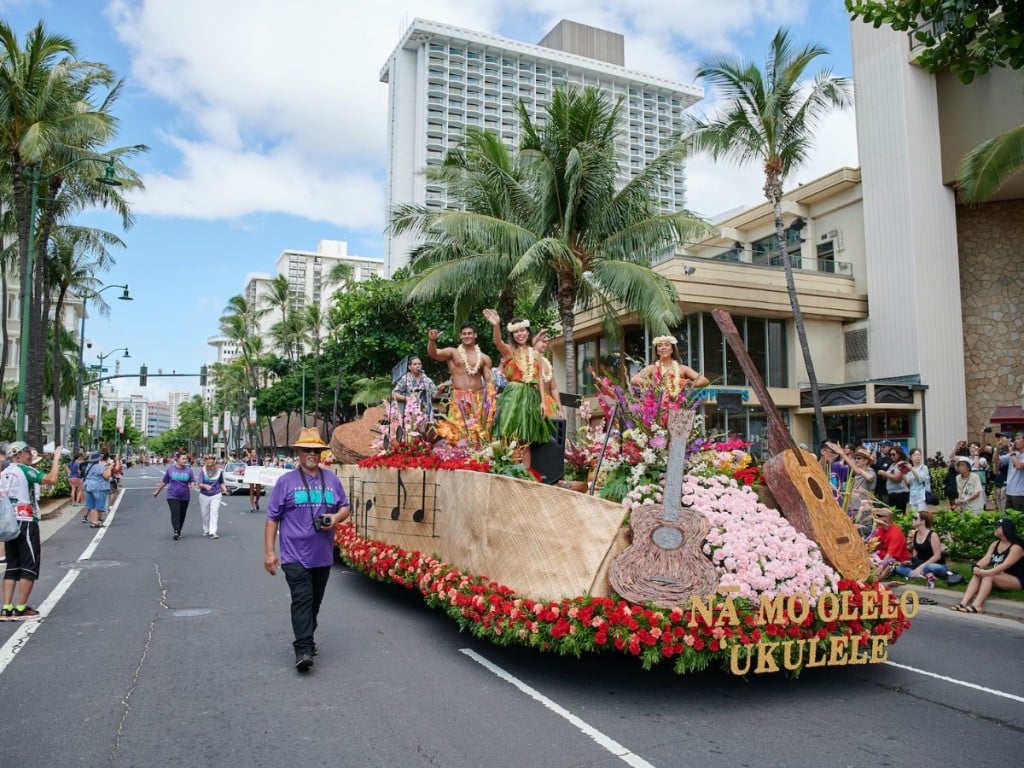 After a two-year interlude from in-person events, Aloha Festivals is back, and it begins this weekend. The month-long celebration of culture, tradition and aloha spirit kicks off on Sept. 10, 2022, with the opening ceremony in Waikīkī. Following the grand event, an exciting program of festivities dots the month of September. And woven throughout the celebration is this year's theme of "Aloha ʻĀina, Love of the Land." With aloha ʻāina (land) at the core of this year's events, all are invited to experience Hawaiʻi's deep-rooted connection to the land and sea. The festival reminds the community of its kuleana (responsibility) to care for the Islands, which have supported generations of kamaʻāina (residents) and malahini (visitors). So, here's everything you need to know about Aloha Festivals as you fill your calendar with the 2022 lineup of events.
Royal Court Investiture & Opening Ceremony
Festivities commence with the Royal Court Investiture at Helumoa Gardens at The Royal Hawaiian, A Luxury Collection Resort. The ceremony honors Hawaiʻi's aliʻi (ruling chiefs) through a series of traditional protocols. Adorned in regalia worn only by aliʻi of the highest rank, members of Aloha Festivals Royal Court represent Hawaiʻi's royal past. While the event preserves the traditions of Hawaiʻi's aliʻi and monarchs, it also provides an illuminating glimpse into the Islands' history that is often unknown to many visitors. Following the investiture, The Royal Grove at Royal Hawaiian Center hosts the Opening Ceremony. Here, hula and mele will be performed for a beautiful evening in the heart of Waikīkī.
Saturday, Sept. 10, 2022, 4-6 p.m., Helumoa Gardens at The Royal Hawaiian, A Luxury Collection Resort and The Royal Grove at Royal Hawaiian Center
68th Annual Waikīkī Hoʻolauleʻa
Booths celebrating local cuisine, art and culture line Kalākaua Avenue during Hawaiʻi's premier block party. Here, attendees can taste exquisite local dishes, browse crafts by Hawaiian artisans and enjoy incredible entertainment by local performers.
Saturday, Sept. 17, 2022, 6-9:30 p.m., Kalākaua Avenue.
74th Annual Floral Parade Presented by
ʻAlohilani
Resort Waikīkī Beach
Aloha Festivals concludes with its beloved floral parade. The colorful procession is the state's largest parade. Attendees will find floats decorated with vibrant fresh flowers, men and women on horseback showcasing the tradition of pāʻu riding along with marching bands and civic leaders celebrating the aloha spirit in the Islands.
Saturday, Sept. 24, 2022, 9 a.m.-12 p.m., from Ala Moana Park through Kalākaua Avenue to Kapiʻolani Park
For more information about Aloha Festivals, visit www.alohafestivals.com.