Your Guide to the Road to Hana's Many Banana Breads
We navigated the twists and turns of Maui's famous road to try as many loaves as possible… for research, of course.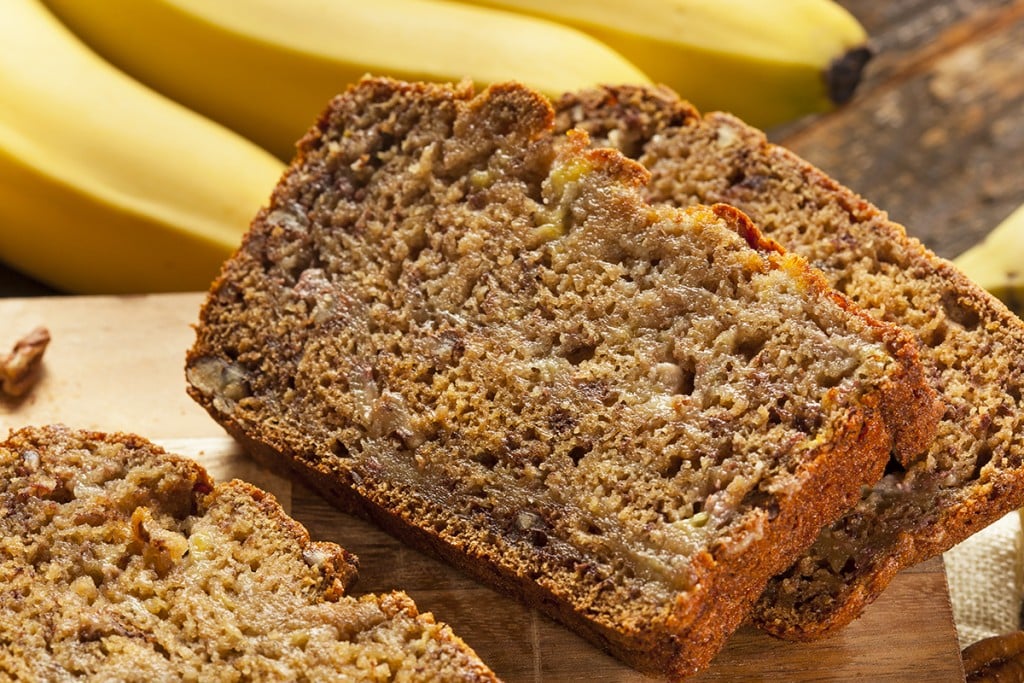 On Maui's Road to Hana, there's a phenomenon that is just as memorable as the hundreds of switchbacks and one-lane bridges. We're talking about banana bread.
On Maui, banana bread is serious business. It's usually made with the local apple bananas that grow abundantly in Maui's tropical weather and generous rainfall, but you'll also find some breads with fruit, such as mango and pineapple, chocolate chips, coconut or macadamia nuts. For many of the island's banana bread vendors, the recipe is a closely guarded secret, but others are quick to point out what makes theirs better than the competition—Aunty Sandy's, for example, uses butter to make it the tastiest and most moist, the girl at the counter told us.
The question of who bakes the best banana bread on Maui is hotly contested, a debate spanning backyard barbecues, families in cars navigating the Road to Hana, and our Facebook page. What all of these loaves of bread do have in common, though, is their price, mysteriously set at $6 each.
Of course, there are banana bread destinations on Maui that aren't mentioned in our guide below, such as the much-touted Julia's in Kahakuloa, the ones sold at the Maui Swap Meet, held every Saturday in the parking lot of Maui Community College, and the bread at Grandma's Coffee House just a little way past Kula, to the north of Kahului.
For our own fair comparison of these Road to Hana stands, we tried as many of these as we could (for research purposes, of course). Find our results at the end.
Twin Falls stand
Mile Marker 2
There's a little fruit stand near the first major attraction on the Road to Hana that has banana bread, coffee, fresh coconuts, pineapples, breadfruit, smoothies, sugarcane sticks, even acai bowls and quirky souvenirs. The stand gets its bananas from the valley nearby.
Unnamed fruit stand
Mile Marker 8
This little stand, when it's open (it was closed when we passed by), sells coconuts, bananas and banana bread.
Aunty Sandy's
Mile Marker 17, turn off to Keanae Landing
Take a left down Keanae Road and you'll find yourself by the ocean in a tiny community with some gorgeous black lava beaches, an old jetty, a historic church, community park and perhaps the most famous of all Maui's banana bread stands. Aunty Sandy's, which also serves hot dogs and kalua pig, has been a family-run business for over 30 years. This renowned stand closes at 3 p.m., or whenever they run out of banana bread.
Halfway to Hana stand
Mile Marker 17
Another prominent stop (it's right on the main road, so you can't miss it) just past the turnoff to Keanae Landing is the Halfway to Hana stand, which boasts one of the few ATMs on the Road to Hana (important if you're planning to go banana bread gathering because most places take cash only), a parking lot, Coke machines and an eating area.
Uncle Harry's
Between Mile Markers 17 and 18
Just past the Halfway to Hana stand is Uncle Harry's ("People love us on Yelp"), a little shack where you can get kalua pork tacos and sandwiches, grilled cheese sandwiches, fish burgers, smoothies made with fruit grown on property, and banana bread. Keep in mind: This family-run stop is only open from 10 a.m. to 2 p.m.
Kaki's Kafe
Between Mile Markers 28 and 29
Hand-painted signs for this little stand (closed when we passed by) advertised banana bread, coconuts and other food items.
Hana Farms
Mile Marker 34
A fairly extensive farm stand with a large covered seating area, Hana Farms is one of the larger food and produce stops in the area, with locally made jams and jellies and ready-to-eat-and-drink selections like wood-fired clay oven pizza, lilikoi (passion fruit) bars, coconut candy, ice cream, hot coffee, smoothies, hot sauce, locally-grown fruits and vegetables and SIX varieties of Maui banana bread.
Wailua Falls
Mile Marker 45
Just beyond Hana lies this iconic waterfall, near the Pools of Oheo. In the parking lot, you'll find local crafters and bakers selling one-of-a-kind quirky handmade souvenirs, jams and jellies, and banana bread, sold from the back of a truck by the enterprising Chef Dave.
So whose banana bread is the best?
We returned to the office with three loaves from the Road to Hana: One from the Twin Falls Fruit Stand, one from Halfway to Hana, and one from Aunty Sandy's, and put the question to an office vote. Out of 16 votes, Aunty Sandy's won, hands-down, with 14.
But to be sure, you'll just have to do your own research!