Your Guide to Waimānalo, Oʻahu
You don't want to miss this sleepy coastal town in Windward Oʻahu.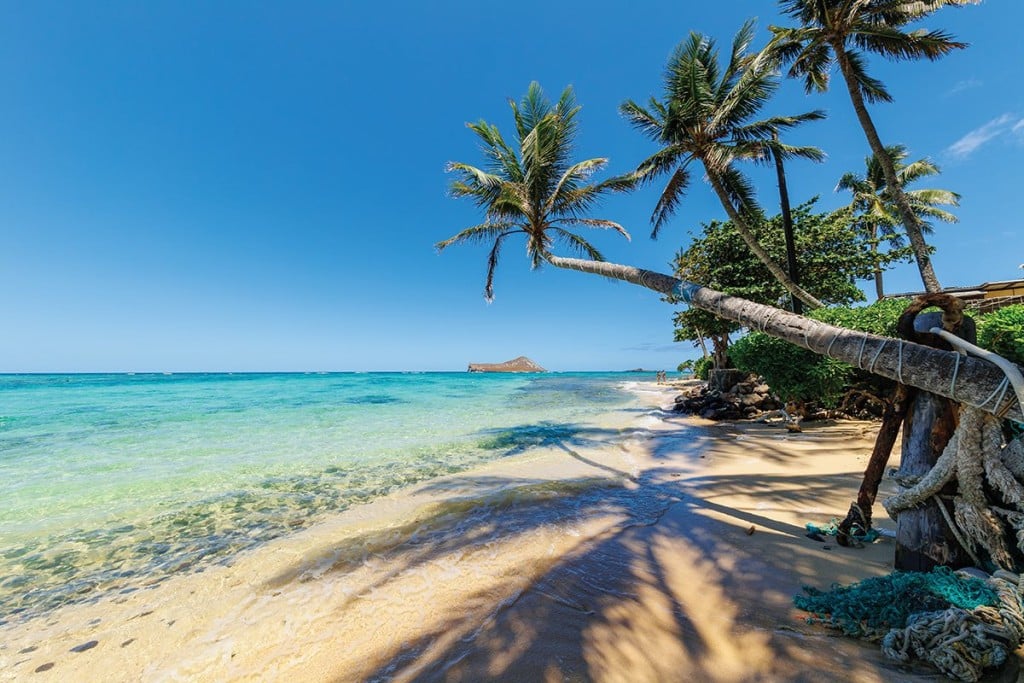 Once you make the turn past the Makapu'u Lookout, heading north, the road curves along the steep cliffs of the Ko'olau Mountains and a rugged coastline appears. In the distance are two islets—rabbit-shaped Mānana and smaller Kāohikaipu— and across the sky 'iwa birds twist and glide.
You are in God's Country.
Waimānalo is a small rural community on the eastern side of O'ahu, extending from the ridge behind Keolu Hills by Makapu'u and ending near the Olomana Golf Club. A single two-lane highway—Kalaniana'ole Highway—runs through this coastal town.
A flourishing farming area in ancient times—crops like taro, breadfruit and sweet potato were grown here—Waimānalo was once believed to be a pu'uhonua, or place of refuge. During a battle, if one side knew there was no hope for victory, "the wisest course was to flee as rapidly as possible to Hūnānāniho [the original name of the area now known as Sherwoods]," which was considered a sacred place, and all who reached it were spared, wrote historian Samuel Kamakau.
Today, Waimānalo is still both an important farming area and a place of refuge, though not from battle. There are dozens of farms on the mauka (mountain) side of the highway, including Nalo Farms, known statewide for its trademark salad greens, and the 128-acre Waimānalo Research Station; run by the University of Hawai'i, the station is a training ground for future farmers. There are egg farms, flower nurseries, even a farm that grows high-quality portobello mushrooms in shipping containers filled with compost.
And as far as refuge, it's the perfect place to relax, with a handful of expansive white-sand beaches lined by groves of ironwood trees. There's an easy feeling here, where it's not uncommon to see people riding on horseback along the highway or residents selling ice-cold coconuts harvested from trees in their yards.
Though Waimānalo Beach has popped up on lists and in guidebooks, the rest of this charming town is still mostly ignored. Visitors can stop at Sea Life Park at one end and play a round of golf at the other—and maybe gawk at former President Barack Obama's oceanfront compound—but to skip the rest of Waimānalo is a huge mistake. Here's why.
Waimānalo Bay Beach Park
In 2015 Dr. Beach—Stephen Leatherman, a coastal science professor at Florida International University—named Waimānalo Beach the best in America, noting its powdery white sand, cleanliness and unassuming location. Since then, the 38-acre park has been a popular spot for visitors who are looking for a less crowded alternative to nearby Kailua and Lanikai beaches. It's a great spot for long walks, swimming and lounging on the beach. During the summer you can watch paddlers from the Waimānalo Canoe Club practicing in the distance.
Pāhonu Fishpond
In between Waimānalo Bay Beach Park and Makapu'u Beach Park is a Hawaiian fishpond that, according to oral history, predates the unification of the Hawaiian Islands under King Kamehameha in 1810. It's a kuapā-style fishpond, or one lined with a rock wall, that runs about 780 feet long and extends between 80 and 110 feet from shore. At low tide, there's a nice patch of sand, perfect for families with small kids who can play and wade in the calm waters of the sandy-bottom pond. According to local tradition, the pond here was used as a holding pen for honu, or Hawaiian green sea turtles, which were reserved for the chiefs. (Harvesting, or even touching, turtles today is strictly outlawed.) Volunteers from local organizations, headed by the Waimānalo Limu Hui, are fixing the rock walls using traditional methods and replenishing the pond with native limu, or seaweed.
To help at workdays, visit waimanalolimuhui.org/pahonu.
Waimānalo Country Farms
Six generations of farmers have maintained this 52-acre farm nestled at the base of the Ko'olau Mountains. When it first started in 1948, the Wong family grew small crops of broccoli, kai choi, green onion, Chinese peas, sweet potatoes and tomatoes. By 1960 the farm had become known for its 13 varieties of melons, including the Golden Melon watermelon, golden yellow on the outside and dark red on the inside. For decades the place was called Golden Melon Farm. But, after the sons went off to Vietnam in the '70s, the family transitioned to corn, which was simpler to grow and required fewer workers. The family grew corn from 1972 until 2009 when a new generation of farmers took over. They had another idea: to grow sunflowers and pumpkins and open the farm to the public. Today, Waimānalo Country Farms offers self-guided tours of its fields—with lots of Instagram-worthy photo opps—and runs a pumpkin patch event in the fall that lures families from all over the island. It also boasts a drive-thru country market where you can buy grilled corn, homemade cornbread, freshly squeezed lemonade and fresh honey—all grown and harvested on the farm.
To make reservations, visit waimanalocountryfarms.com.
Hawaiian Island Café
Opened a couple of years ago, Hawaiian Island Café has quickly become a popular lunch and post-beach stop for visitors and locals alike. Its menu boasts a nice selection of fruit-loaded açaí bowls, pizzas on naan flatbread, hefty salads and smoothies. It also offers a handful of sandwiches, half of which are vegetarian—atypical fare for a plate-lunch-loving community like Waimānalo. A standout is the kalo (taro) and kale pesto burger—it's a patty made from Kaua'i-grown taro, topped with spinach, tomatoes, red onions, provolone cheese and a house-made kale pesto that's so delicious you won't remember it's made from plants. There's ample seating both inside and outdoors.
Visit at 41-1537 Kalaniana'ole Highway, (808) 312-4006.
Maunawili Ditch Trail
Access to the Ko'olau Mountains from Waimānalo isn't as easy as it is from town, where you can hike any number of trails—Kuli'ou'ou Ridge, Moanalua Middle, Mānana—to a summit along this range. But there are a couple of notable hikes in Waimānalo, including the easy Maunawili Ditch Trail. (The popular Maunawili Falls Trail is closed for maintenance until 2023.) It's an easy and wide trail—really an equestrian path, so beware of horse poop!—with very little elevation gain, nice views of the neighborhood and plenty of vegetation, including rows of ti plants. Runners, mountain bikers and dog walkers frequent this path. Along the way you can spot—or maybe hear—the white-rumped shama.
Heading north on Kalaniana'ole Highway, turn left onto Kumuhau Street, then right on Waikupanaha Street. Shortly after you pass Mahiku Place, on your right, there will be a fence and a gate. Park along the street and go through the break in the fence. Maunawili Ditch Trail will be on your right.
Keneke's Waimānalo
This humble restaurant on Kalaniana'ole Highway with its can't-miss red-and-white checked trim has been a mainstay since 1987 thanks to its 'ono—and humongous—plate lunches and super-fine shave ice. (Owner Keith Ward runs a faith-based powerlifting team, too.) The loco moco is killer good—the mini plate alone comes with two hamburger patties and two eggs—and the teriyaki beef is a must-try. Keneke's is one of the only spots in the neighborhood that serves shave ice—something you'll crave after a day at the beach. It offers a variety of flavors, including liliko'i (passion fruit), coconut, lychee and mango. 
Visit at 41-857 Kalaniana'ole Highway, (808) 259-9811, kenekes.net.
Nalo Keiki Paniolo
Traveling with kids? Book a pony ride or private horseback riding lesson for the entire 'ohana at Nalo Keiki Paniolo. Kids 3 and older ride in a large corral where an instructor controls the pony with a lead line. What's even more fun is visiting the ranch's miniature animals—Oreo, a black-and-white paint gelding; Pickles, the mini pig; and Kaia, a mini goat. You can even sign up for mini goat yoga here, too.
Make reservations at nalokeikipaniolo.com.
This story was originally published in our 2022 Summer issue. Buy a copy here.