Your Preview to the 2019 Waikiki Spam Jam
Here are just a few of the things not to miss at this year's Spam Jam on Saturday, April 27.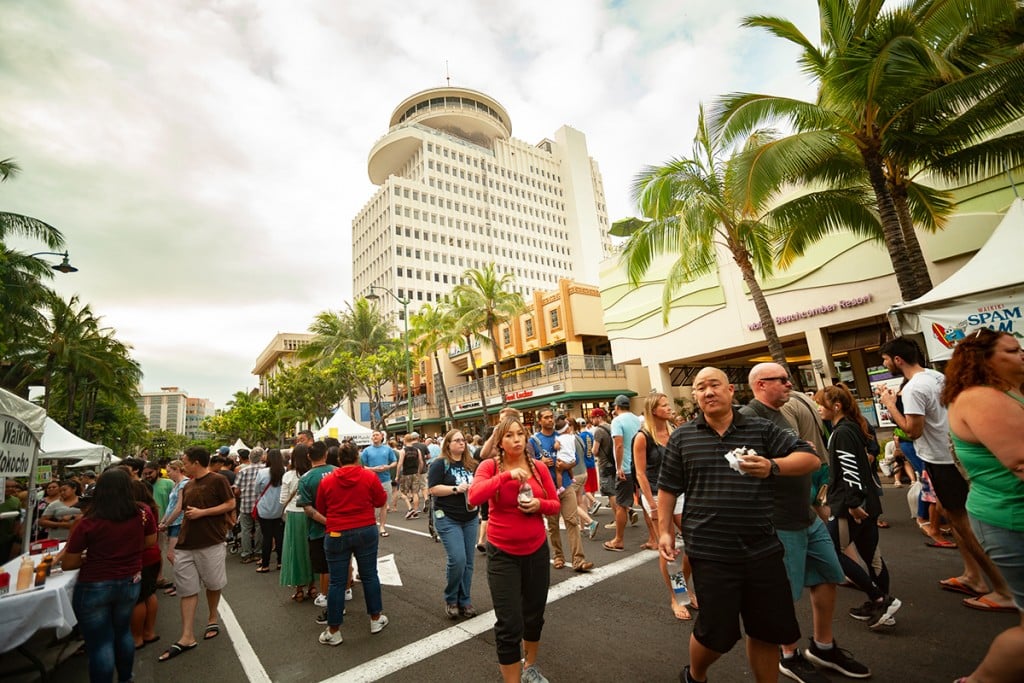 Everybody loves Spam, and here in Hawaii we eat more of it than folks in any other state. One of the biggest ways we show our love is at the annual Waikiki Spam Jam, a bustling street festival that takes over most of Kalakaua Avenue, with about 30,000 Spam lovers in attendance each year. At this block party, you'll find creative dishes from 20 Island eateries that showcase the canned meat in lots of surprising ways. There are also a variety of Hawaii retail booths, where you'll find Spam merchandise and local crafts, accessories and apparel for purchase.
Here are just a few of the things not to miss at this year's Waikiki Spam Jam, Saturday, April 27 from 4 to 10 p.m.
The Hawaii Foodbank booths along the street, where you can make a donation of Spam to the largest nonprofit in Hawaii that feeds the needy.
A chance to taste the grand-prize winning recipe from the 2018 Great American Spam Championship. Spam Baked French Toast, made with Hormel bacon, Hawaiian sweet bread, pineapple and coconut flakes was chosen out of 300 recipes in the national contest. The recipe winner, April Weinreich of Wahkon, Minnesota, gets to attend this year's Spam Jam as part of her grand prize, so you might meet her, too!
Kimo's Hula Pie with Candied Spam from Duke's Waikiki. We know how much you all love Hula Pie—but have you ever tried it with Spam?
Spam Lau Lau from Atlantis Seafood & Steak. The traditional Hawaiian dish, wrapped in leaves and slow-cooked, gets a Spam twist.
The Spam Patty. Hawaii will be the first region to sample this delicious slice of breaded Spam, deep-fried into a tasty, crispy patty.
Waikiki Spam Jam's first Spam musubi-making contest, at the Alaska Air/L&L Hawaiian Barbecue stage. Contestants will test their musubi-making skills to see how many musubi can be made in 5 minutes.
SEE ALSO: The 5 Best Festivals in Hawaii
Waikiki Spam Jam, Saturday, April 27 from 4 to 10 p.m.; Kalakaua Avenue, Waikiki; free, all ages; spamjamhawaii.com. The festival directly benefits the Hawaii Foodbank, the Waikiki Community Center, Aloha Harvest and the Visitor Aloha Society of Hawaii.